Second Row Text Section
Muvi Blue is a revolutionary next step towards your own OTT services powered by Muvi. With Muvi Blue you can take your Streaming Service to the next level by providing a white label video hardware-based streaming stick or media box, much like Chromecast or Fire TV Stick/Boxes to your end customers so to connect their TVs and experience your OTT service on the big screen. 
Muvi Blue helps you stream your content via an Android TV based streaming stick or an Android TV-powered media box which has exclusively your branding on the hardware, as well as your Muvi powered OTT app, is preloaded, such that the device boots into the same always, providing viewers exclusive access to only your content.
You can also choose to pre-install Apps from 3rd parties allowing your viewers easy access to content apart from your or choose to remove the Google Play Store, thus preventing users from installing any other apps. 
We partnered with hardware vendors to provide you own white label TV stick or box and we work with the hardware vendor to complete the entire solution offering.
Second Row Highlight Section
Highlights
White Label TV, Media Box / Streaming Stick

Your custom App preloaded on the stick/box

Prevent other app installation

Boot into your App upon start

Custom Boot Screen with your Logo
Third Row Left Text Section
Muvi will provide a customized Android App for your whitelabel streaming stick/device that will enhance the user experience in a more integrated manner with your stick or box. The app can put a custom boot logo when the device starts, and can be automatically launched for the user instead of taking them to a vanilla "home" screen. Muvi can also work with the manufacturer to customize the stick in such a way that it removes the Google Play Store and prevents the user from installing other apps on the stick, apart from what the client wants to pre-load and ship. This means that for the user it's a complete customized user experience from a standard "Android App" loaded on a Android TV powered device.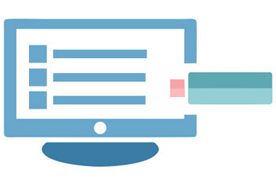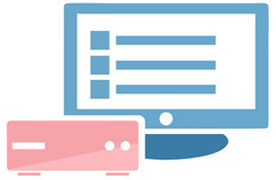 Third Row Left Text Section
White Label Streaming Stick / Media Boxes
Wouldn't it be great to offer your own White label video streaming Stick or Media Box like Roku, Fire TV or Chromecast offering exclusively your content to your viewers? With Muvi Blue's exclusive software solution you have an option to extend the reach of your platform by providing your own Streaming Sticks / Media Boxes. Muvi works with a hardware vendor you select in providing them the app such that your viewers can start streaming video/audio from your OTT platform immediately with a quick plug & play setup. The sticks and boxes are branded with your name, will have a custom loading and boot branding with your logos and will offer a completely customized user experience as per your liking. Muvi has partnered with hardware vendors to easy the entire solution offering for you so that you again do not need to lift a finger and leave all the worries to Muvi.
Third Row Left Text Section
Preloaded Apps and Content
There is no need to re-upload all the content from your Video Streaming Platform. All your Apps & contents are preloaded into the Streaming Stick/Box from your platform. You can also choose to Add 3rd party Apps allowing your viewers content apart from your videos to capture a wide reach. You can also chose to remove Google Play Store, and prevent user from installing other 3rd party apps so that there is no competition when the user buys your product.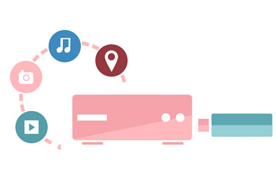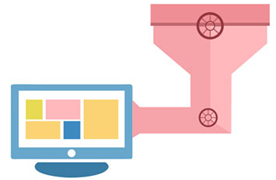 Third Row Left Text Section
Muvi Blue is a complete White Labelled solution offering you to add your own brand Logo. You can customize the Streaming Stick/Box as needed to reflect your brand identity and offer a personalized connect to your viewers.
FAQ Section
FAQs
Is this a hardware or software solution?
It's both, or a combination of two. You have a custom Android TV powered Stick or Media box (Hardware) and a custom Muvi powered Android App (Software) for your OTT Platform that runs on this hardware
Do I need to procure the Box/Stick from Muvi?
Not at all. We partner with a hardware vendor to offer this solution.
Does this work only for Android TV powered Devices?
We have a ready solution for Android TV powered devices, however we can work with any device ecosystem and manufacturer to develop a custom app as per their requirements and specifications.
Are there any logos on the hardware?
Yes, YOUR LOGO! The media boxes and sticks will typically have your branding and logo on it, very much similar to Amazon Fire TV or Roku Devices.
Does the user buy from me or you?
The user will buy the device/stick from you or your retail partners
How much does Muvi Blue Cost?
To avail Muvi Blue, you must have Muvi Professional and above subscription plan.
We charge $10,000 for setup; and for hardware, you need to pay separately.
Mainly, the vendor provides the hardware. So, we do not keep any margin for this. The typical cost of an HDMI stick is $35 per unit, and that of a box is $100 per unit. The cost of hardware depends on its technical specifications.
Our hardware partners provide the hardware for Muvi Blue. Alternatively, you can also find your own hardware vendor.
Are there any additional fees?
Muvi may charge fees based on your requirement, e.g. if it requires special hardware sourcing or specifications apart from our default offering or partners.
Get Your Free Trial Today. No Purchase Required
Launch your very own Video / Audio Streaming Platform | Get Websites and Apps across devices | Stream Content across the Globe.
Already using a platform? Muvi will help with Data Migration, Customizations, and Integrations. Switch to Muvi today!
Upgrade / Cancel Anytime. No Commitments.