Adding Support Ticket Through Email
Introduction
There are few issues for which you need to add a support ticket to resolve that particular issue. At Muvi, you can have multiple administrators and each can log support tickets. Each of the administrator gets notified for his/her support tickets.
How to Add a Support Ticket
On your Muvi CMS go to "Support"-->"All Tickets"
On the next screen under Support, click on "Add Ticket"
When you click on "Add Ticket", a new page will open
Type a "Title" for your issue
Write a "Description" about the issue
Select "Priority" from the drop down list, (i.e. Critical, High, Medium, Low)
Then choose the "Issue Type". (i.e. New Feature, Bug, How to)
Select the "App" from the drop-down (i.e. Website, iOS App, Android App etc.)
You can add additional email ids to CC field. (The email address added to CC filed will also get updated about the Support Ticket)
If you have any screenshot regarding the issue, then click on "Browse" to add the screenshot.
Finally, click on "Submit".
Note: You can add multiple tickets for different issues.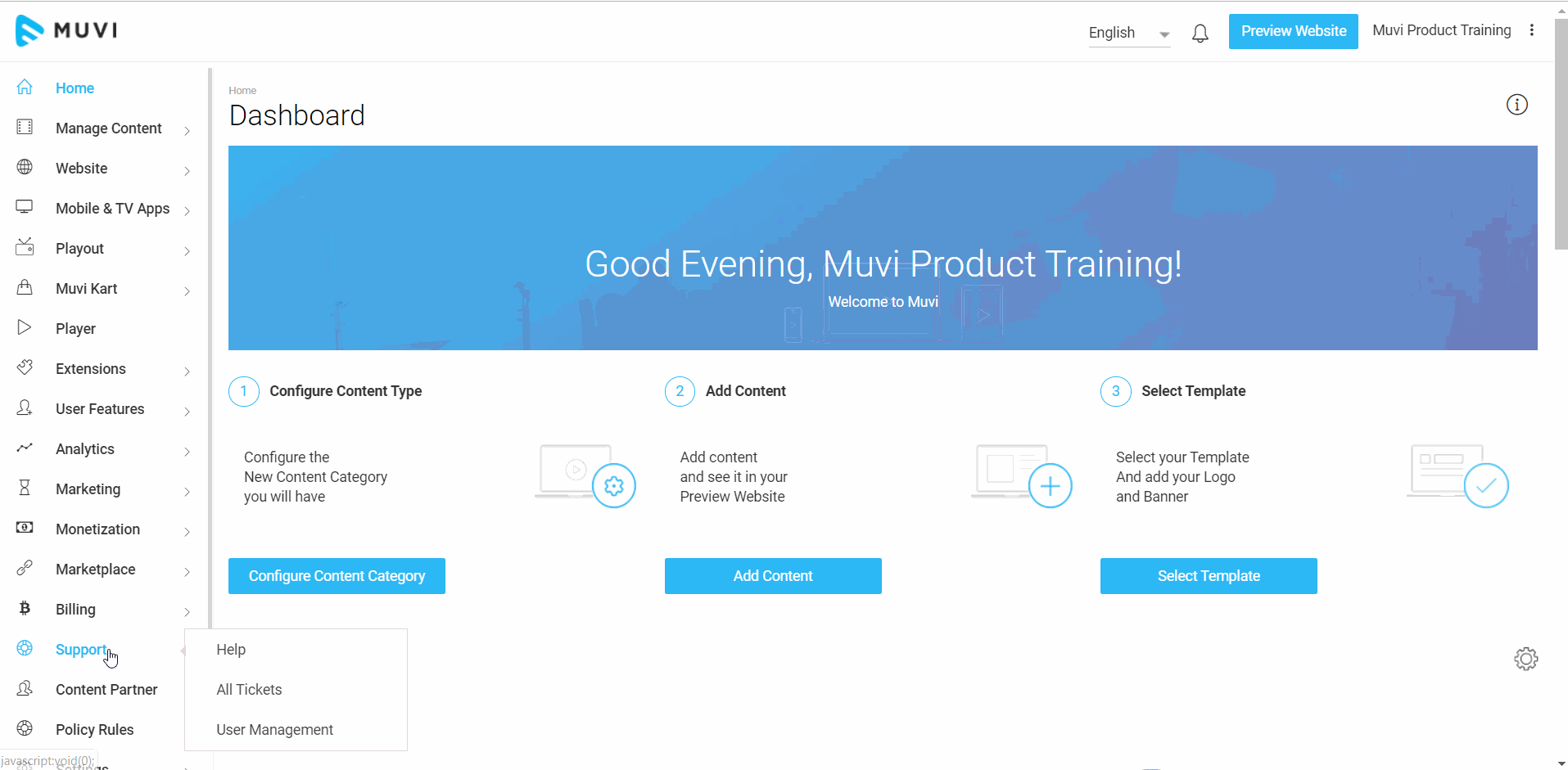 Adding Support Ticket Through Email
You can also add a support ticket for any issue by sending an email to support@muvi.com. If you will reply to a support ticket then a note will be automatically added to it. 
Once a support ticket is created, you will receive an email with the ticket details. (See Below Screenshot)
Note: Only a store Admin can create ticket by sending email to support@muvi.com.  Please do not use your store admin email address (The email address which you are using to login to Muvi) for other third party help-desk  applications (e.g. Zendesk) or for any other auto responding software as this may create spam/recurring tickets on the same issue.

View Status of Your Ticket
Once your ticket is added, you can see the status of your ticket. Here you can also search a particular ticket.
Simply type the name of the ticket number on the search bar and click on "Search", you will see the details about the ticket.
You can also search a specific ticket by typing the ticket number in the search bar
You can also search a ticket by using different filtering options available
You search the ticket by "Reporters", by status (Open/Closed) by "Priorities" (Critical, High, Medium), by App (Website, iOS, Android etc.), by "Types" (New Feature, Bug etc.)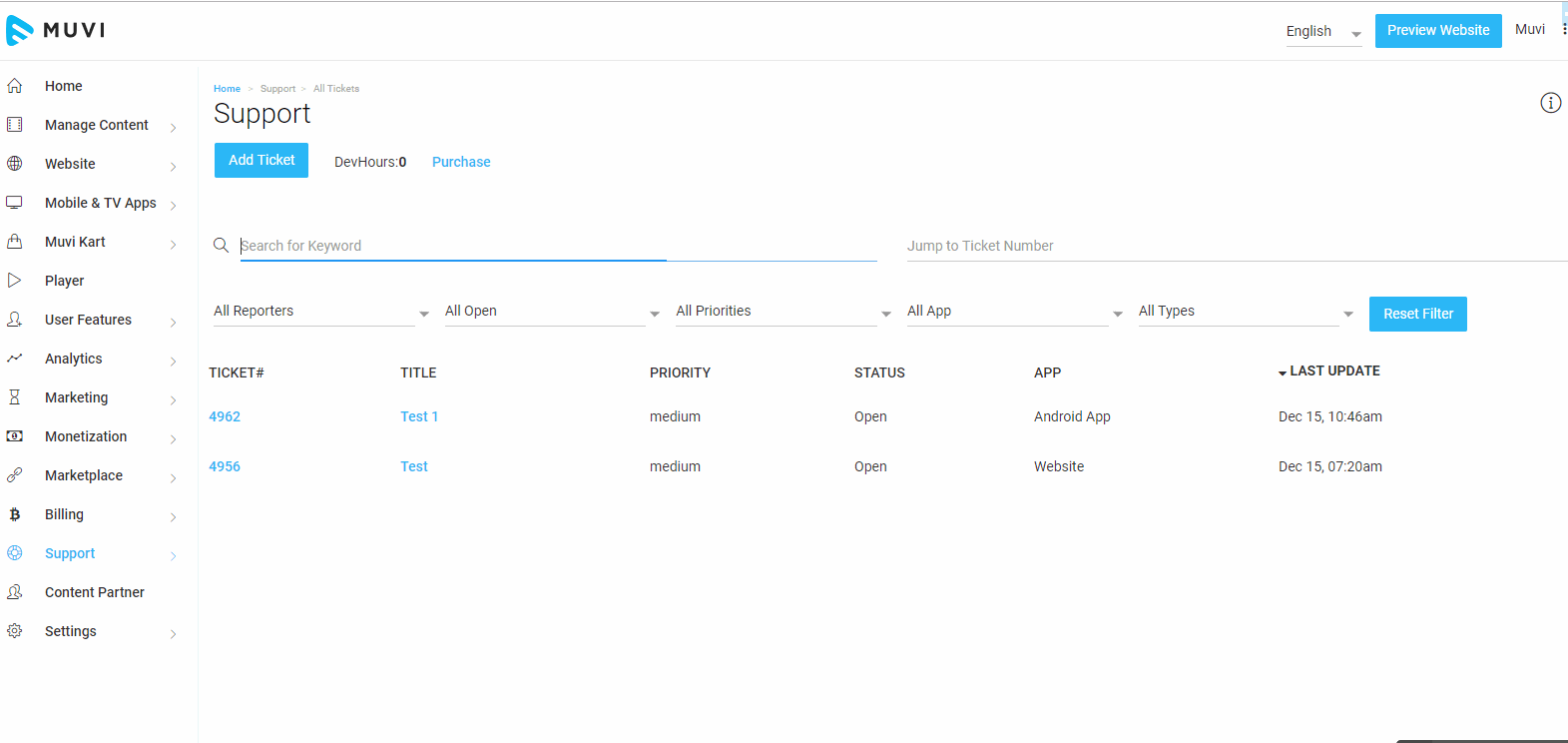 Closing/Updating Ticket
You can close, edit or updated the support ticket from the CMS. 
Closing a Ticket:
If your issue has been resolved, you can close a support ticket. 
Click on a specific ticket you want close
Click on "Close Ticket". When asked for confirmation, click on "Yes" to close the ticket
Editing a Ticket:
To edit a support ticket, click on "Edit Ticket"
Make the necessary changes
Click on "Update Ticket"
Updating a Ticket:
You can updated the support ticket whenever it is required. 
In the "Add Update" field add information related to the issue
Add any attachment (If required). Click on "Browse" to upload image/file
Click on "Add Update". The support ticket will be updated
Email Notifications
If you have multiple administrators, then the email notification will go to the administrator who has added the ticket. If the ticket information is updated, then the administrator who has added the ticket will get the update along with the super admin.