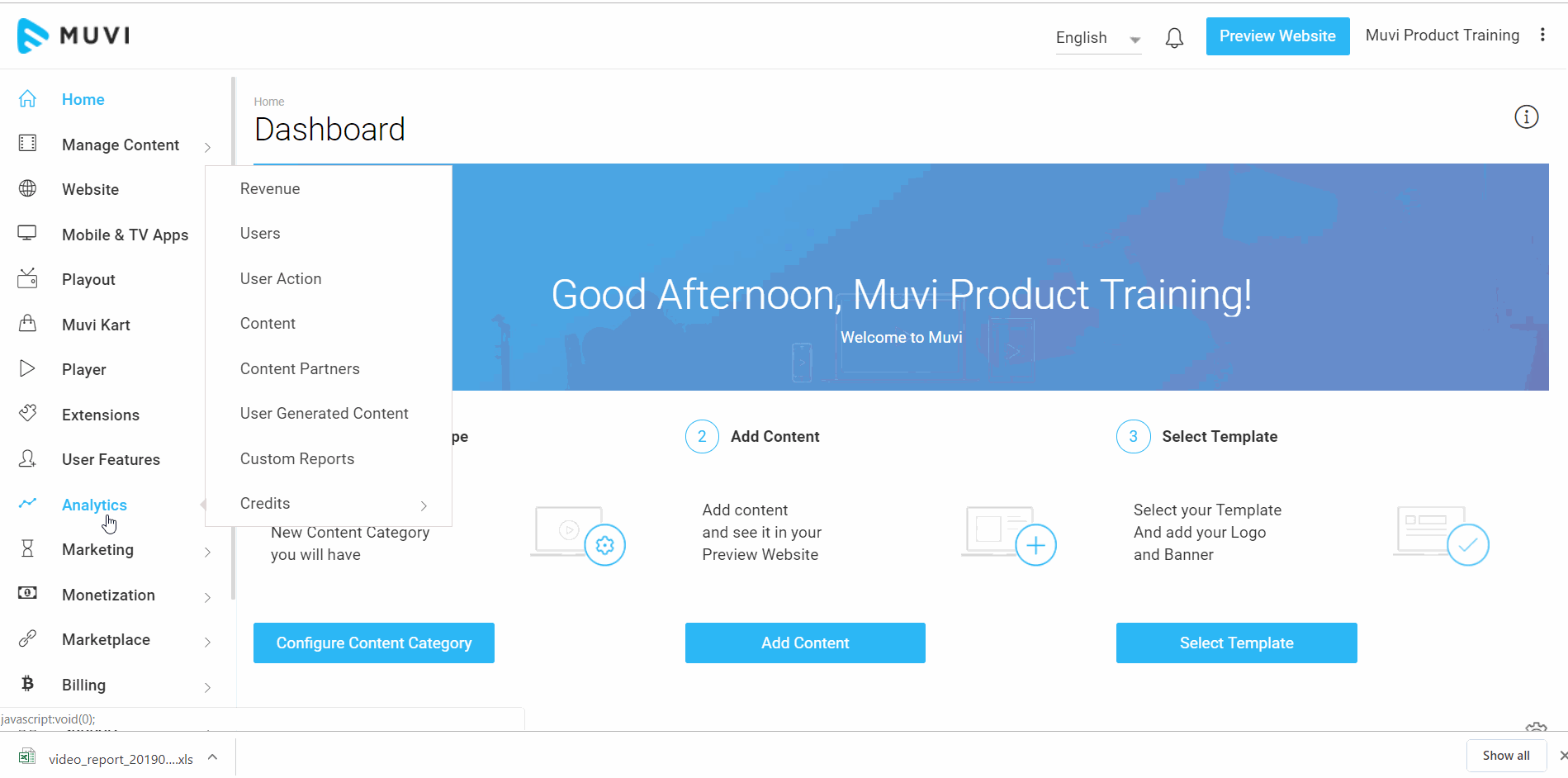 How to View Audio Analytics Report
To get the detail report,  go to "Analytics" --> "Content" in the CMS .
On the right-hand side in "Content Type" field, select "Audio" from the drop-down. 
Select a time period from the calendar and click on "Apply". 
The figure shows a real-time video analytic report for a particular period for a better understanding.
Note: You can only view 3 months report at once. In case you need data older than 3 months, please drop an email to support@muvi.com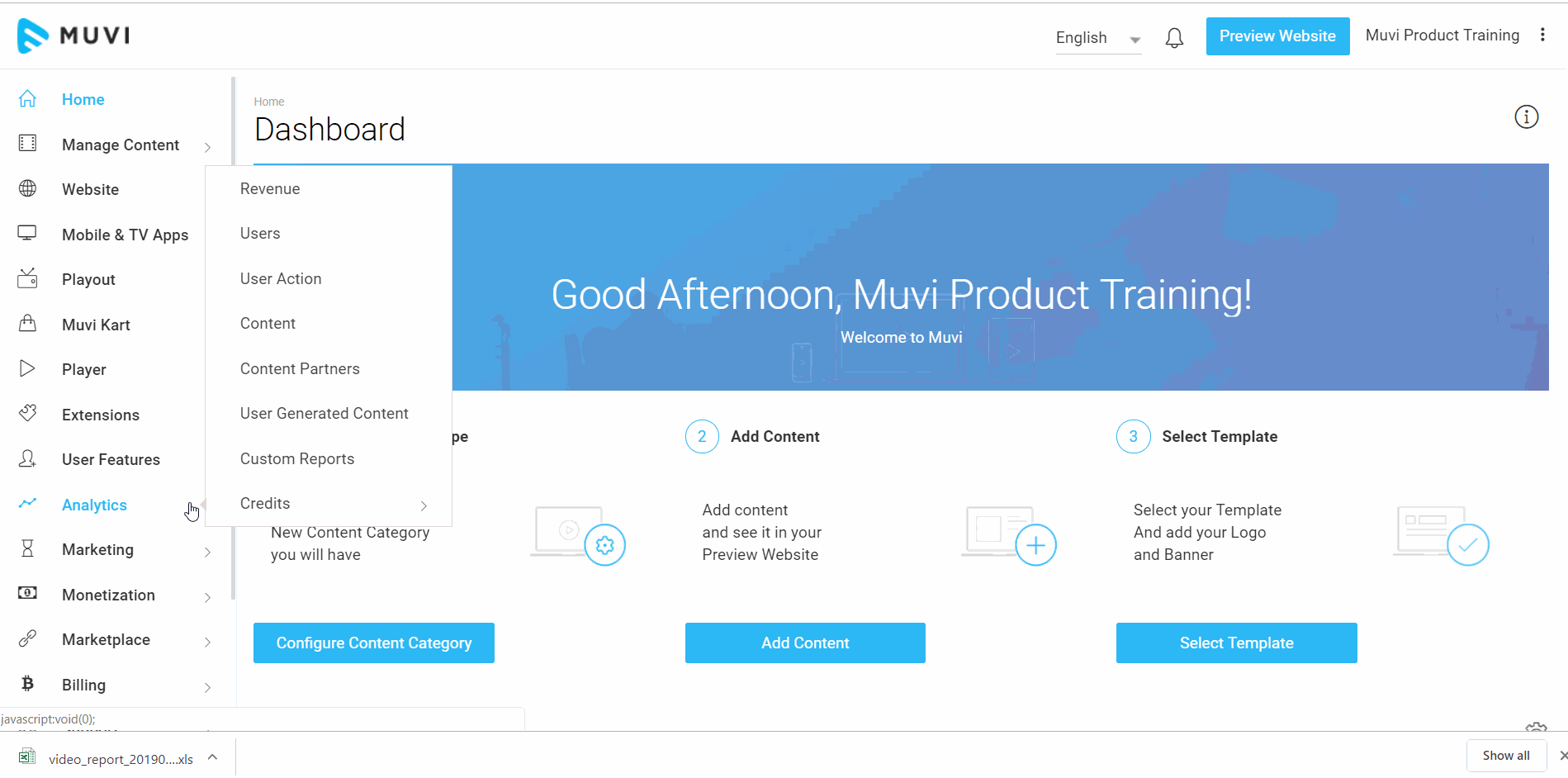 Filtering Options in Content Analytics Report
You can filter the Content Analytics report by Device wise or Content wise.
To see the report by device wise, select the Device from the drop-down menu. 
To see the report content wise type the name of the content in the Search Bar.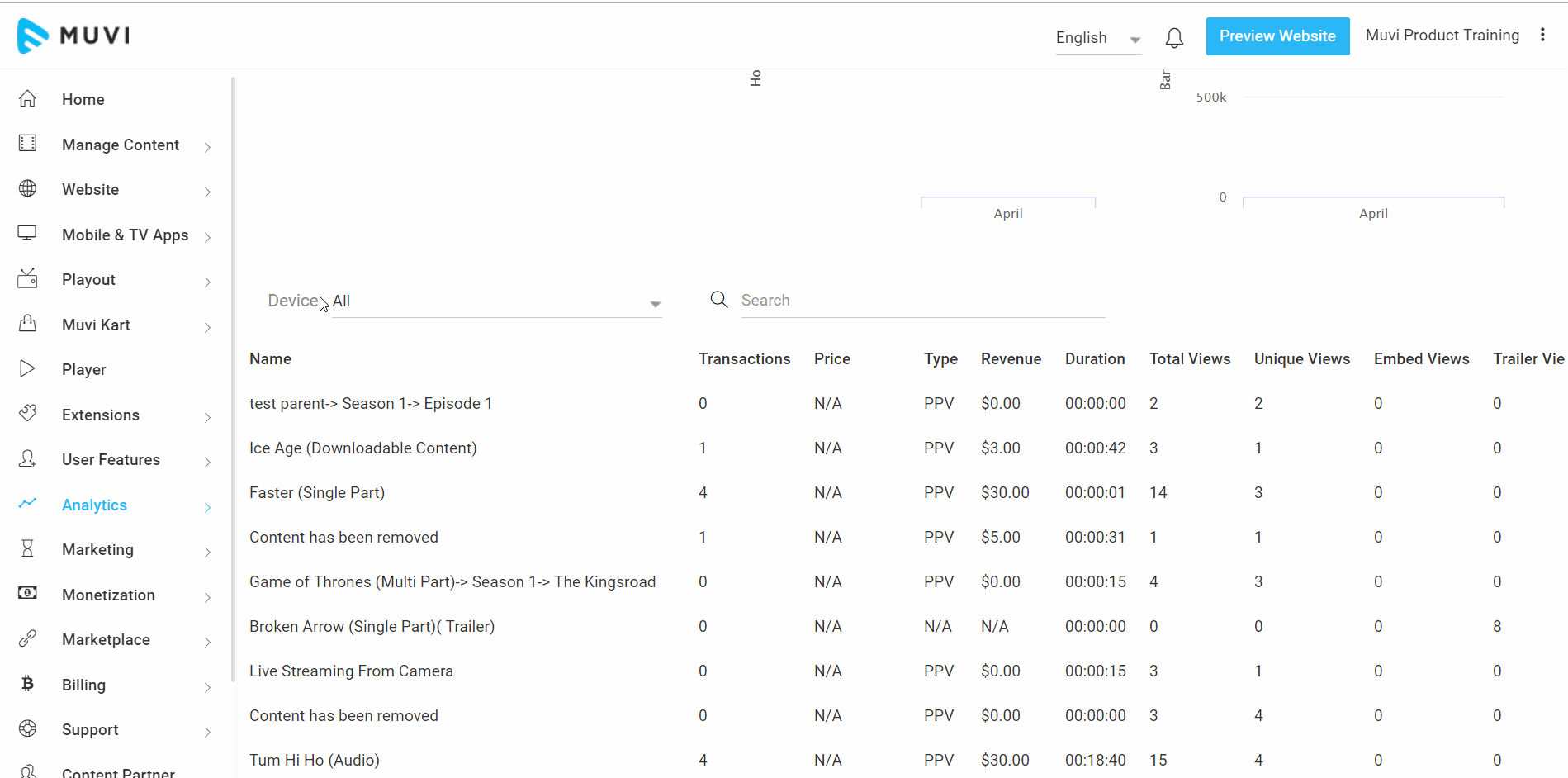 Different Sections of Content Analytics Report
There are different sections in the Content Analytics Report including Name, Transactions, Price, Type, Revenue, Duration, Total Views, Unique Views, Embed Views, Trailer Views, Preview Views, Bandwidth, and Download. (See Below Screenshot)
Name column shows the name of the content (Movie name, Series Name, etc.)
Transactions column shows the total number of transactions of the content (How many times the content has been purchased)
Price column shows the price of the content (The price will not show for free content or content purchased through voucher or coupon)
Type column shows the type of monetization plan applied on the content (PPV, PPV Bundle, etc.)
Revenue column shows the total number of revenues earned from the content
Duration column shows the total number of duration the content has been played for (i.e. 5 minutes, 1 hour, etc.)
Total Views shows the total number of views of the content by the users (For example, if 2 different users view the same content for 5 times, the total number of views will be 10)
Unique Views column shows the number of unique views (For example if 10 different users watch the same content for once, then the unique views will be 10)
Embed Views shows the number of views of the embed link shared for the content (If the embed link is viewed by 100 users, then embed views will be 100)
Trailer Views column shows the number of views of the trailer of the content (That means how many times the trailer has been viewed by different users)
Preview Views column shows the number of previews viewed by you. 
Bandwidth column shows the total number of bandwidth consumed for watching the content
Download column shows how many times the content has been downloaded by the users (If you have selected download option for the content)

Downloading Content Analytics Report
To download the content analytics report, click on "Download CSV" (See Below Screenshot).
The report will be downloaded in Microsoft Excel

Note: You can only download the report for the number of records up to 30,000. If the number of records exceeds 30,000, then you will get a warning message. (See Below Screenshot)