How to Activate DRM for Preview (Trailer)
Introduction
When you upload video content to your website, your major concern is whether the content is secure or not. There are chances that someone may download and misuse your content if it is not protected or secured. Consequently, there are various methods available to protect digital content so that no one can copy or download the content unauthorizedly and misuse it. One of such method is implementing DRM or Digital Rights Management. DRM is implemented by inserting code that stops copying, limits the number of devices the content can be accessed on or specifies a time in which the content can be accessed. At Muvi, your content is protected by Standard DRM as well as Hollywood or Studio Approved DRM.
How to Enable DRM
By default, your content is protected by Standard DRM. However, if you want to enable Studio Approved DRM which is more secured, then you must add a support ticket. We will enable Studio Approved DRM for your content.
 Note:
DRM is a paid feature. So, first you need to purchase Muvi Standard or higher subscription plans to avail this feature. 
Currently, we have DRM only for VOD (Video On Demand) content. 
How to Activate DRM for Preview
You can also enable DRM for preview/trailer. If you have already activated DRM for your store, then you will see the option to enable DRM for trailer in the Player page of your CMS.
Click on "Player" in the CMS
Select the checkbox for "Activate DRM for Preview (Trailer)" (See below screenshot)
When asked for confirmation "Are you sure you want to activate DRM for Preview (Trailer)?", click on "Yes" to activate. 
DRM for preview will be enabled.
Note:
Once you have activated DRM for trailer, you can not deactivate it. To deactivate DRM for trailer, you need to add a support ticket. 
The existing Non DRM trailers will be re-encoded automatically, once you have activated DRM for trailer. Users can still view the Non DRM trailers during the process of re-encoding. 
How DRM Works
Standard DRM uses the token mechanism of CDN. It protects against download using the browser plugin. FFMPEG tool is used to encode videos in MP4 format. Here, server-side key verification is essential.  A key contains two parts: a key seed or private key, and a key identifier or public key. one must use both the keys and expire time to access the video file.
We are using AWS' (Amazon Web Service) Canned Policy DRM. It uses Cloud-front Signed URL to serve private content for video streaming. Signed URLs allow you to provide users access to your private content. A signed URL includes additional information (e.g., expiration time, key-pair-id) that gives you more control over access to your content.
Our application verifies that the end user is entitled to access the object: they have signed in; they have paid for access to the content. It minimizes the risk of the download of video from the web. A signature is used to access a file from Amazon Web Service. Content can be set to expire at a predetermined time. When anyone wants to access any video first it checks the signature, if signature matches then it checks for expire time. If both matches, then it lets the viewer access the content. Otherwise, it shows Access Denied.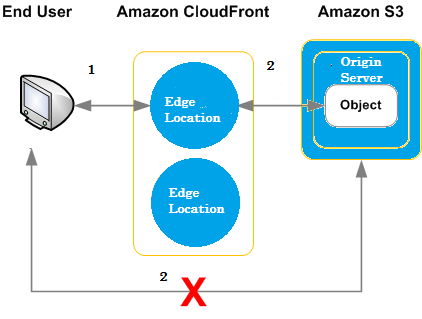 Studio Approved (Hollywood) DRM
Studio Approved DRM ensures that video is in an encrypted format (MPEG-DASH) and available in parts so that the complete video can't be accessed in one file. Here, Bento4 tool is used to convert MP4 video to MPEG-DASH. Even if someone downloads some parts of the video, he/she can't play the video as it requires a License key to play the content. To decrypt the video, downloader needs 2 things - Content Unique Key & License Key. Token generated is device specific, means, token generated for one device won't work on another.
At Muvi, we use ExpressPlay for Studio Approved DRM. ExpressPlay is a DRM Management Service that uses industry-standard DRMs including Google Widevine, Apple FairPlay, Microsoft Playready and Marlin. Google Widevine is used in Chrome, Microsoft Playready in IE & Edge browser, Apple FairPlay is used in Safari browser and Marlin is used in desktop and mobile App as well. 
License key is unique for each ExpressPlay account. The content key is unique for each content. Once encoding is completed, we upload the video to the respective S3 bucket. This file format is.MPD.
End-user browses a content to play with Muvi's proprietary HTML5 Player. Player contains the Amazon Cloud front CDN URL for the content. CDN URL points to the packaged MPEG-DASH video stored in the respective S3 bucket.
When end-user browses for the content, we select which DRM license to use depending on end-user's browser. Client DRM processes the license key & plays the content if authentication is successful.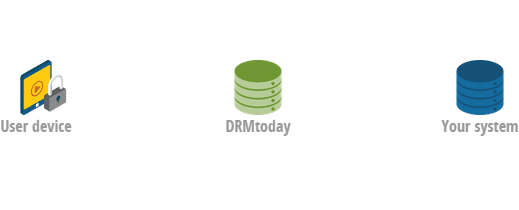 Testing DRM
If you want to test whether your content is DRM enabled or not, then try to download the content in Firefox browser. It will show you warning message that the content is DRM enabled and you cannot download it. You can also ask us to send you .MPD file and .MPEG-DASH stream. You won't be able to play the videos as they will be encrypted. You will be able to play videos only inside our player as it has the decryption client.
Testing DRM Supported Devices
To find out whether a device supports DRM enabled content or not, you can try to play the below mentioned URL in that specific device (Copy the URL and paste it in the device's browser and hit enter. Then click on the "Play" icon). If the content is played seamlessly in that device, then it supports DRM enabled content. 
https://expressplay-test.s3.amazonaws.com/player-ut2.html
DRM Supported OS & Browsers
Below is the list of Operating Systems and Browsers those support Studio Approved DRM.
Note:
Currently, we are supporting DRM enabled content for Android TV App. 
If you have not integrated SSL to your domain (i.e. your domain is not "https"), then DRM content will not play in the Chrome browser. 
| | | |
| --- | --- | --- |
| OS | Browser | Video Play (Yes/No) |
| Windows 10 | | Yes |
| Windows 10 | | Yes |
| Windows 10 | | Yes |
| Windows 10 | | Yes |
| Windows 8 | | Yes |
| Windows 8 | | Yes |
| Windows 8 | | Yes |
| Windows 7 | | Yes |
| Windows 7 | | Yes |
| Windows 7 | | No |
| MAC OS 10.10.5 | | Yes |
| MAC OS 10.10.5 | | Yes |
| Mac OS 10.12 | | Yes |
| Mac OS 10.12 | | Yes |
| Mac OS 10.12.1 | | Yes |
| Mac OS 10.12.1 | | Yes |
| Mac OS 10.12.1 | | Yes |
| MAC OS 10.11.3 | | Yes |
| MAC OS 10.11.3 | | Yes |
DRM Support in Mobile Browsers
| | | |
| --- | --- | --- |
| OS  | Browser Support | Video Play (Yes/No) |
| iOS 11.2 & Higher | Safari | Yes |
| iOS 11.2 & Higher | Chrome | No |
| Android 6.1 & Higher | Chrome 60 & Above | Yes |
How to Disable DRM
If you wish to disable DRM for your store, you need to add a Support Ticket. Once the DRM is disabled for your store, we will have to encode all the videos in your store manually. It may take few days to weeks to encode all the videos depending on the size and number of videos. 
Note: Remember that, it's not possible to prevent screen recording. The best solution to protect your videos is a combination of DRM and Watermarking. DRM prevents the video from unauthorized download and watermarking puts a watermark on the video. When someone tries to screen capture your video, the watermark will appear on the video and it is not possible to remove the watermark as it moves on the screen randomly. To know how to add watermark to your videos please Click Here.