Introduction 
Muvi helps you launch your own video/audio streaming platform. We provide comprehensive end to end solution to launch your own VOD/AOD/OTT platform. 
Create your own  online video and/or audio store instantly with your website today without paying any subscription or infrastructure fee. No credit card and commitments are required; and you can also cancel at any time! However, there are few limitations in Muvi Free plan which include limitations to add number of content, storage space in the server and bandwidth usage. 
How to Sign Up for Muvi Free
1. To start your Muvi Free plan, please click on the "Start Free" button on the top right corner of our website.
2. On the next screen type your Name, Company Name, Phone Number (with country code), Email Address, Password, Domain Name (Domain name will be automatically created. You can later change the domain name from the CMS) etc.in the corresponding fields. Click on the captcha code. Then, select the check box "I Agree to Muvi's Term of Service" and click on "Next".
3. On the next page you have options to choose your "Content Type" (Video, Audio). You can select either of the options or select the both if you wish to create a video and audio store.  
4. For "Platform/Apps", you can only select "Website". (Mobile Apps, TV Apps and other options are not available in Muvi Free)
5. For "Monetization Plan"  you can only select "Subscription" and/or "Pay Per View". (Advertising is not available in Muvi Free Plan) .
6. After selecting the options according to your requirement, click on the "Next" button to proceed further.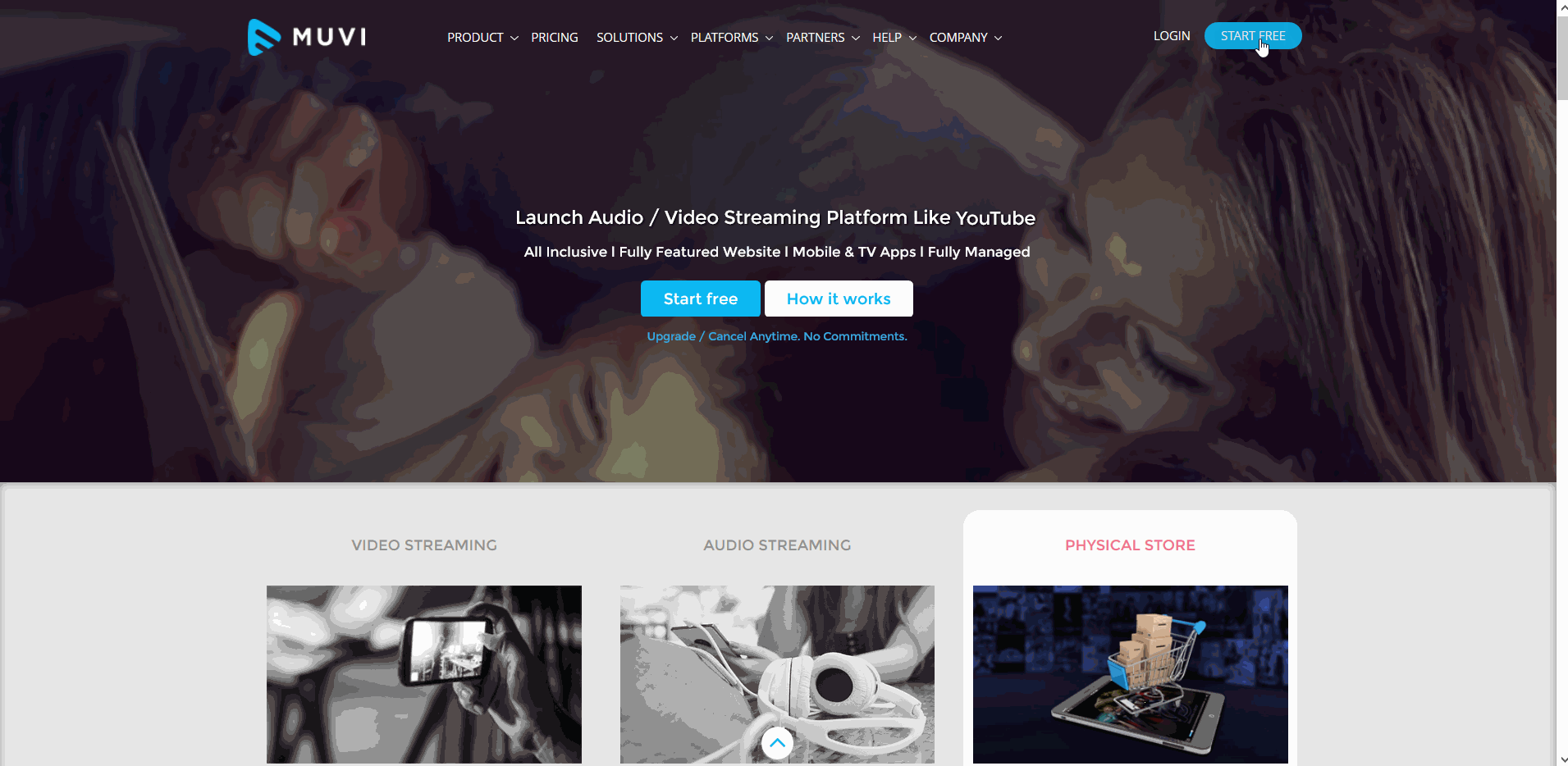 Once your Muvi Free account is created, you can view your Muvi "CMS" (Content Management System) and "Dashboard". From the CMS you can easily manage your website, content, monetization plan and users.
To know more about the restrictions in Muvi Free, please Click Here. 
 
Click Here for a Quick Start Guide!