Introduction
Our User Action report feature allows you to view and track different user actions on your website. You can view how many users view a specific content for how many hours, total number of views in a specific period (In a day, week, month or year), when the user logins to your website, what content he/she has searched, on which platform he/she has watched the content (i.e. Website, Mobile Device) etc. Also, you can view the Top Fan List report of the User Generated Content (The content uploaded by your users). 
View User Action Report
To view User Action report, go to "Analytics" --> "User Action"
Under User Action, there is option to select the time period for which you want to view the user actions.
Click on "Apply".
Click on "Views", to see the total number of  content views by users.
Click on "Logins" it will show you total number of logins for the period.
You can also view the graphical representation of the report on the right-hand side of the page.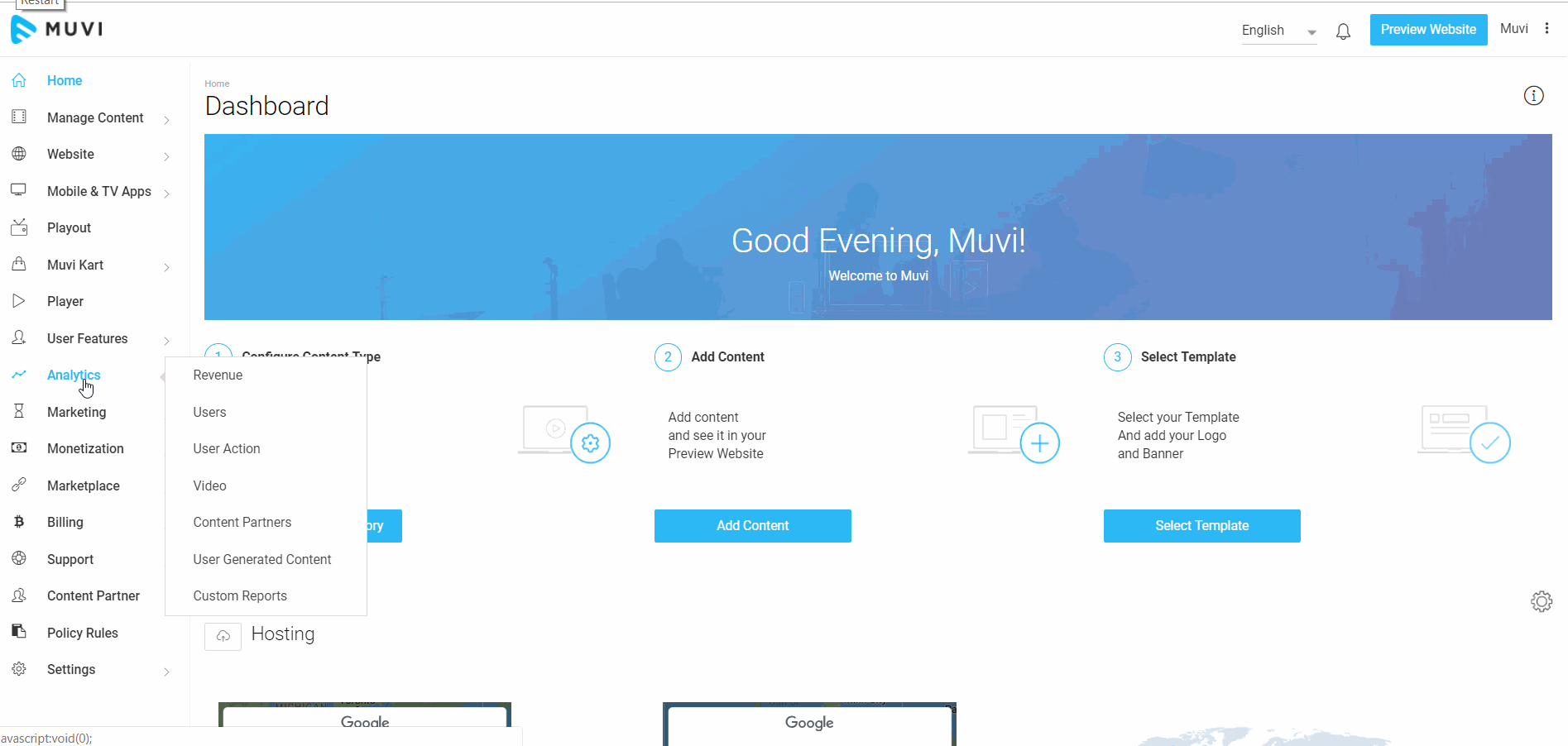 You can also view other details in User Action report. Just click on the user actions and you will see the list of user views, content searches and logins. You can also type the particular user name to view that user's activity. Type the content name in the search bar to view the number of time that content is searched for or type the email ID of the user to view his/her login history.
Click on "Views" to view which user has watched which content on which date and time for how many duration and on which platform (i.e. Website, Mobile Device). Under the "User" column if it shows "Annonymous" then the user who has watched the content is not a subscriber/registered user  and he/she has watched a free content. If it shows "User_Embed", then the user has watched the content from the embed link. If it shows the user's name, then the user is a registered user or a subscriber. 
If you click on any particular user's email address, then you can see the details about his/her subscription type, how much money he/she has paid so far and how many hours he/she has watched content in your website. 
Click on "Searches" to view what keywords the users typed to search which content and for how many times
Click on "Logins" to view which user has Login At and Logout At which date and time and from which IP Address, Device in which user has logged in, Device Details and Browser/App in which he/she has logged in
Click on "Top Fan List" to view the fan report of user generated content. This shows "Name" of the fan, "Email" of the fan, "Number of Content Watched" by the fan, "Total Watch Duration" of the content, "Total Payment" received for the content and "Number of Comments" received for the content. 
Download User Action Report
If you want to download the User Action report, you can do so by clicking on "Download CSV" (See Below Screenshot)