How to View User Analytics Report
Filtering Options in User Analytics Report
Different Sections of User Analytics Report
Download User Analytics Report
Introduction 
By using "User Analytics" feature you can easily get various information about your users like Registration, Subscription, PPV Users, Advance Purchase User, Cancellations and Deletions for a particular time period. Simply select the date range from the calendar and you will get the information. Even you will get a graphical representation of the information. 
How to View User Analytics Report
To get details, click on "Analytics" --> "Users" in your CMS .
Select a time period from the calendar and then click on "Apply". You will see the report of a specific date. 
The figure shows a real time analytic report for a particular period for better understanding.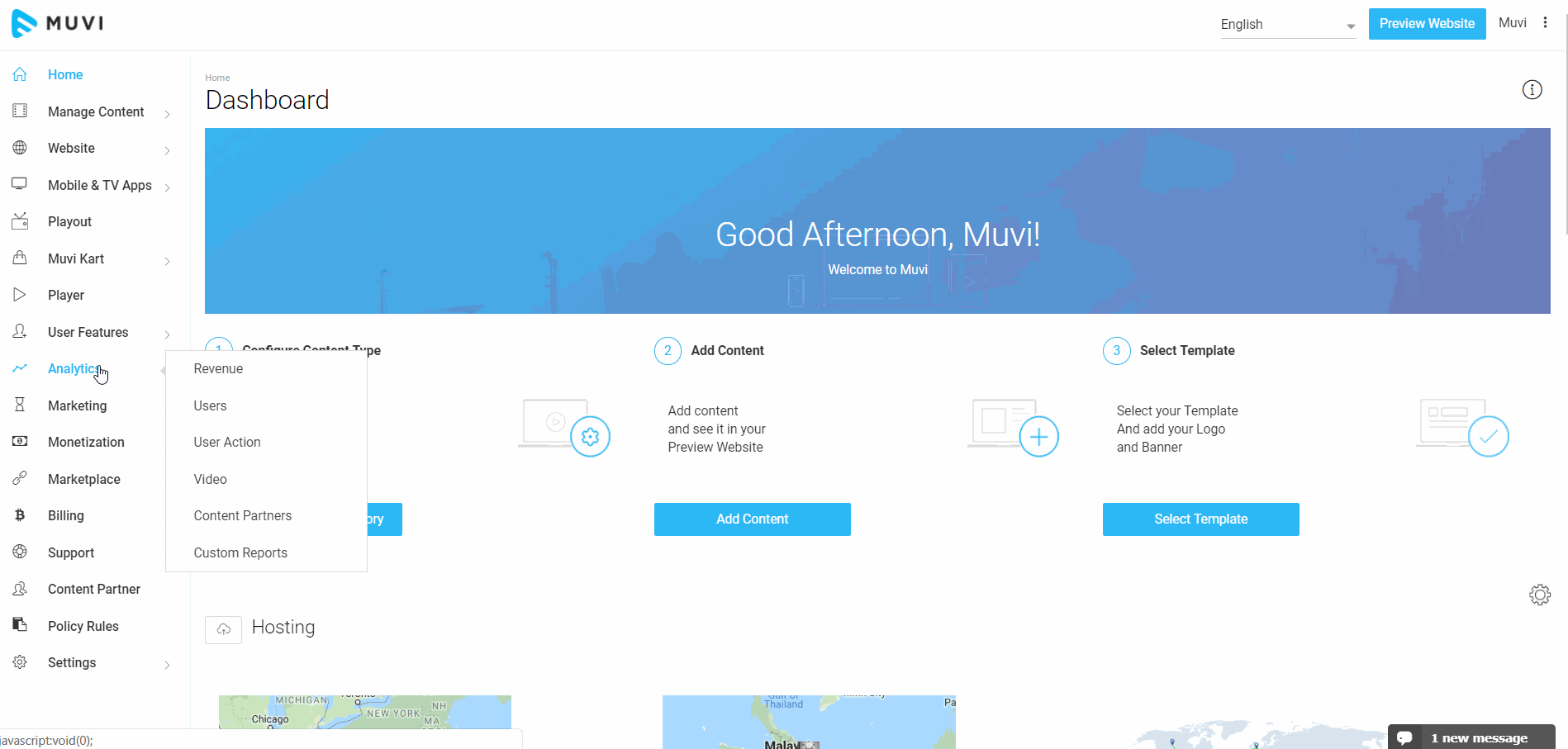 Filtering Options in User Analytics Report
You can use different filtering options to view reports. 
Please click on "Registration" from the drop down menu to find out the list of registered users.
Select "Subscription" to view the list of subscribed users.
By selecting "PPV users", you can view the number of PPV users and their details. 
Select "Advance Purchase Users" to view the list of advance purchase users. 
By selecting "Cancellations", you can view the list of cancelled user. (User who are cancelled by the Admin and who have cancelled their subscription)
Select "Deletions", to view the list of deleted users ("Free Users" and/or "Cancelled Users" deleted by the Admin from "End User Support". )
You can also type the email address of a particular user in the Search Bar to view his/her details. Please see the below screenshot for details of registered users.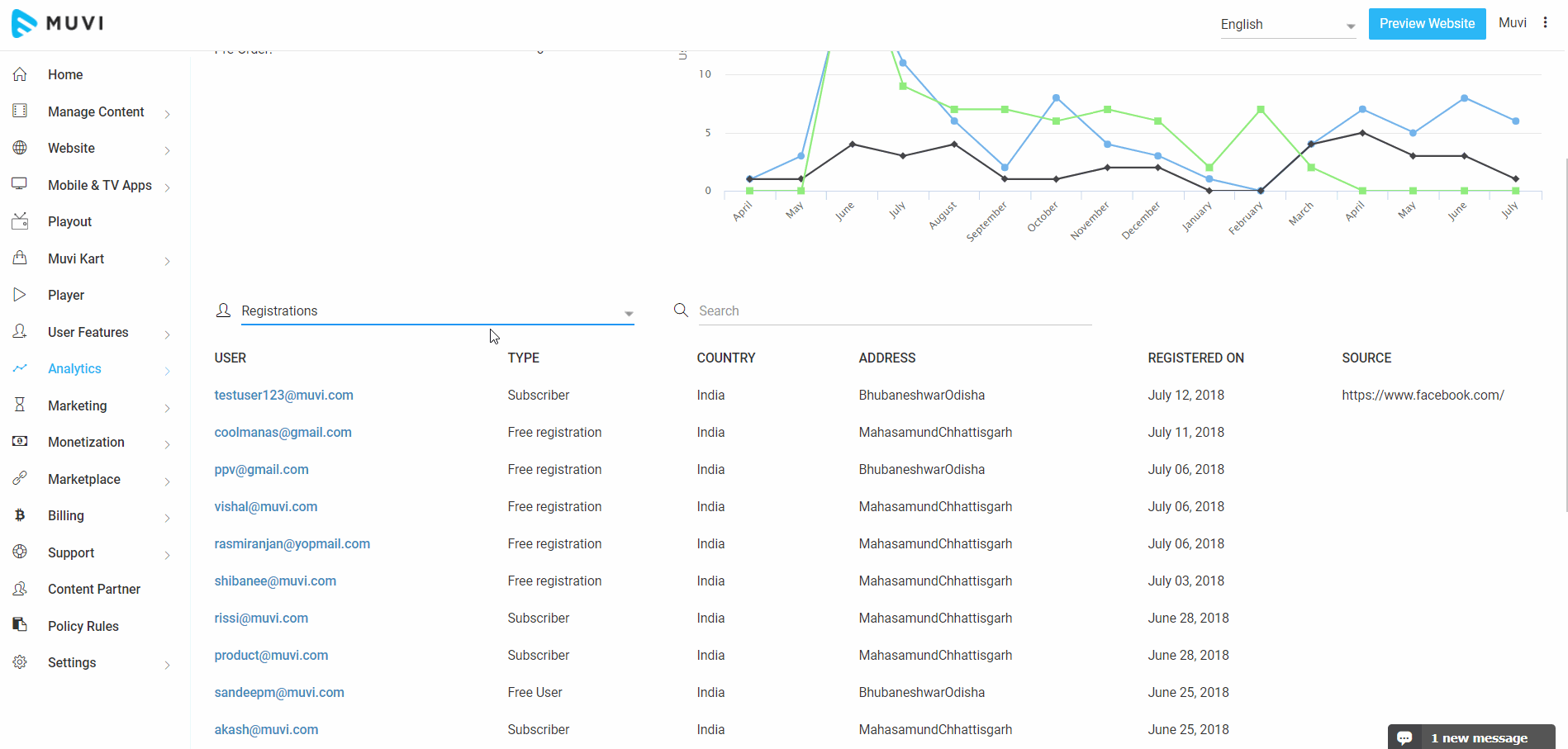 There is another way to view user details. Just click on the email of any user and a window will popup where you can view all the details of the user. 
Click on "Export History" to download the user information in CSV format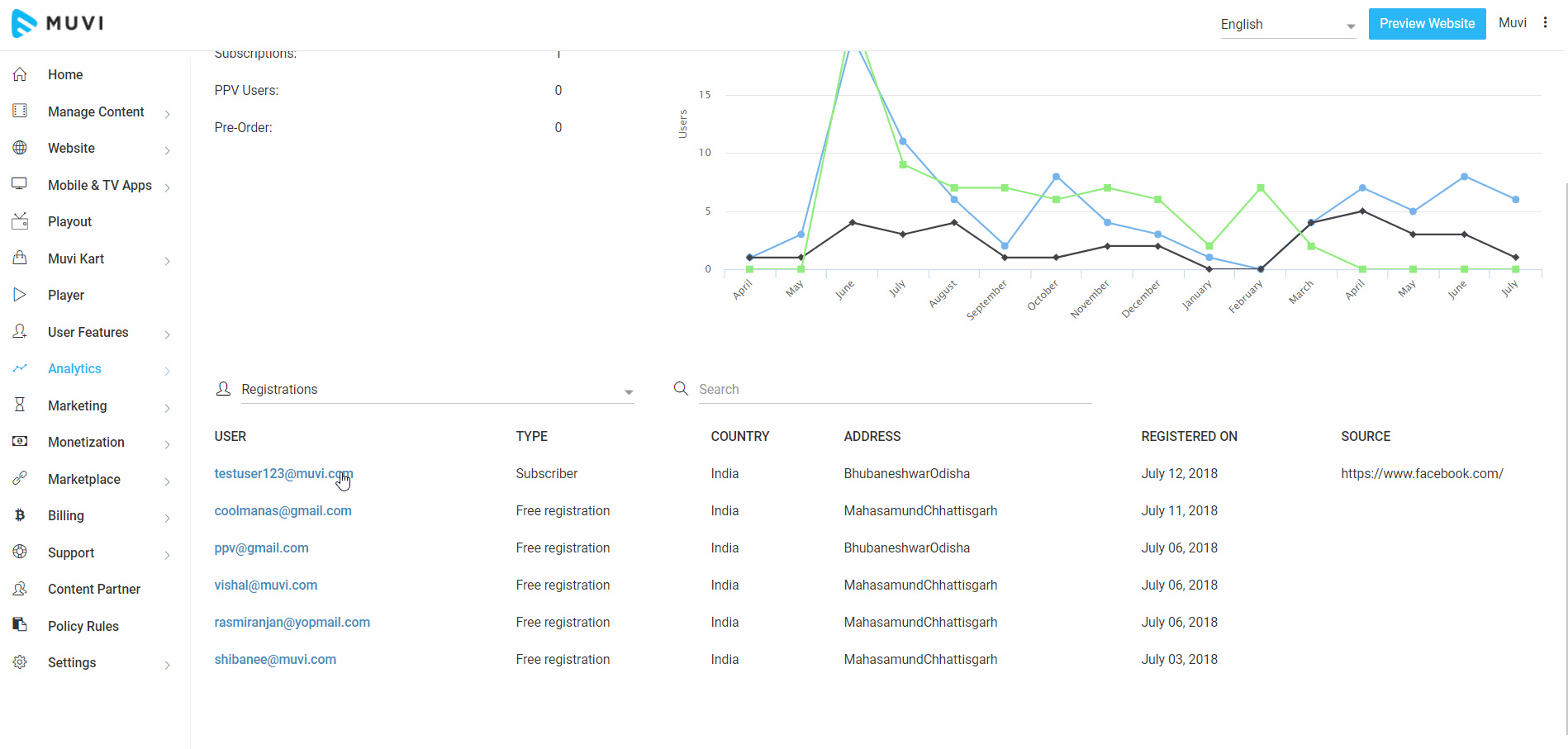 Different Sections of User Analytics Report
There are different sections in User Analytics Report including, "User", "Type", "Country", "Address", "Registered On", "Source", 'Device" and "Cancellation Reason".  (See Below Screenshot)
"User" column shows the email address of the user.
"Type" column shows the type of user. That means

*

Free User or Registered User.
"Country" column shows the user's country from where he/she has registered.
"Address" column shows the physical address of the user which he/she has entered during registration.
"Registered On" column shows the date of registration.
"Source" column shows the source from which the user has come for registration/login (i.e. from various websites, social media sites or search engines. )
"Device" column shows from which device the user has subscribed from(i.e. Website, Mobile App etc.)
"Cancellation Reason" column shows the reason of cancellation. (The reason user has entered at the time of cancellation)
*Note:  A FREE User can access all subscription and PPV content without paying any subscription fee. (To add a Free User, go to "Support" -->"End User Support" in your CMS and then click on "Add Free User"). If a user registers on your website when there is no subscription plans active, then it is a FREE Registration. In this case the user doesn't have free access to all subscription and PPV content in your website. A user becomes a Subscriber when he/she buys any subscription plan (Monthly, Yearly etc.) to watch content in your website. 

Download User Analytics Report
To download the User Analytics Report, click on "Download CSV" (See Below Screenshot).
The report will be downloaded in Microsoft Excel