Second Row Text Section
John: This music is awesome, anyone knows the singer?
Veronica: It's Beyond, she sang a song in this movie.
Kathy: I have to finish this movie then, hoping to see Beyonce.
This is what they call "Real Audience Engagement." With Muvi's Live Chat feature, make your live events truly live and on-demand content playback super engaging. Getting people to interact and opine on a live chat platform in real-time is the most effective way to bring engagement to your content and increase average streaming time; isn't that all you need?
Second Row Highlight Section
Real-Time Chat
Be it live or on-demand streaming, ensure your users spend time on your channel longer than usual. With Live Chat functionality, let your users interact back-and-forth about a scene, wow moments, or even recommend the content of your catalog.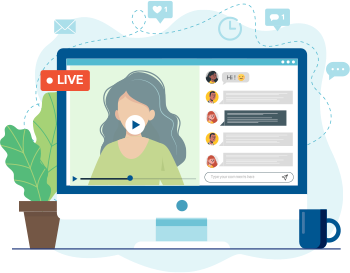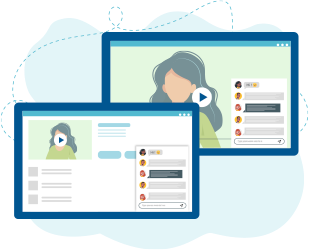 On Player, Store or Both
Place Chat Widget As You Like
Trailer incites excitement. Comments incite views. Bring engagement among users by providing them a live chat space on the player, on the page, or in your store. Let the interactions and expressions drive engagement in and around your content and channel.
Custom Chat Widget
Get a fully customizable chat widget that resonates with your brand. From the widget's placement to chat fonts, trick out your chat box the way you like.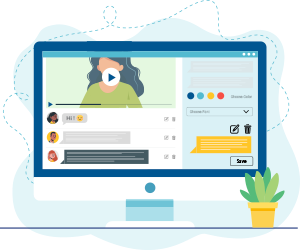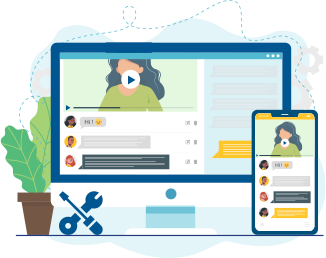 Device & Platform Agnostic
Device & Platform Agnostic
Integrate live chat support with the help of APIs and webhooks. Leverage the power of user engagement optimally on any of your existing websites, iOS, and Android apps. You can create a custom chat widget, better your chat workflow, enhance reporting capabilities with JavaScript API.
Admin Operation
Get complete control of your channel by administering the chats at a granular level. Flag any unpleasant comment that violates community guidelines, restrict users, pin the best comment to the top, and more.