In this era of cut-throat competition, every business strives for customer satisfaction. Quick and quality customer support and round-the-clock assistance are what make your customers feel valued. Be it complaints, queries, or, any other support requests, your customers want those resolved on time. And it often gets hectic to fulfil their requirements in a timely manner while managing the entire workflow involving the customer support team, and other internal teams such as IT, technical etc. A help desk management platform can come to the rescue in such scenarios. It streamlines the customer support process, manages the related workflow, and provides analytics of the customer engagement across multiple channels. 
With the majority of the businesses getting digitized, the demand for help desk management systems has spiked further in recent years. If you have a customer support team for your business or, are thinking of having one, then this blog is for you! Do you know, more than half of your customer churn rate can be triggered by poor customer service? The solution often lies in opting for a help desk management platform. And here we are going to discuss the advantages of the help desk management platform in detail!
Simplified Point of Communication
Handling customer support requests is quite a task- be it a start-up or fast-growing company. Even if you have an in-house customer support team, keeping track of the multi-channel customer queries and complaints becomes tiresome. One of the main advantages of a help desk management platform is, it provides a single point of communication for multi-channel customer complaints, queries, and other support requests. This in turn makes the whole task much easier for your customer support team.  
Fast and Efficient Customer Support
None of your customers want to wait for an indefinite time to get a response. Also, delayed customer support is a sign of poor customer service. This may affect your business in multiple ways by increasing customer churn rate, affecting brand reputation, etc. Help desk management system saves your business from all these hassles. It enables your support team to provide prompt support to the customers. Nowadays, most of the customer support platforms come with ticketing systems and provide the customers instant acknowledgement as soon as they submit any request. Every customer support request gets assigned to a unique ticket number irrespective of the channel such as chat widgets, emails, phone calls, and others. This improves the response time and efficiency of the customer support team significantly.
Also Read: Role of a SaaS Support and Ticketing System
A sound help desk management system efficiently takes part in managing workflow. It offers an infrastructure to streamline the customer support related activities and monitors the defined set of tasks. In addition to this, it looks after all the basic parameters of the workflow for the customer support team including- input, transformation, and output.  By automating a sequential path of tasks for the customer support executives and related internal teams such as IT, sales, marketing, technical, etc. it improves the whole process of acknowledging support requests to resolving them on time.

24/7 monitoring and tracking of the customer requests is one of the top benefits of having a help desk management system. Or else, it will require additional personnel in your customer support team. Not only will this increase the expenses for your company, but it may lack efficiency as well. Help desk management systems are designed to create, manage, and keep track of multiple support requests swiftly without any error and delay. Furthermore, many of them come with SLA (Service Level Agreements) functionalities. This helps in serving the customers with multi-level service agreements such as critical, low, medium, high etc. on the basis of priority. Without a help desk management or customer support system, it will take more time and effort to segregate and manage such customer requests while compromising with the response time.
Detailed and timely reports give a clear picture of how your business is performing. A good help desk management platform comes with this perk of generating analytical reports about how efficient your support team or workflow is. It gives you insights on the mean resolution time, backlog tickets, opened or closed tickets, SLA violation and others helping you in decision making for further improvements.
Quality customer service = High customer satisfaction
No matter how skillful your in-house customer support team is, they require a platform to streamline the customer service activities with greater accuracy. Helpdesk management system takes care that no customer service request is overlooked or delayed. As discussed above, its round-the-clock tracking and monitoring cater to the customer requirements in the best ways possible.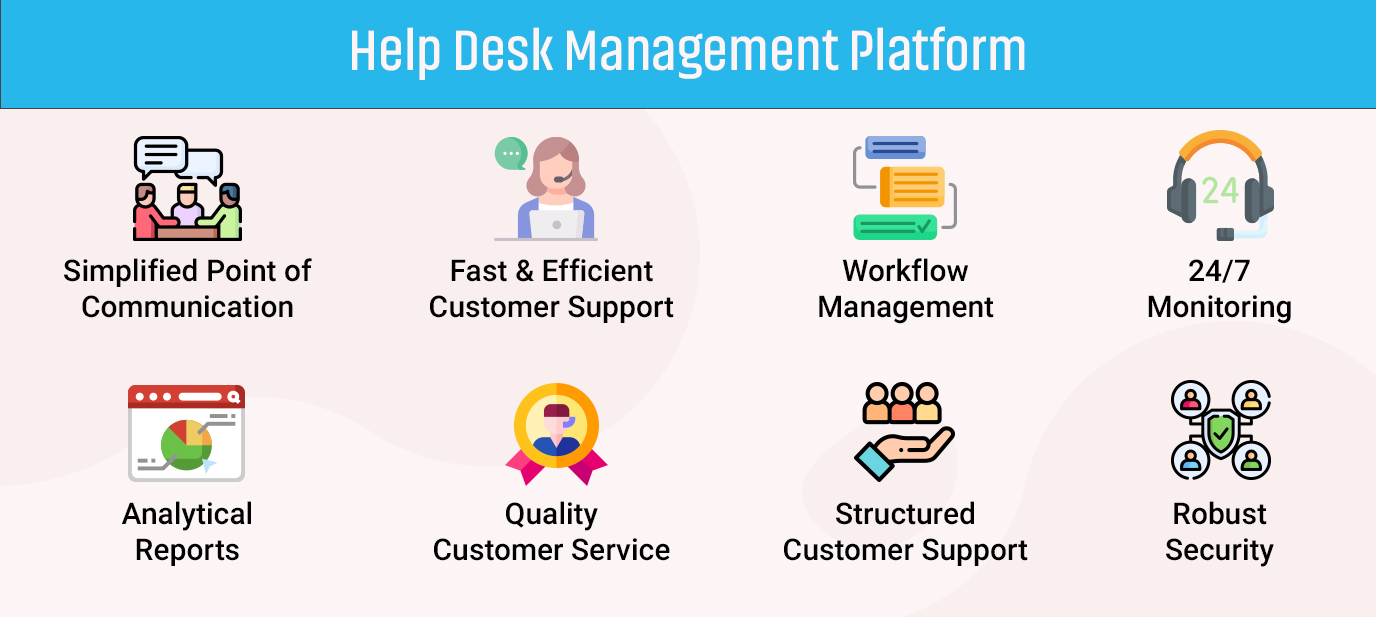 Structured Customer Support
A structured help desk always performs better. Help desk management system can do this job for you by organizing the help desk into multiple levels or tiers. For instance, tier 0 may imply a self-service portal, while tier 1, 2, or 3 may consist of the support teams with ascending skill levels. On the basis of the complexity of the customer support requests, it can be routed to the respective tiers.
Help desk management platform looks after the customer data security with utmost importance. Most of the top-rated help desk management systems are equipped with standard security measures to prevent any possible customer data breach. But note that not every system will accommodate your security requirements. So, you need to do research before getting one for your business.
Muvi Tattle is a Workflow Management System that can help you manage customer support workflows once their support or help requests are raised. Tattle provides enterprise-grade omnichannel support by converting customer requests into tickets in one tap and stands out by providing what other customer support systems don't-
Faster Integration across wider platforms

Unlimited Customization Support

Customizable User-friendly UI

Stronger Security with auto-reporting of unauthorized access

Easy Data Migration

White Glove Support
You can know more about tattle here.