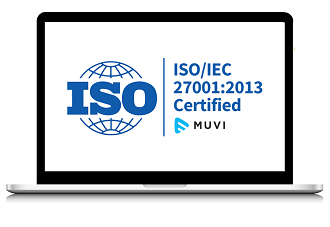 ISO/IEC 27001:2013 certification is an international standard specifying the requirements for establishing, implementing, maintaining, and continually improving an information security management system within the context of the organization. It also includes requirements for the assessment and treatment of information security risks tailored to the needs of the organization.

Muvi's commitment to security is unparalleled in the streaming universe, and it also offers some other security policies and features such as SSL, multi-DRM, watermarking, geoblocking, and PCI compliance.

The ISO 27001:2013 certification proves that Muvi is committed to the data security of its customers and other stakeholders. Practices such as staying up with the latest IT systems, anti-virus protection, data storage and backups, IT change management, and event logging are clearly defined under this standard. This ensures the choice of adequate and proportionate security controls that assist to protect the information in accordance with increasingly rigid regulatory necessities—legal, statutory, regulatory, or contractual obligations related to information security.