People like to watch diverse video content. That is why, sometimes they miss out on some videos, on the lure of watching other videos. But as a content producer, it must hurt you a lot! You must be desperately searching for a way by which you can drag the attention of your consumers towards those videos, right? If your answer is yes, then your search ends right here! Call To Action cards (CTA cards) are the perfect solution to all your problems! In this blog, we will be discussing how you can integrate CTA cards into your videos with MUVI, using some very basic and simple steps. 
But before that, let's briefly discuss why you should add CTA cards to your video on OTT platforms. 
What are CTA Cards?
As stated above, CTA cards stand for Call To Action cards, which drag the attention of your consumers towards a specific video or content. 
This definition sounds a bit bookish, right? So, let's simplify it for you! 
You must have seen YouTube videos. And if you do, then you must have seen those small boxes with posters and links to some other videos that appear at the end of some of the YouTube videos. There, those are the CTA cards for you! 
Now if you are an avid streamer, you might already know that most content producers use these CTA cards to compel their viewers to watch those videos. You can use them to boost and manage viewers of your videos and transfer traffic to them. And there are some other benefits of these cards too, which are discussed in the next section. 
But before that, let's understand what you can do with CTA cards. It is not necessary to deliver only video content through CTA cards. MUVI allows you to integrate polls too! So, basically, CTA cards can be of two types. 
These are polls added at the beginning, in between, or at the end of a video, that request your consumers to participate in some form of an online survey. This survey can be from any topic or genre but if you want to reap the maximum impact of your message, you should place only relevant surveys. Relevant surveys means surveys that are either related to your content or your recommendation engine suggests that your consumers would find interest in it. 
Video cards are the ideal CTA cards that you see on YouTube or any other video platform, that show the trailer or poster of a recommended video along with the link to navigate to that particular video. These video cards appear as small cards appearing on one corner of the screen, while the users watch the anchor video. 
In many circumstances, (for instance, if you have developed your OTT platform using MUVI), you can customize the appearance of video cards. Which image will be displayed, which text will appear and how, and most importantly, which cards will appear on which videos – you can customize and decide all of these aspects. 
This customization option helps you link relevant CTA cards to related videos, hence ensuring more views on your CTA-linked videos.  
Benefits of Adding CTA Cards to your videos
So, why do you need to add CTA cards to your videos? 
The benefits that you get by adding CTA cards to your videos are multi-dimensional. Let's discuss them in detail below. 
Helps You Gain the Attention of Your Audience
If you are a regular content curator, then your OTT Platform must be flooded with loads of content. When an audience visits your platform, it is obvious that they will not be able to notice all of them. 
CTA cards help place your content right in front of your user. Even if they miss the videos before, they can still come to know about them from the CTA cards. Thus, these cards help you to grab the attention of your consumers and suggest them interesting videos to watch. 
Makes Your Videos Interactive
CTA cards make your videos interactive. Especially if you are using the Poll CTA cards, then your audience will get the chance to interact with your platform, answer certain questions, and tell you about their choices. 
This type of interaction help builds a better connection with your audience, as they start feeling connected. 
Best Way to Know the Preferences of Your Audience
It is the best way to know the preference of your consumers. Firstly, you can add polls and surveys which will act as direct mediums for knowing your audience's preferences. 
But you can use video cards to know your audience's preference indirectly too! You can show video cards of different types of content to your audience, and then analyze clicks achieved from these cards. It will tell you what type of content works the most with your audience.  
Gain Views on Some of Your Less-Performing Content
If some of your content has gotten lesser views than usual, then you can make a CTA card for it and place it on one of your highest-viewed videos that are related to your previous video. In this way, you can gain a fraction of traffic from your highest-performing video to your lowest-performing video. But to achieve maximum results, make sure that both videos are related to each other or are based on similar topics.
How to Add CTA Cards to Your Videos With MUVI?
For MUVI customers, adding CTA cards to their videos is extremely easy. You just need to follow some simple steps that are discussed below. 
As MUVI supports both poll cards and video cards, we will discuss the steps of video cards first, followed by the poll cards. So, let's begin. 
How To Add Video CTA Cards?
To create and enable the video CTA cards on your videos, you need to follow the steps given below:
First, click on the "Player" button from the menu bar of your CMS dashboard. 

On the "Player" page, you will get the option for enabling video cards for your content. Click on the "Enable Video Cards" option to enable video cards.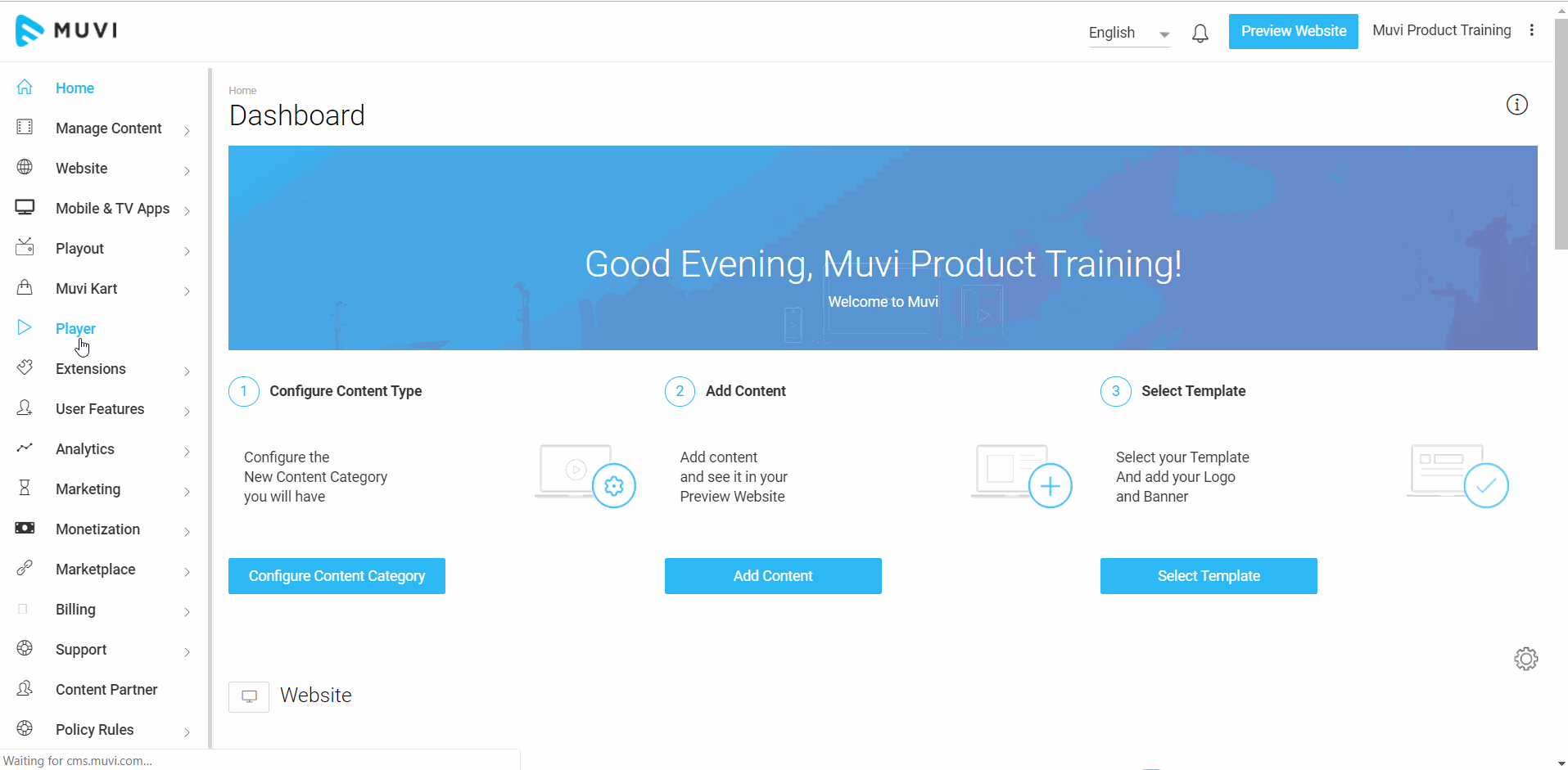 Once your video cards are enabled, you need to add the video cards to the content present in your content library. To do so, go to "Manage Content" and click on "Content Library" from your CMS dashboard. 

On the extreme right side of any content, you will get the "Manage Video Cards" option. Please click on it. 

If you want to add a new video card to that content, click on the "Add Card" option. 

For video cards, you will have to add external links. It will appear as a small icon with a title and link on the screen. 

So, for adding external links, select the card type as "External Link" from the drop-down menu. 

The "Title" field is a mandatory field, so please mention the title of the link in that field.

In the "Description" field, type a description of the link content.

In the "Redirect URL" field, enter the URL of the page where you want your users to visit.

Click on "Upload Image" to upload an image that will be displayed in the "i" button.

Once you have completed all the fields, click on "Save" to save the information.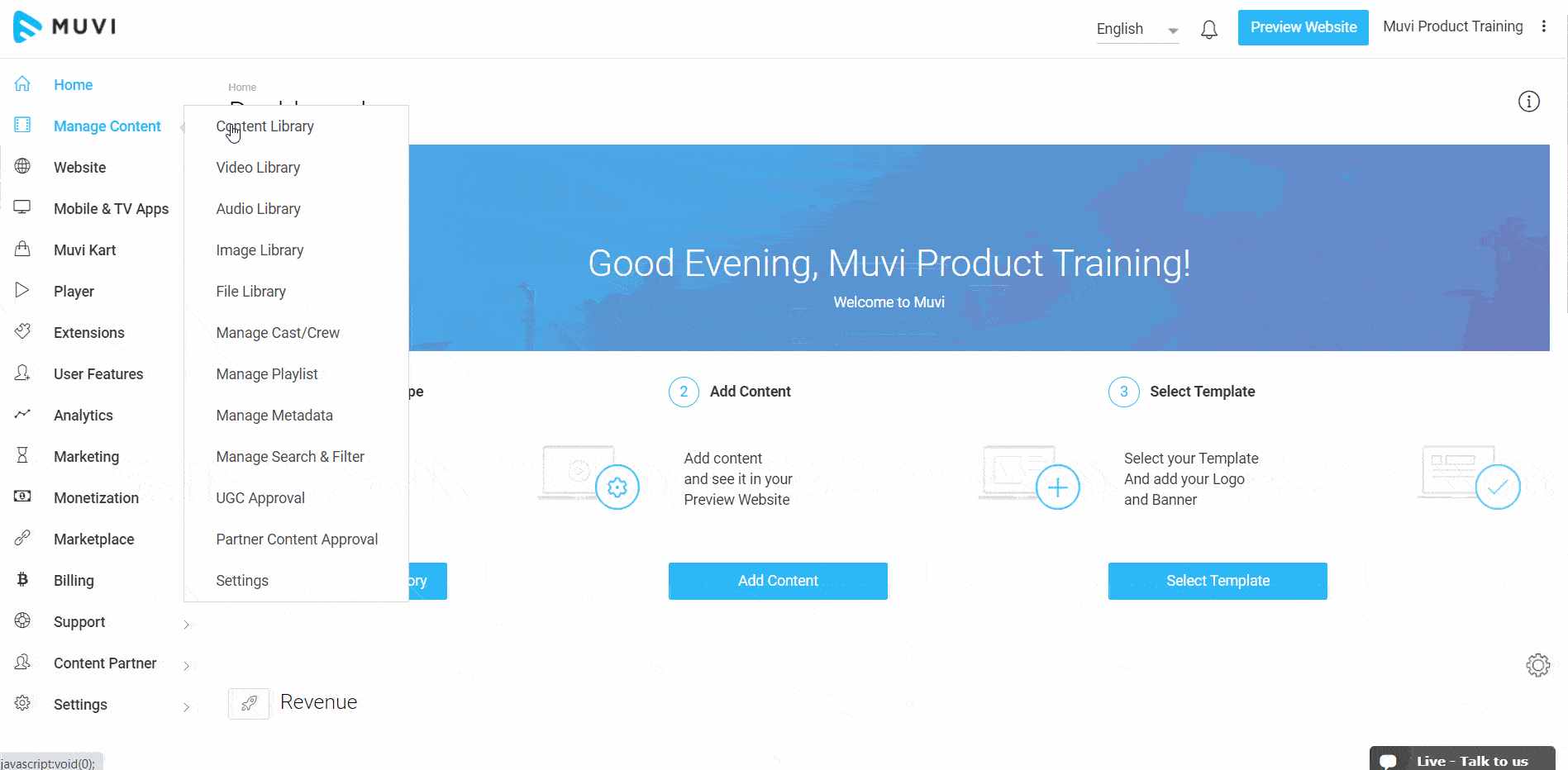 How To Add CTA Polls?
To add CTA Polls, you will have to follow the steps given below. 
Repeat steps 1 to 5 of the steps discussed in the previous section, and finally enter the "Add Card" page.

Now, this time, instead of choosing external links from the add card page, choose your CTA card type as "Poll" from the drop-down menu. 

In the "Question" field, you need to type the question of your poll.

In the next field, type answer options. You can add multiple answers to the question. For example, in "Option – 1", type one answer, in "Option – 2 "type another, and so on. To add more options, click on the "+" icon.

Once you have completed all the fields, click on "Save" to save the information.
While viewing the videos, your viewers will find the cards in the "i" button placed at the top corner of your video. On clicking on the button, they will see the link to the linked content. On clicking on the link, they will be redirected to the linked video or poll page. 
Wrapping Up 
CTA cards help to grab the attention of your viewers, make the videos more interactive, and help increase the views on your videos. That is why, as an OTT platform owner, you should always choose an OTT platform provider that lets you add CTA cards to your videos seamlessly. 
If you are looking for one such platform, come to MUVI! Muvi is the world's highest-rated OTT Platform provider, ensuring 100% seamless white-labeled OTT solutions for our customers. Backed by best-in-class technology and 100+ in-built features, we enable our users to deliver the best viewing experience to their viewers. Sign up to start your 14-day free trial today!