Over the years businesses have adopted, re-assessed and changed their marketing strategies in order to come up with the most effective and competitive ones. It is needless to say that live streaming has made its place as one of the most impactful marketing strategies, especially since the outbreak of the pandemic and is likely to prevail even in the post-pandemic years to come. Product launch, business conferences, interactive live sessions, feature launch/update, product demonstration, or any other event/occasion/purpose – live streaming is successfully helping the business owners/stakeholders/individual artists and others in marketing in various ways. For every business/industry/sector live streaming can be utilized to serve the purpose of marketing. Here we will give you a thorough understanding about why live streaming is a must-have for marketing.
Live Streaming as a Marketing Strategy – All You Need to Know
There are multiple ways in which you can market using live streaming such as-
1. Product Launch
Live product launches have been trending for a while now. Be it Google's hardware product launches or Apple's live product launches – audience has seen huge success live streaming can bring when it comes to making a grand entry of a new product in the market. The logic is simple- no matter how good a product is, no one is going to know or talk about it without you creating that hype, by letting your audience know about its exclusive features, benefits, why they should choose it over other other products, the price comparison and other offers they can avail etc. Statistics says that 80% of the consumers prefer to watch a live video than reading a blog and it conveys why the businesses are more inclined towards streaming live videos of their product launches instead of just writing product launch blogs/articles/press releases. To know more about successful live streaming of your product launches, read how to boost your product launch with live streaming.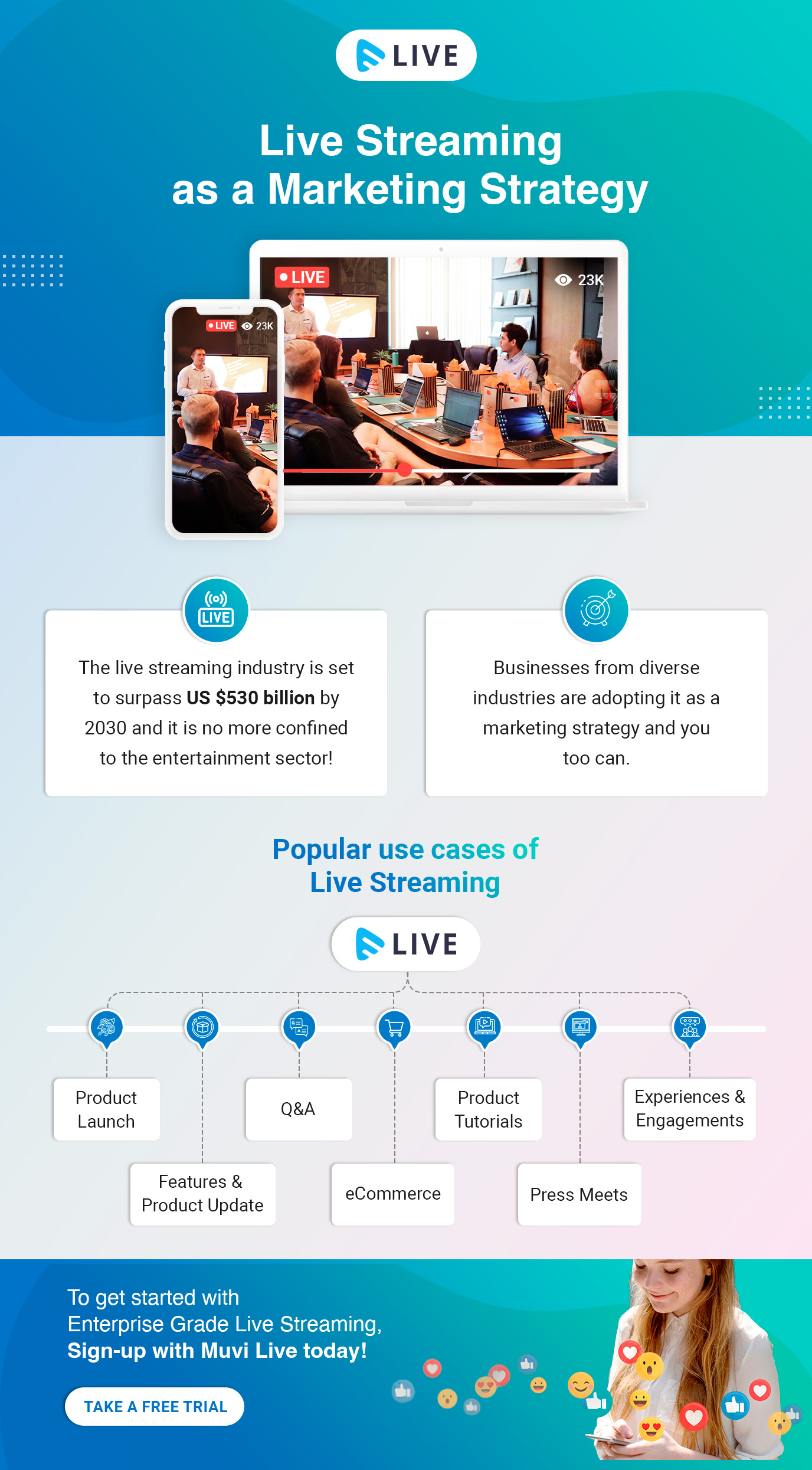 2. Feature/Product Update
For companies operating in SaaS, e-commerce, gaming, electronics and other sectors, there are feature/product/software updates that need to be conveyed to the customers and audience at the right time. In this case, nothing can be more efficient than live streaming the updates over multiple platforms. This helps create an instant impression to the audience, reach out to the new users/prospects, and keep the existing customers updated about the products they are using. It also increases the chances of upselling and cross-selling at zero additional costs.

3. Live Q & A
Good customer engagement paves the way to better customer retention rate, lifecycle value, recurring revenue and what not! Live discussions about your brand, products, features, while addressing customer concerns/queries and others through live Q & A can be a great way to interact with your customers, reflect the brand values and make them feel important. Survey showed that 54% of the consumers are willing to watch and engage with the live streams from the brands they use. At the same time it keeps your customers connected to your brand and helps you improve your products/services further by hearing from them directly. Moreover, such live streams are highly useful in educating your customers/users by answering/resolving their queries related to your products. 
4. Live Shopping
Live shopping is one of the newest trends and holds great potential to become a huge sector in the near future. Live shopping started with the concept of home shopping where consumers could buy products directly by watching the live broadcasts over television channels. However, soon it started getting more popular where various brands adopted this as a strategy to sell their products/subscriptions/services etc. through live streams over multiple platforms including social media like Facebook, Instagram, YouTube etc. Samsung's Shoppable Live Stream Tech Meets Tech, Sephora's Live Facebook Fridays, Kitkat's live campaign drawing one third of the annual sales- these all depict the potential live shopping holds. Not only this, the live streaming shopping market is subject to be worth US $25 billion in the U.S. itself by the end of 2023. This explains why live streaming is no less than a necessity in marketing for any business.
5. Product Tutorials 
Product tutorials are a great way to explain your products/services and navigation/roadmaps for your apps/websites to your customers. While how-to guides or VoDs can help in this, live videos always have additional benefits to engage your customers in real time. The good practice will be taking your audience feedback and creating content accordingly. Such live product tutorials can also be recorded and shared on multiple platforms to make them accessible to the customers as and when they want. One plus point is, such discoverable videos also help in drawing new customers/customer acquisition of your brand.
6. Additional Revenue
One of the ultimate goals of marketing is – revenue. And what if live streaming itself helps you in this? Yes, you can choose to monetize some of your exclusive live streams to gain additional revenue. As per the statistics, 45% of the live video audiences are willing to pay for the live streams from the brands of their choice. The global live streaming industry is set to reach over US $247 billion by 2027 and live stream monetization no doubt holds a lucrative position to gain more revenues.
To Conclude,
Live streaming holds high potential to be used as a marketing strategy and live streaming on various occasions and for various purposes as mentioned above help them meet your business requirements and serve the purposes of marketing. To establish all such marketing strategies efficiently, you need to choose your live streaming platform wisely that provides the related solutions. A thorough research on the live streaming platforms available in the market, their features/solutions, advantages etc. can help you choose the right platform.
Muvi Live, the brand-defining live streaming platform, helps you in implementing all the above-mentioned marketing strategies and offers multiple solutions like live stream recording, ratings & comments, offline viewing and analytics, to name a few. Take a 14-day free trial today to know better (no credit card needed)!