Are you completely new to the term On-demand TV? Wondering to switch from Linear TV channels to On-demand television channels? Well, before getting started to create your own, you should get a clear understanding of what it is, isn't it?
In this guide, I will help you know:    
What is on-demand TV?

What's the difference between on-demand and linear TV?

Why is on-demand so popular?
What is On-demand TV?
The advent of On-demand TV has completely changed the way we engulf content these days. It has quickly occupied user's attention and has entirely outsmarted the traditional television model.
Coming down to its exact definition – it is a video media distribution service that allows end users to watch their favourite TV shows, sports events, and movies anytime they want. No need to wait for a particular schedule, rather, consumers enjoy full power to see their preferred shows, events or movies according to their time and convenience. In fact, you can binge watch entire seasons of your favourite shows or popular movies on your smart device, all in a single day of viewing.
If I were to put it in simple terms, with this technology,  you can watch what you like-when you like!
On-demand TV – The Liberty to watch TV your own way!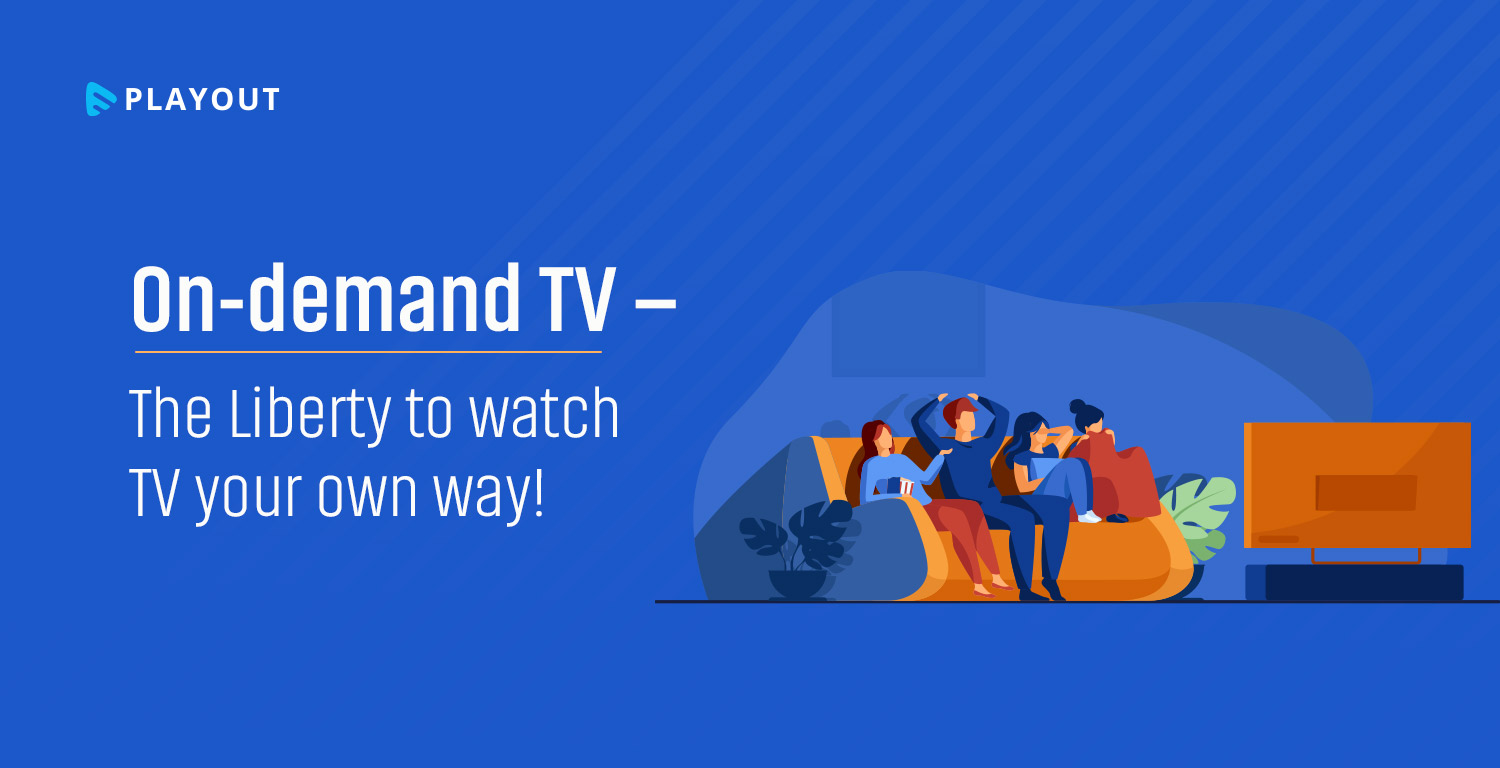 How can end-users watch your on-demand TV channel?
You can use several smart devices to broadcast on-demand Television such as:
Smart TV

Dedicated App on a smartphone

Website through a video player
And, what about the monetization part?
Well, you can provide content on your on-demand TV channels for free and earn revenue by integrating video ads. What's more,  you can also choose a subscription model that allows end-users to pay a monthly, quarterly or annual fee to watch the content too! A very popular model for on-demand TV operations .
What's the difference between on-demand and linear TV?
On-demand TV
Linear TV

It is a non-linear way to watch online content of your preference.

You don't have to wait for a scheduled time to watch your favourite shows

You also don't need a TV to consume content because you can watch from your smart devices.

It provides you the flexibility to watch any TV shows from anywhere.

It is referred to as the traditional method of watching your TV shows in your households.

You have to wait to watch your preferred shows because there is a set sequence in the program.

You need a TV to watch your favourite TV shows or any other events.

You don't get the flexibility of watching anything from anywhere.
Why is on-demand TV so popular?
On-demand TV industry has seen rapid growth in terms of users. More and more users are finding this as a flexible method of consuming their preferred content.
Here are some of the most vital reasons to consider:
Method of consuming content has evolved
Ideo consumption habits have seen a rapid transformation where linear TV no longer stands up to our expectations when it comes to personalized methods of enjoying TV services.
Smartphones provide faster and easily accessible internet services, on top of it, the introduction of VR has taken the entertainment industry's delivery to the next level. Just to add to it, on-demand streaming is one of the most vital aspects of technological advancement. With this solution, instant gratification was introduced in the realm of television. No wait times to watch your favourite TV shows and movies with personalized experience, a sea of options to choose from, guaranteed every time you switch on the service.

Power and Flexibility Of Device & Schedule
On-demand streaming TV offers you the liberty to watch TV and  to select what you want to watch and when you want to watch. You have no time or device constraints. You can decide your own schedule! By letting the end consumer  view as per their own schedule leads to creation of loyal viewers of your on-demand TV service. After the invention of smart-portable devices, we have started consuming contents in a new way i.e., anytime on any device. Gone are those days when you sat on a couch taking the remote of your TV in your hand and waited to watch your favourite TV show. A stable internet connection and a smart device can do magic!
A Novel and Potential Method of making profits
As a broadcaster, you must be aware of the fact that audiences have changed their taste and consumption habits. Subscription based services like Netflix and Hulu have given on-demand services a new height by regularly pushing the envelope of design and new features.
With rapid increase in the number of end-users, broadcasters get a bigger opportunity to gain maximum profitability. It's a huge prospect for traditional broadcasters to switch from convention mode to on-demand TV.
Wrapping Up!
A huge group of audiences have abandoned traditional TV and started consuming on-demand Television. With changing time and habits broadcasters should also start building their own TV channel. If you are looking for a zero-code broadcasting software to launch your live TV and audio channel as well as telecast your on-demand content in real-time, there is no better option than Muvi Playout!
It allows you to schedule both on-demand content as well as live stream on several linear channels using advanced scheduler. Get an end-to-end playout solution to broadcast your live Tv channel. Are you still in doubt how it can help you? Try a 14-days free trial to clear it out!