Incident response can range from a variety of cases such as cyber security breaches, safety issues, non-compliance in communication protocol etc. Incident management workflow can address the threats, ensure communication protocols, and return your business to operational standards.
A standard business can face hundreds of incidents daily. New types of attacks keep evolving all the time and this makes incident response challenging for the business owners. They have to make sure all the incidents are addressed evidently thereby reducing the risk and damage to the organization.   
Having a comprehensive incident management workflow in-hand can offer ease of reducing the risk of operational deficiencies. It offers a complete security package with its huge variety of features such as advanced incident exposure, management of incident, and automated incident response using workflows.

What is Incident Management?
It is defined as the procedure a business/industry uses to find out, evaluate, address, and report incidents. The nature of incidents vary from business to business, however, in all cases they involve possible damage or trouble of a business's critical assets and operations. Without immediate action, incidents can rise to become terrible.
The major objective of any incident management process flow is to eliminate the potential risks and return the organization to functional standard, repair any damage, follow communication protocols both internally as well as externally.
Some examples of incident management are as follows:
Cyber security breaches

Privacy breaches

Natural tragedy  

Threatened employee termination

Public relation emergency

Product recalls    
Workflow strategy for an Incident Management
When an incident is triggered, the process is handled by the incident response team. Each of the members in the team is equally liable for a specific aspect of the incident mitigation activities. They must know how and when a case is escalated to another team or members for required action.
Ultimately, the team reviews the case and forwards it to the head of the department. Head of the department may decide to file a case in the judicial department or may pass the case to the remediation team to deal and take required action against the incident. After getting a suitable resolution from the remediation team, the administrative staff finally approves or rejects the solution and the process ends.  
The incident management process flow chart:
Discover >>>Assess>>> Address>>>Report>>>Document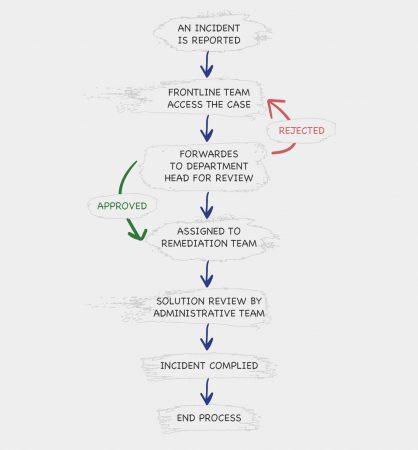 Why must you automate the incident management process?
Every business and industry has been part of an immediate approach to handling an incident. In some situations, individuals accelerate and guide the response just like a cop doing their best in communicating as well as managing the activities. However, sometimes the response tends to be slower and less helpful than it should be in normal. Delays and missed steps can cost a business tremendously both in terms of revenue as well as reputation.   
Automating the process helps:
Cut down response time and cycle

Makes sure resources are suitably use and integrated

Eliminate human errors

Empowers the team to focus on the task at hand

Conveys an audit track of all response activities

Boosts communication
How Tattle Can Help You?
Muvi offers workflow management software popularly named as Tattle that allows businesses to create customized and automated response processes based on the type of incident triggered. Whether it's a cyber threat, HR problems, or any other kind of workplace breaches, our software is efficient in automating the work process without any knowledge of coding. You can easily assign the tasks and track the growth of the incident management.
Create customizable workflows with zero code
Tattle allows you to create custom workflows that facilitate your system to attain your team's exclusive processes. It allows easy interaction with other applications in the system such as Project Management Tools, CRM, ERP, etc.
Custom Attributes and boards
Tattle also allows users to set up their own field or attributes without the need of a development team. It also lets users to set-up customized attributes and boards to match your precise trade necessities.  Are you ready to automate your incident management process? Start a 14-days free trial today!