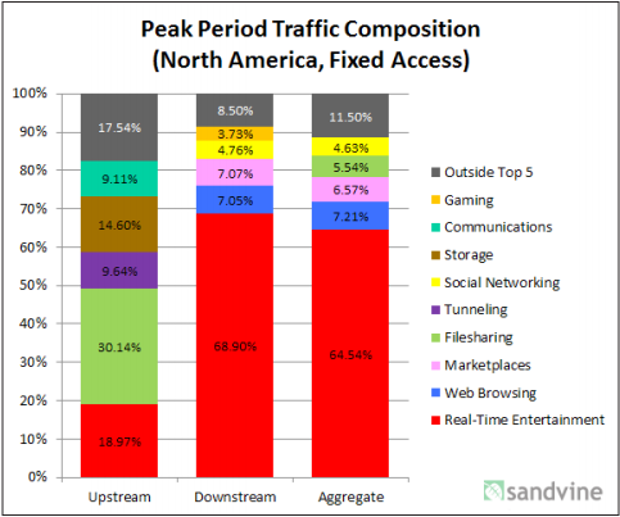 Mary Meeker, a partner at venture firm KIeiner Perkins Caufield & Byers (KPCB), reported in her annual Internet trends report, 64 percent of all consumer Internet traffic is video. Sandvine, a broadband solution provider and analysis firm, has found that online video on demand streaming takes up even more than that in the Internet's peak hours.
In Sandvine's latest Global Internet Phenomena Report, the company found that "Real-Time Entertainment is responsible for almost 69 percent of downstream bytes during peak period, a notable increase over the 64 percent … from a year ago."
The leader of the Internet video pack? It's Netflix again. "Netflix continues to be the leader in peak period traffic, accounting for 36.5 percent of downstream traffic during our study." Nothing else comes close. YouTube takes a distant second with 15.6 percent.
After that, for downstream traffic, HTTP, the good old ordinary Web, comes in with only 6 percent. It's followed by iTunes, BitTorrent, Facebook, and MPEG traffic.
Read the entire story here.