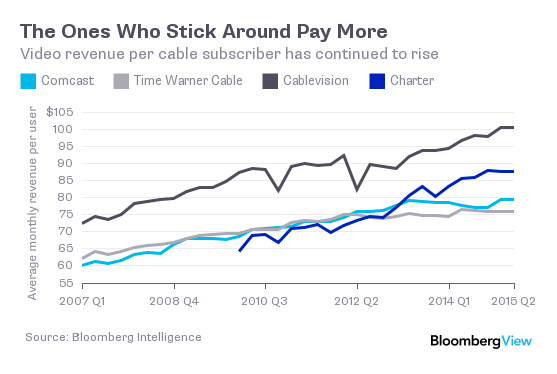 With federal regulators having made clear that the No. 1 cable company (Comcast) wasn't going to be allowed to buy the No. 2 (Time Warner Cable), things are getting really interesting for everybody but No. 1. "This is a very attractive market for us that'll be consolidating for many years to come," Altice Chief Executive Officer Dexter Goei told analysts Wednesday while discussing the Luxembourg-based company's acquisition of 70 percent of U.S. cable provider Suddenlink. Goei didn't expand on the possibility that Altice might bid for Time Warner, but that's in the air now too.
Meanwhile, Charter Communications, the No. 4 cable operator in the U.S., is also reportedly thinking of bidding for Time Warner Cable, and said this week that it's going ahead with the acquisition of Bright House Networks, now No. 6.
This decline is mostly because of defecting video subscribers, and it would be much worse but for the growth in broadband Internet connections. Comcast has just passed the milestone of having more broadband Internet subscribers than cable-TV subscribers (there's lots of overlap); other cable providers will soon follow. Some of the lost video subscribers are moving to multicast video on demand services which usually means keeping the cable but getting all video over a broadband connection rather than through a set-top box.
Read the entire story here.