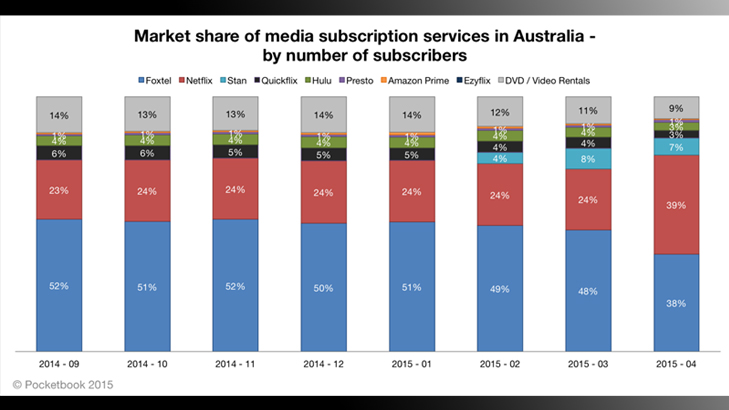 US streaming giant Netflix has overtaken Foxtel as the subscription based video on demand service of choice for Australian consumers, but its local arrival has done little to curb Australians from continuing to sneak into its larger US catalogue. New research from Australian budgeting app Pocketbook shows Netflix, which launched in Australia on March 24, has already notched up 39 per cent of the paid video subscription market, with Foxtel losing 10 per cent of its share to 38 per cent in the wake of Netflix's arrival. However, the overall market appears to be growing, meaning Foxtel didn't necessarily lose that many customers.
Other recently launched services have barely made a dent in the market, with Stan, joint-owned by Nine Entertainment Co and Fairfax Media, publisher of this article, claiming 7 per cent market share in April; while Presto, Foxtel's streaming service, has just 1 per cent.
Quickflix, a veteran in the space, has seen its small slice of the pie shrink from 6 per cent six months ago to just 3 per cent in April.
Foxtel's business subscribers – company kitchens, meeting rooms and bars – are not captured by the data.
Based on a study of 85,000 Australians using Pocketbook's app, the data also shows 97 per cent of Australians who subscribed to Netflix's US service using tools such as virtual private networks (VPNs) have not yet trialled Netflix's Australian Video on demand service.
Read the entire story here.