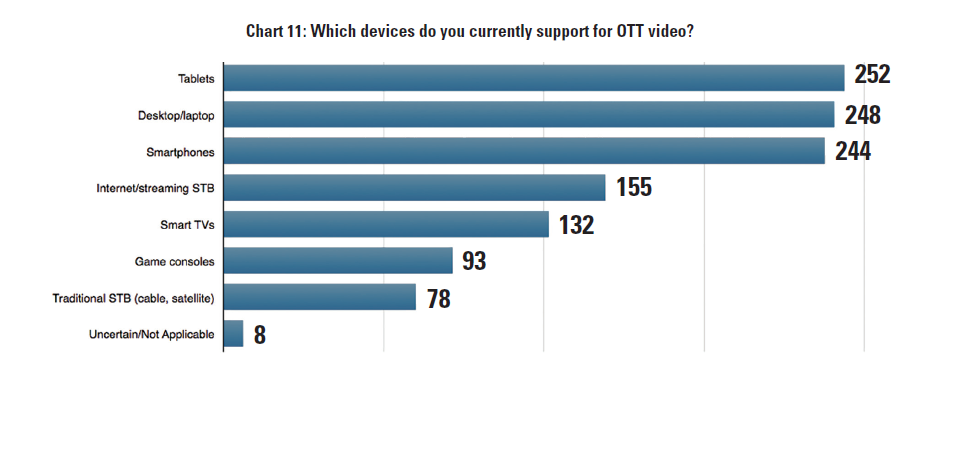 According to a new survey report published today, OTT video delivery is making a marked impact on both the broadcast and streaming industries, driving consumer and technologies shifts in media consumption. Survey responses to a recent StreamingMedia.com OTT survey that asked respondents to weigh in on OTT growth, both today and in the near future.
Key findings from the survey include the following:
Nearly three-fourths of respondents see OTT as a viable revenue opportunity today. Even for those survey takers who indicated they've not yet moved to offer OTT services, there was a strong understanding that it's no longer just a video-on-demand (VOD) play.
Additional responses indicate that offering both video-on-demand (VOD) and live-linear channels will be critical for OTT providers to entice new prospects and gain market share. This trend is a critical one. For existing OTT providers, offering a VOD service may not be enough to maintain, much less grow, market share.
Survey respondents highlighted the delivery protocols they currently support, and Apple's HTTP Live Streaming (HLS) was the clear winner at double the support of any other protocol.
Titled, "Over-the-Top Video Delivery—Challenges and Opportunities for Global OTT Service Providers," the report is sponsored by Level 3 Communications, produced by Unisphere Research, and crafted by Transitions Inc. The report analyzes responses from 809 Streaming Media Magazine and streamingmedia.com readers on OTT trends and opportunities. The survey asked respondents to examine OTT from a variety of angles, ranging from business and technology challenges to the competitive challenges and revenue viability of offering OTT services.
Read the entire story here.