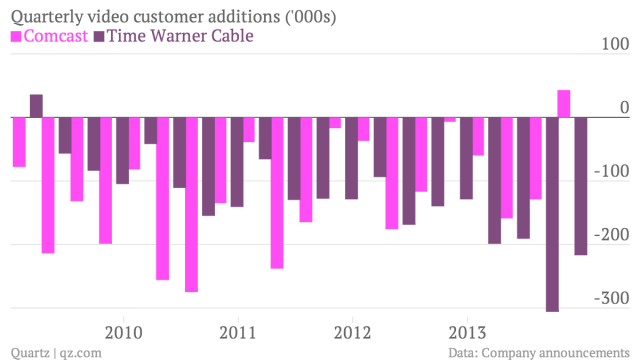 Time Warner Cable will report its first quarter earnings on April 30th. We expect the company's pay-TV subscriber base to continue to shrink in this quarter and beyond. In contrast, we expect steady growth in the high speed internet operations driven by rising residential and business demand for high-speed data services and multicast video on demand services. In the recent past, the company has seen rapid growth in its business services segment with revenue growth of approximately 23% for the year 2014. We expect this up-trend to continue in the near term, driven by higher demand of bundled packages especially for small and medium sized enterprises.
We estimate that the pay-TV operations contribute around 30% to Time Warner Cable's stock value. The cable company has been losing pay-TV subscribers for years now. The overall subscriber base has come down from 13.3 million in 2007 to 10.79 million at the end of 2014. This can be largely attributed to a combination of market saturation, fierce competition, delays in the transition to a digital platform and the increased focus of providers on acquiring higher-value subscribers. The company has frequently been blacked out by networks in the past in the midst of pricing disputes and it has paid the price by losing subscribers in numbers. Time Warner Cable's resistance to content providers' steep price increases is warranted to a degree. Still, the high demand for popular programming gives the content owners the upper hand.
Read the entire story here.