The global subscription billing market is expanding fast, paving new paths for the players and stakeholders in this field. The market is set to expand at nearly 14% CAGR and reach over US $7.5 billion through 2025 from its benchmark of US $4 billion in 2020 globally. The revenue of the global market stood at US $4.149 Billion in 2019, and is subject to reach US $7.862 Billion in 2025, with a CAGR of 11.24%.
The rise in adoption of subscription billing models coupled with the demand for adhering to the compliances and optimizing revenues is subject to surge the requirement for such billing systems further. According to a recent report by Innopay, 59% of the global subscribers have 1 to 5 monthly subscriptions, while 19% have 6 to 10 monthly subscriptions! This gives a glimpse of the unlimited growth scope in this field.
In this report, we will brief about the latest trends, demand, growth and other significant factors in the subscription billing market of the leading regions across continents. 
Subscription Billing Market – Regional Analysis
Subscription billing systems are garnering high popularity as the subscription based business models are getting widely adopted over a broad range of industries such as –
Streaming & Media

OTT

Entertainment

Financial services

Gaming

E-learning

Goods & Retail

Telecommunication

Travel & Hospitality

Energy & Utility

Real Estate

Banking
And many more.
Here we will walk you through the to-the-point region-wise analysis of the global subscription billing market-
North America Subscription Billing Market
North America has been leading in the global subscription billing market since the past decade. Increasing adoption of the automated billing systems and growth in subscription-based businesses are fuelling the sales of subscription billing systems in North America.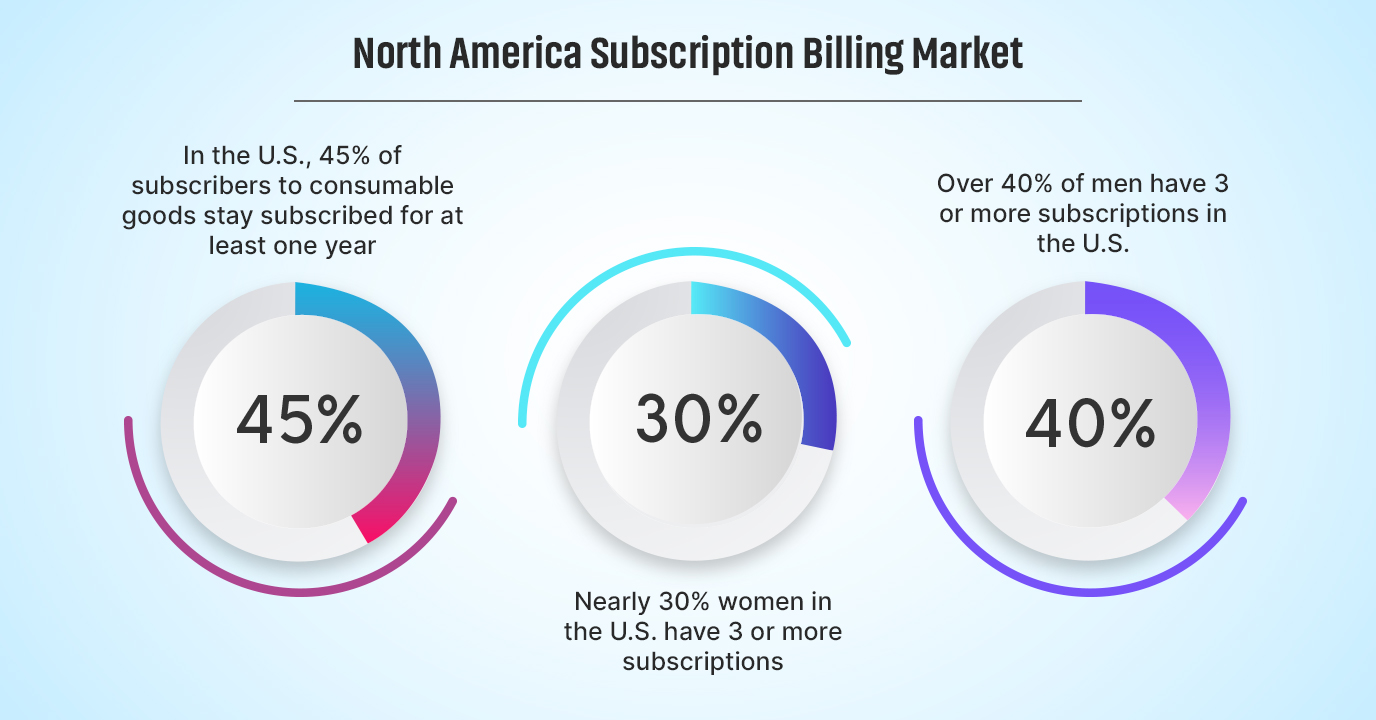 The United States being the epicentre of the North America market is subject to hold the major share in this region, followed by Canada, Mexico, and a few other countries.
With the leading subscription services are gaining more popularity in the U.S., it is set to remain as the dominant country in this market. As stated in a recent Statista report, there were nearly 140 Million Amazon Prime subscribers in the U S. as in 2021, while the figures for other leading subscription services are as follows-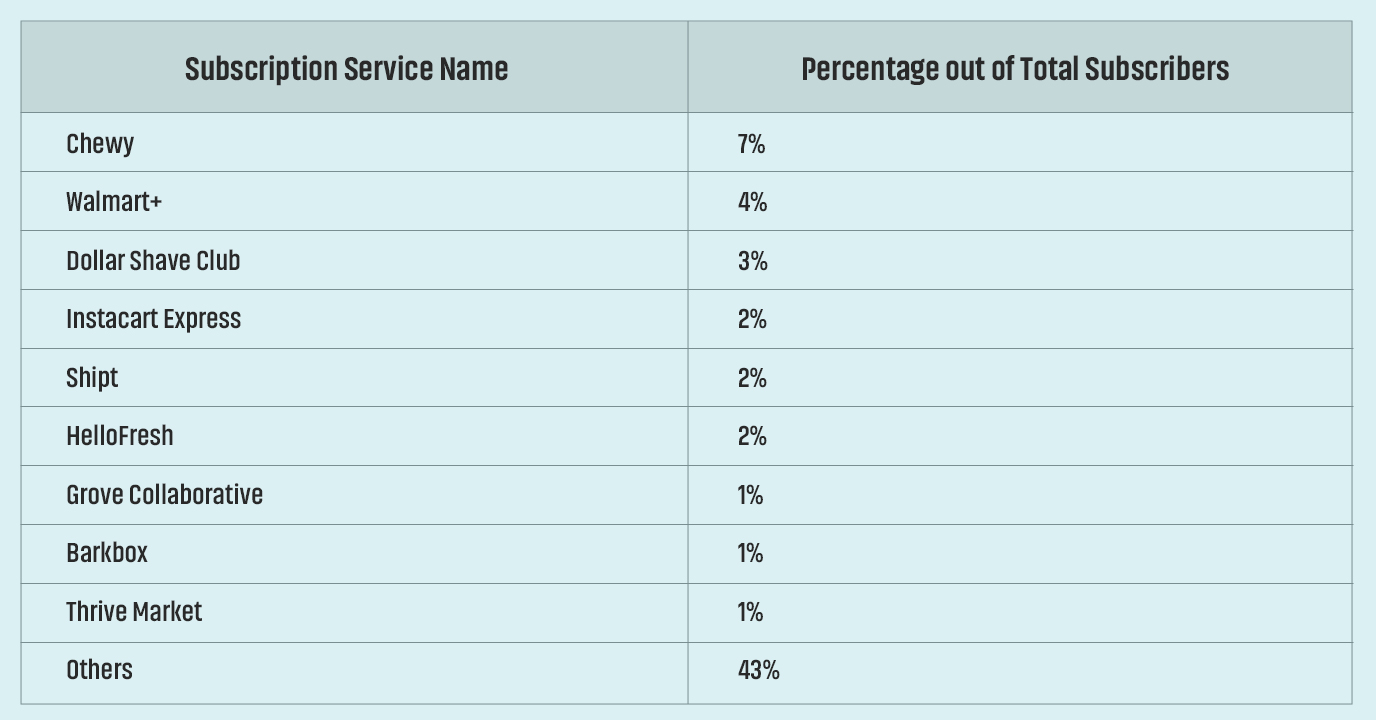 Furthermore, the inclination towards subscribing to various streaming, media and entertainment services is spiking which in turn is making the subscription billing systems more widely adopted among the business players.
For instance, the number of Pay TV subscribers in this region is predicted to reach 64 Million by 2026. To give a deeper insight, the number of OTT subscribers per 100 households in the U.S. and Canada are respectively 164% and 132%. Such businesses having subscription billing models, the market is set to expand further. The overall U.S. subscription billing management market is expected to maintain nearly 13.9% growth momentum through 2025.
A Sneak Peek into the Driving Factors & Stats of North America Market
More than half of e-commerce subscribers are women

In the U.S., 45% of subscribers to consumable goods stay subscribed for at least one year

Women are more likely to subscribe to  beauty services & apparel services

Men are more likely to subscribe to razors, food delivery, and video gaming gear services

Nearly 30% women in the U.S. have 3 or more subscriptions

Over 40% of men have 3 or more subscriptions in the U.S.
Europe Subscription Billing market
Europe, the second largest subscription billing market has grown steadily over the past years with the United Kingdom in its spotlight. The recent Innopay report stated that in Germany, Spain, France, and Benelux, 75% of respondents make use of subscriptions for telecommunications, insurance, and utilities, while Italy has the highest level of the potential subscription users of 20%.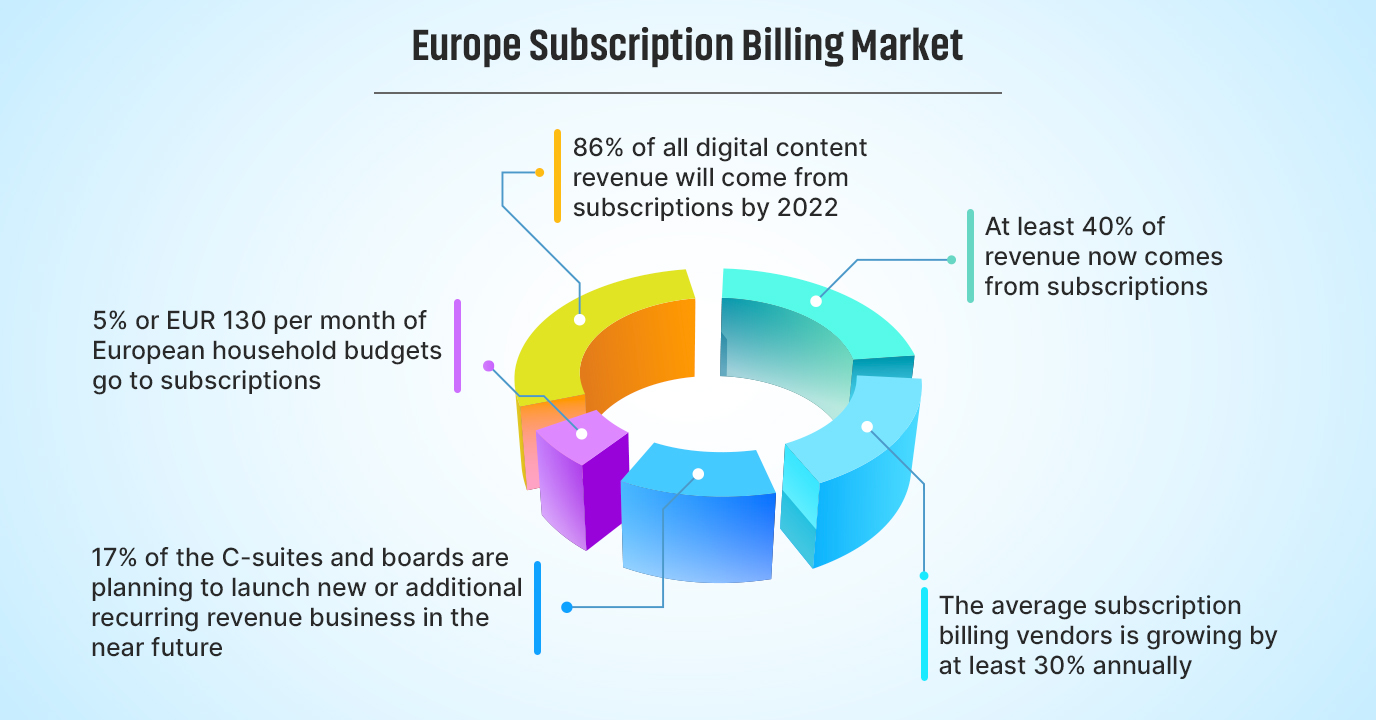 The total penetration for the subscription-based consumption among European consumers is approximately 85% and 1 in 5 consumers is willing to do subscription-based purchases in future. Subscription billing systems being the only go-to solutions for the businesses with subscription model, tend to exhibit sky-high demand in the coming years.
As per the latest market research reports, Germany, the leading country in Europe, is predicted to remain on the forefront while adding over US $257.5 Million to the Europe subscription billing market in the next 5 years.
A Sneak Peek into the Driving Factors & Stats of Europe Market
5% or EUR 130 per month of European household budgets go to subscriptions

The average subscription billing vendors is growing by at least 30% annually

At least 40% of revenue now comes from subscriptions

17% of the C-suites and boards are planning to launch new or additional recurring revenue business in the near future

86% of all digital content revenue will come from subscriptions by 2022
Asia Pacific Subscription Billing Market
Asia Pacific has emerged as the fastest growing subscription billing market in the world with the leading countries China, Japan, South Korea, and others. Backed by growing B2B and B2C SaaS businesses and fast adoption of subscription-based pricing models in diverse sectors such as OTT, food, e-learning, gaming etc., Asia Pacific remains the hotspot in the global market. As stated in a recent report by Statista, 36.4% of the internet users in Japan, aged 16 to 64 years, used a video streaming subscription service in 2020 and the number is likely to grow in the upcoming years.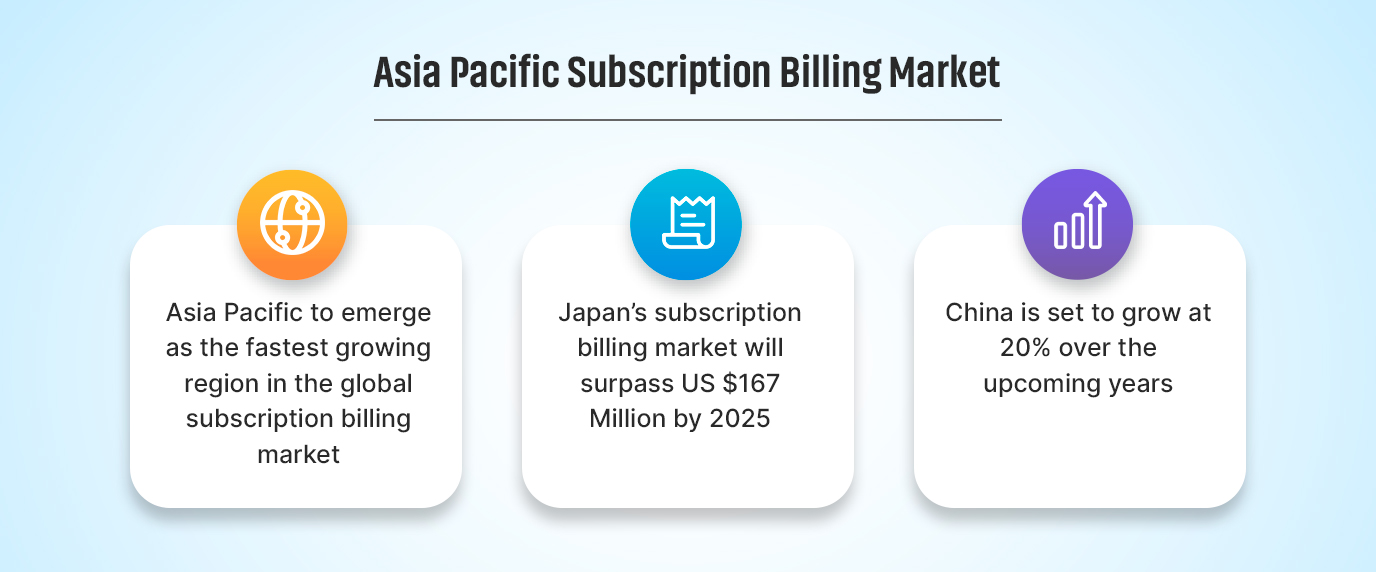 Japan's subscription billing market will surpass US $167 Million by 2025 keeping it in the limelight for the key industry players and stakeholders, while China is set to grow at 20% over the upcoming years. 
According to a report by ACI Worldwide published in 2020, over the past 7 years, companies throughout North America, Europe and Asia Pacific have witnessed subscription based sales growth of more than 300% and growing demand for streaming services remains one of the major reasons for that.
Middle East and Africa (MEA) Subscription Billing Market
With the penetrating mobile and smart device usage and rising number of subscription businesses, Middle East and Africa remains another leading contributor to the global subscription billing market. Besides, improvements in 5G technologies, surge in apps usage, high number of subscriptionstions to VOD, OTT, and others are spearheading the growth in MEA.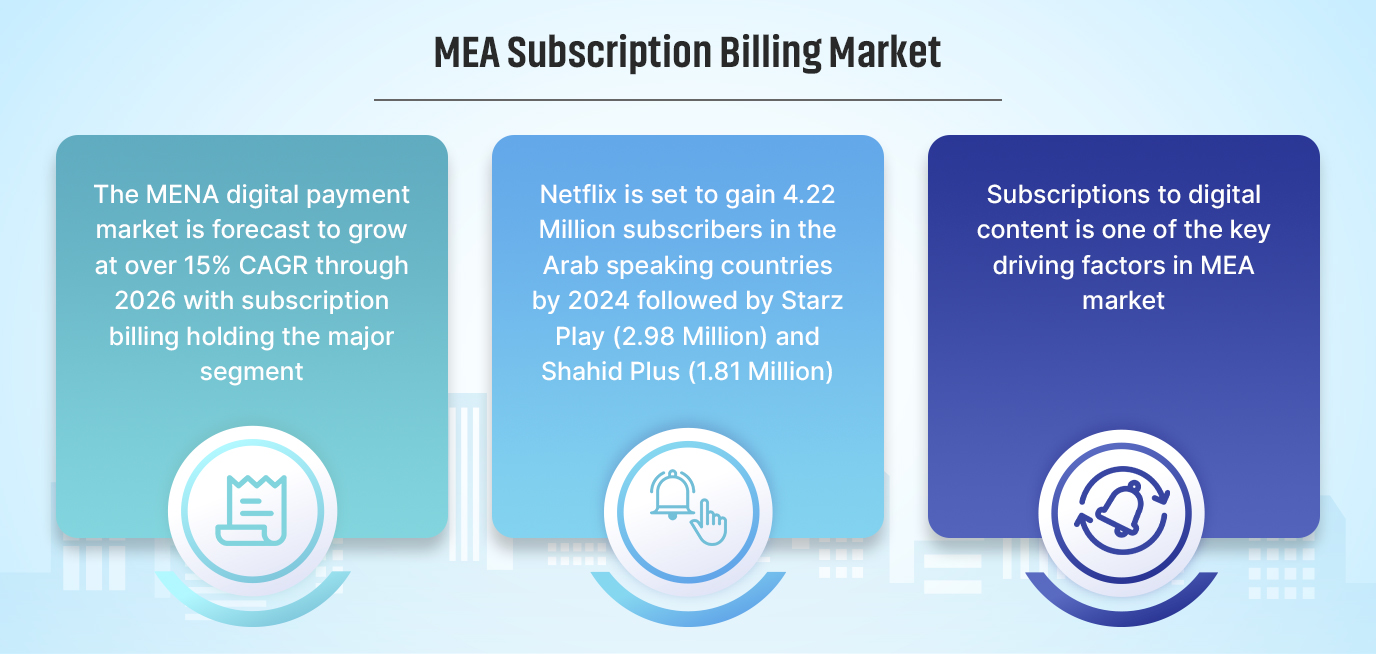 The Middle East and North Africa (MENA) digital payment market is forecast to grow at over 15% CAGR during the forecast period of 2021 to 2026 with subscription billing holding the major segment and the top contributing countries as-
UAE

Saudi Arabia

Egypt

Bahrain

Jordan

Qatar

Kuwait
And others.
A Sneak Peek into the Driving Factors of MEA Market
The app economy of the Middle East is hugely dependant on the social media apps, on-demand services, and gaming apps, while more than 80% of the users in UAE are downloading Arabic apps
In Middle East and North Africa (MENA), subscriptions to VOD is set to grow more than double by surpassing 26 Million subscribers through 2025 from 11.31 Million in 2018
Netflix, Icflix, Starz Play, Iflix, beIN Connect, Wavo, Amazon Prime Video, and Shahid Plus have 95% of the SVOD subscribers in the 13 Arabic countries
Netflix is set to gain 4.22 Million paying subscribers in the Arab speaking countries by 2024, followed by Starz Play (2.98 Million) and Shahid Plus (1.81 Million)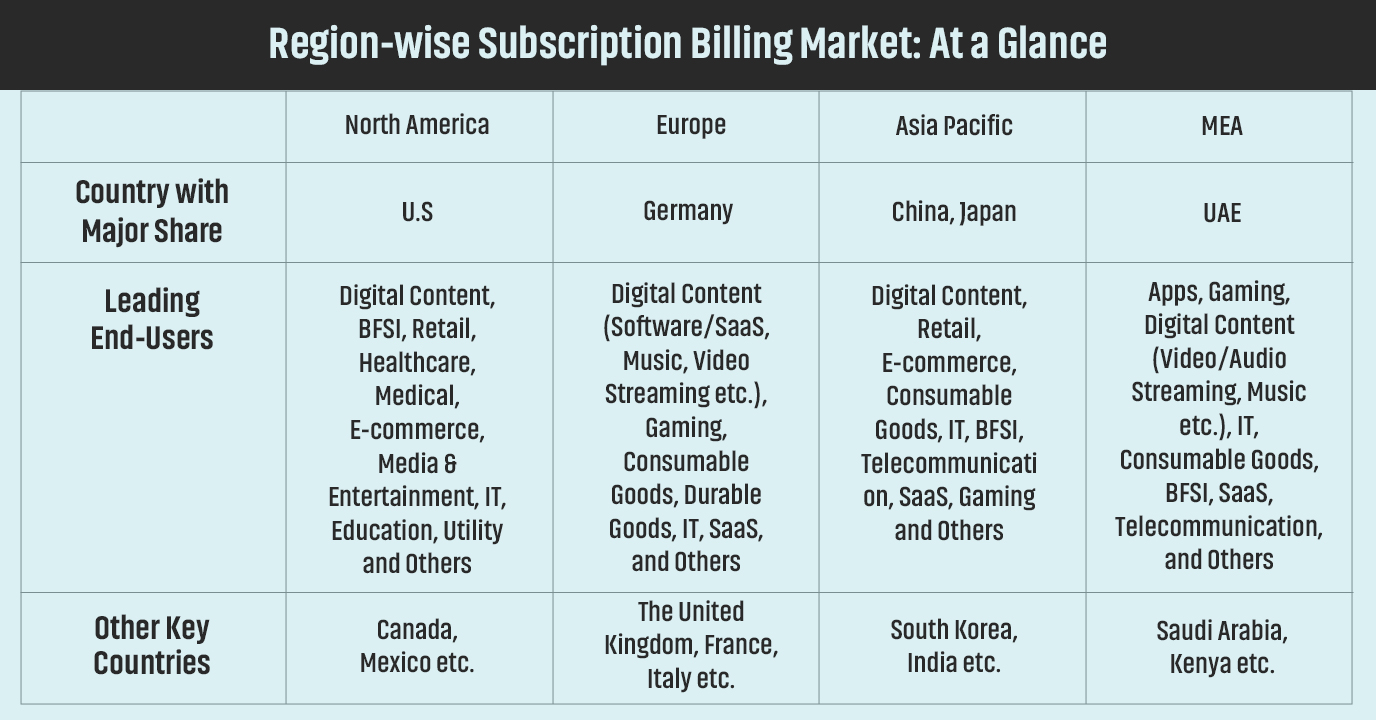 Competitive Landscape
With the competition getting fiercer, the top companies in the global market are investing heavily alongwith adopting strategic approaches to secure their positions.
Some of  the leading companies giving tough competition-
Aria Systems, Inc. (U.S.)

Cleverbridge AG (Germany)

Zuora Inc. (USA)

BillingPlatform (USA)

Fusebill (Canada)

SAP SE(Germany)

FastSpring (USA)

JustOn (Germany)

Muvi Billing (USA)

Oracle Corporation (USA)

Transverse LLC (USA)

Recurly, Inc. (USA)

PayTabs (UAE)

CASHU (UAE)

+Payfort International (UAE)

Billdozer (Africa)

PeachPayments (Kenya)
And others.
Top Highlights
Aria Systems has secured a US $90 Million investment from Goldman Sachs Asset Management Private Credit in August, 2021 in order to strengthen their billing solutions further.
Cleverbridge, the Chicago-based subscription billing service provider, revealed in 2020 that it processed more than US $782 Million transactions across 190 countries in 60 different currencies.  
FastSpring has announced to extend its billing solutions to B2B and others in June, 2021.
Fattmerchant, Orlando-based integrated payment technology provider, announced its strategic investment in Canada-based subscription billing platform Fusebill in March, 2021.
Recurly launched Wallet as a part of its strategic expansion that includes Venmo, local payment acceptance in LatAm, prepaid account balance and enhanced pricing precision in April, 2021.
And the list goes on.
To Conclude,
The demand for subscription billing systems are spiralling upward creating new opportunities for the market leaders and new entrants. Furthermore, the COVID-19 outbreak has given a further impetus to the online businesses and digitization in every other industry- education to healthcare. As the trend continues to persist in the following years, the global market is expected to flourish consistently while making the competition stricter for the unicorns as well as leaders in these fields. 
Planning to start your own subscription business? Or, want to grow your existing ones? Make sure your billing system offers you more than just automating your billing cycles.
Muvi Billing, the enterprise-grade subscription billing software for websites and apps, offers 40+ payment gateways, multi language and multi currency options, customizable taxes, smart record keeping, multiple monetization models and many more!
Sign up for its 14-day free trial now!