The global live streaming industry is growing fast and is expected to reach US $4.26 billion by 2028. Be it gaming, B2B, B2C, or any other sector- live streaming has taken over a broad range of industries in order to serve various purposes such as reaching out to a wide range of audience, promoting/marketing products/services, creating strong brand awareness among the audience, boosting the conversion/ website traffic, and whatnot! 
Live streaming is no longer confined to a single platform, people are sharing live stream content over various media/websites/apps to optimize them in the best possible ways. By embedding live streaming videos on multiple media one can  reach a wider audience base, target different audiences who are active on specific media only, and many more. In this blog, we are going to discuss how to embed live streaming videos on your website. Let's take you through the importance of embedding live streaming videos before guiding you through the process.
Importance of Embedding Live Streaming Videos on Various Media/ Websites
1. Reaching Out to a Larger Audience Base
By embedding live streaming videos on various websites including social media sites like Facebook, Instagram and other platforms, you can reach out to even a larger pool of audience through your live streaming at no additional cost. This also helps in targeting the audience who are only available on a specific platform like, only on your website. A few statistics to give you a glimpse of its importance-
There are nearly 4 billion Google users worldwide

The consumer internet video traffic is more than 80% of the consumer internet traffic

Videos are 50 times more likely to get organic ranking than plain text content

More than 60% of the Google searches include video around the world

33% of the time people spend over internet is for watching videos
And so on.
No doubt that sharing live streams over all these platforms as well as your website lets you reach  diverse audiences which otherwise wouldn't have been possible.
2. Higher Conversion & Acquisition
There are always purposes of making live videos, like- boosting CTAs, increasing user/viewer engagement, enhancing the brand visibility/impact/presence, improving the acquisition rates and many more. Once you share your live stream videos over diverse platforms, these all factors get multiplied in an obvious way driving your conversion & acquisition rates further.
Statistics says, sites that use videos have a 4.8% conversion rate compared to the ones without videos that have a 2.9% conversion rate.
Also Read: Why is Live Streaming a Must-have for Marketing?
3. Stronger Brand Presence/Identity
One of the greatest perks of live streaming is reaching the audience and engaging with them in real-time. There are several types of live streams including live product launch, brand story, Q & A, and educational/informative live videos, to name a few.  These can help create an instant impact on the audience, make them feel valued, and most importantly never let your brand go out of sight even amidst the strict competition.  All together, these help build a strong foundation of better brand presence and identity. Live streaming on a single platform certainly puts a limit on its potential to serve this purpose. So, you should share or embed your live stream videos to as many platforms as possible to make the best out of it.
Now that we know the perks of embedding live streaming videos, let's know how to do it!
A Guide to Embed Live Streaming Videos
1. Opt for a Live Streaming Platform
Your choice should be a live streaming platform that offers an easy solution to embed your live videos anywhere you want (app/website/social media etc.). Ensure these features/solutions-
Easy live stream creation, and sharing

Social media integration

Lets you easily generate HLS link to share content across various devices, platforms and media

Offers easy embed link generation
2. Create Your Live Streaming Channel
You must create your own live streaming channel to take the first step to live stream your videos and then embed them on the websites as you want. While it depends entirely on the platform you have chosen, you must go for the one that requires the least technical intervention from your side and can be done even without the help of any technical in-house team. For instance, if you sign up with a live streaming platform like Muvi Live, all you need to do is follow a few simple steps through the button clicks. Once your live streaming channel is up and running, you can not only start streaming live on the platform but can also embed them by following the below-mentioned steps.
3. Embedding Your Live Streaming Videos
There are multiple ways of embedding a live streaming video and Muvi Live provides very simple solutions for all-
Once you start live streaming with Muvi Live, the Embed output URL is generated. You just need to click on "Embed" to get the URL as shown below: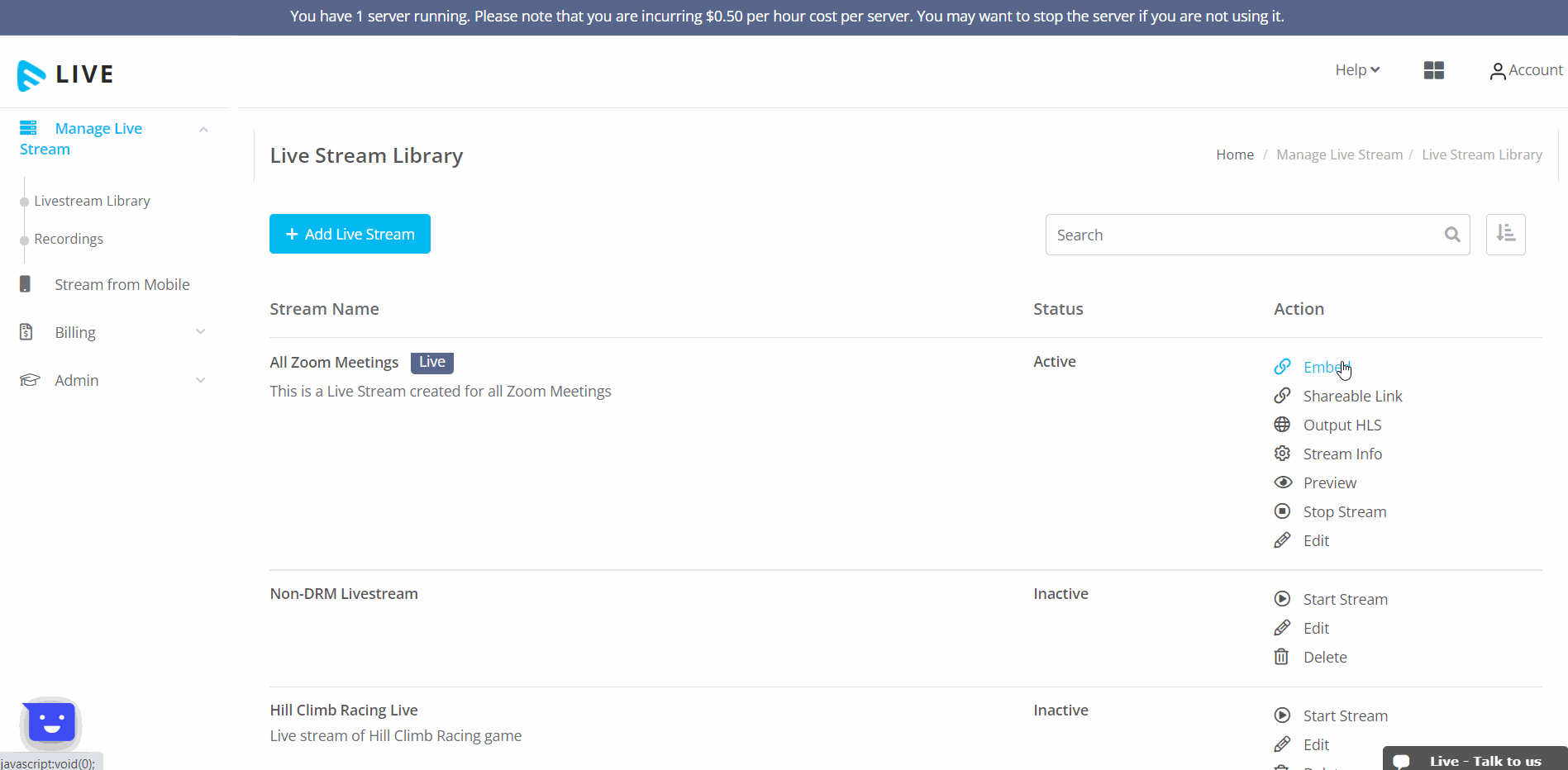 Once the embed code is obtained you can paste it easily on any website such as-
WordPress
Go to the page you want to add your live stream video to

Click on the plus sign in the top left corner and click on 'Video' from the menu

Place the video element by 'drag & drop' to where you want to embed the video 

Click on "Edit as HTML" option of the element

Just paste the embed code and "Update"
Google Website
Click on "Edit Page" and then on "Insert Menus"

Go to "More Gadgets" and select "Featured" 

Go to "Embed Gadget" and just paste the embed code

Save by clicking on "Ok"
Embedding live stream videos is quite easy on any website; once you get the embed code all you have to do is copy and paste it by going to the 'Edit' option of your website page. 
With Muvi Live, you can also share live streaming videos easily via shareable link as shown below-
Click on "Sharable Link" → Copy the link and share it with your end-users → The end-users just have to paste the URL on their web browser to view the live streaming!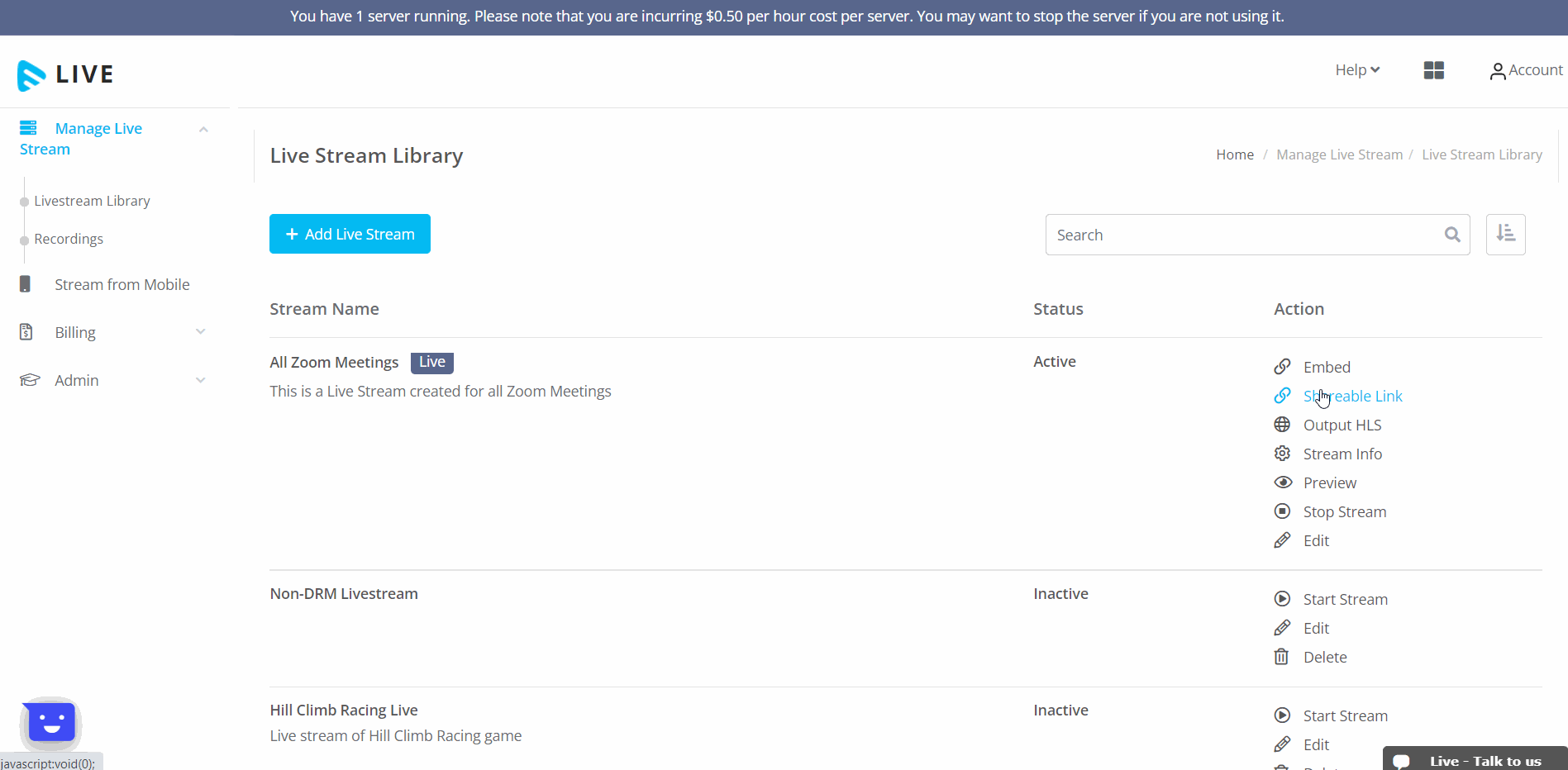 Furthermore, Muvi Live also gives you an easy social media integration solution to share your live videos across diverse social media platforms as well as lets you simultaneously stream over multiple social media platforms.
Wrapping Up,
The potential of live streaming majorly depends on how you promote/market it, utilize it for various purposes, and most importantly optimize its reach to as many viewers as possible by sharing it over diverse platforms/media/websites. No doubt that the easy video embedding/sharing solution of a live streaming platform has a significant contribution behind it. 
Muvi Live, the all-in-one live streaming platform provider not only takes care of it swiftly but also offers a lot of industry-grade solutions such as live stream recording, offline viewing, third party live feeds, and advanced audio & video player, to name a few. Take the 14-day free trial opportunity  to unleash the unlimited perks  (no credit card needed).