Are you tired of visitors scrolling down your website, spending time on it, and yet leaving without buying your product or service? Well, you are not alone in this journey! Most buyers visiting websites for the first time are distracted and are not ready to buy. Data has it that 97% of people who visit your site for the first time leave without buying anything and most of them are lost forever. Unless, of course, you bring them back through ReTargeting. 
What's Retargeting?
A form of online advertising, retargeting is a cookie-based technology that uses Javascript code to anonymously 'follow' your audience all over the web showing related ads to their Internet behavior and initial purchase intent. 
Since prospects rarely convert after coming across the first ad on web pages they visit, cross-channel advertising and retargeting becomes an effective tool for increased conversions. Marketing across multiple channels leads them on a persuasive ad journey, giving them more chances to convert on the ad offer.
How does Retargeting Work?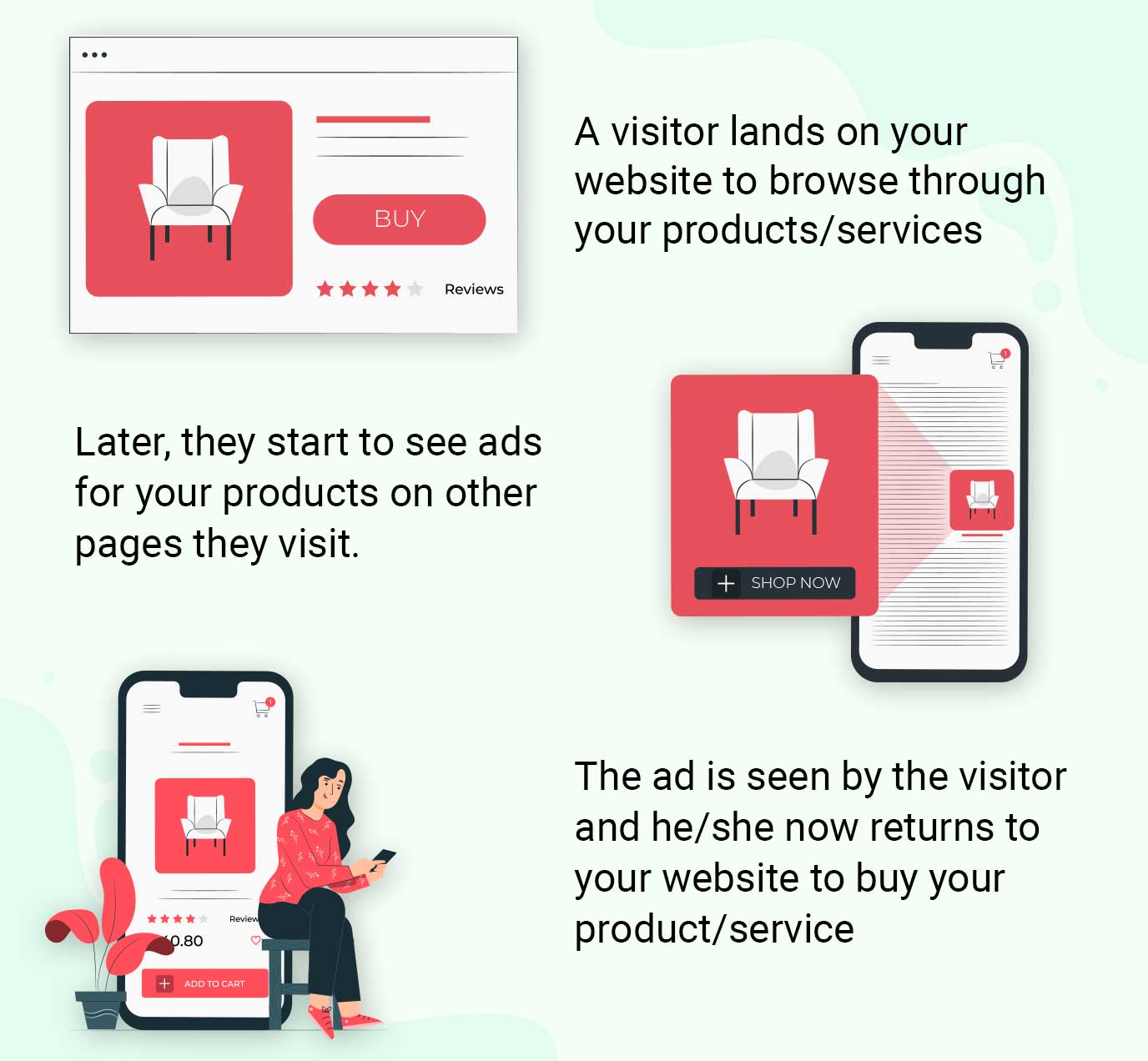 Retargeting works like this- a small, unobtrusive code—also known as a retargeting pixel—is placed on your website. The code or pixel then starts collecting essential data about the visitor who visits your website, including which pages a user has visited, how long they have spent on your site, and where they are in the world.
When a user visits your website, the pixel also drops a retargeting cookie in their browser. Now, every time a visitor comes to your webpage, this cookie will indicate you or your retargeting enabled ad-server about their online presence so you can retarget them with display ads across the web even after they've left your site.
Why is Retargeting Important?
Retargeting works excellently as a reminding tool- it reminds the visitor of your product as they continue browsing the internet irrespective of the different platforms they are on, be it social media, their favorite news site, or researching your competitors.
Retargeting builds visibility for your brand, allowing you to reach an audience that has already expressed interest in your products. Every time your customer sees your retargeting ads, your brand gains traction and more recognition. 
Retargeting helps in segmenting visitors based on their traits or behavior and target them accordingly, allowing you to create a more relevant advertising experience capable of driving more conversions.
Retargeting campaigns induce high click-through rates and increased conversions that help underscore the value of good branding and increased revenue.
When to Start Using Retargeting Campaigns?
Meant to be a long-term strategy for businesses, retargeting works best when you have at least 500 monthly site visitors.
Retargeting campaigns can be effective while promoting your top-selling products. It showcases products/services your current customers love and can even help convert visitors into customers and increase ROI for your ads.
While introducing new products, retargeting can come handy. Visitors who often explore your website form an excellent target audience when you're launching a new product. Your retargeting ads will catch their eye wherever they go online, creating a clear path back to your store so they can check out what's new. 
Moving inventory- As an online seller, you've probably dealt with slow-moving inventory at one time or another. Retargeting ads are a low-budget, low-effort way to showcase surplus products from your store to potential customers.
Retargeting Best Practises for Mobile, Website, Social and CRM
Before creating any sort of retargeting campaign, it's imperative to understand what makes these campaigns click. We recommend the following best practices to help ensure maximum brand outreach, click-throughs, and ROI. 
1. Leveraging Buyer Intent
Buyer intent is the most powerful marketing asset in the programmatic age but somehow its full potential has not been realized by most businesses. However, with retargeting, buyer intent data is put to good use in delivering customizable ads to prospects based on their behavioral interactions with your website. By leveraging buyer intent, potential customers will be able to see tailored ads based on their interests, remaining engaged with your brand. 
2. Audience Segmentation
Audience segmentation allows you to customize the ads based on the different stages of the user's purchase funnel. It's a simple process- you just have to place different retargeting codes/pixels on different pages of your site, and then tailor creatives based on each user's engagement level.
If a prospect is on your main landing page, you can target them with creatives that communicate general brand awareness. If they are on your product page, it is assumed that they are interested in your product and you can serve them with more product-centric ads. Therefore, audience segmentation ensures you are serving relevant and engaging ads.
3. Geographic, & Contextual Targeting
Geo-targeting is a location-specific form of contextual advertising that presents users with local ads relevant to their interests. This helps in fine-tuning your ad placements, ensuring greater relevancy and increasing ad performance. Advertisements can also be targeted based on demographic grounds such as age or gender, and contextual factors like the content of the website, etc. Targeting not only improves the relevancy of your retargeting campaign but it also lowers your costs. 
Muvi Ads is geo-targeting-enabled that helps in delivering relevant ads to a visitor based on their exact geographical location.
4. Rotating Ads and A/B Testing
Simply showcasing the same ads, again and again,  will result in a lower-performing campaign as clickthrough rates decrease by almost 50% after four-five months of running the same set of ads. By rotating your ads every few months, you can easily avoid dips in performance.
Also, A/B testings are an effective tool to run campaigns with high-performing ads. Instead of relying on what you think will work, you can run tests for measurable and actionable results. 
5. Cross-Platform Retargeting
The partnership between cross-platform advertising and retargeting is proven to yield results. Cross-device or cross-platform retargeting simply means reaching prospects across different devices, like desktop, mobiles, and tablets and platforms like social media, search engines, etc. Cross-device campaigns are particularly helpful when creating effective full-funnel campaigns as they allow you to expand your reach to multiple different devices. 
Cross-platform retargeting allows you to get the maximum out of your ads- it proliferates your message across several channels and extends your reach to attract your customer's attention, no matter where they are. But equally important is getting your timing and targeting right. Without proper segmentation, it's time, effort, and money getting wasted.
6. Use Cross-Selling and Upselling
Cross-selling and upselling are two understated techniques but often yield promising results in retargeting campaigns. It's a way of re-engaging those visitors who may not otherwise be interested in returning to your site again after they visited and purchased a product/service on your site the first time.
You can easily combine these two effective techniques with a burn code to introduce visitors who did convert to other products they would like based on what they bought previously.
7. Frequency Capping 
Frequency caps are the difference between lightly reminding your audience about your brand and stalking them wherever they are online.  Overexposure quickly results in decreased campaign performance, which is why frequency capping is almost fundamental in retargeting campaigns.
A frequency cap limits the number of times a tagged visitor sees your ads and prevents potential customers from banner blindness. It's advisable to chalk out frequency capping as in how and when you serve ads- you should understand that not every website visitor will be at the same point in their purchase journey. 
Wrapping up,
When used properly, retargeting is incredibly powerful. Follow these best practices when you run your retargeting campaigns and you'll be sure to see high returns.
Muvi Ads lets you host and deliver multi-format retargeting ads to your websites and apps seamlessly across multiple platforms. Supporting dynamic ad insertion, geo-targeting, and low latency as delivery, Muvi Ads requires no minimum views to open an account. Not only that, but you also get to Keep 100% of the Ad Revenue!
Take a 14-Day Free Trial, now!