For deployment of any new changes in the code, traditional monolithic architecture demanded code revisions for every single unit present. The upgrowth of the storage space and rigidity of monolithic architecture towards software up-gradation paved the way for microservice-based software development architecture.
What are we going to cover?
What are microservices?

Why should enterprises look for microservices-based architecture?

Benefits of microservices-based architecture

Muvi's usage of microservices-based architecture
What are microservices?
Hybrid microservice architecture aids independent scalability and works in a synergy resulting in quick deployment and fast delivery time.
    (Microservice Architecture)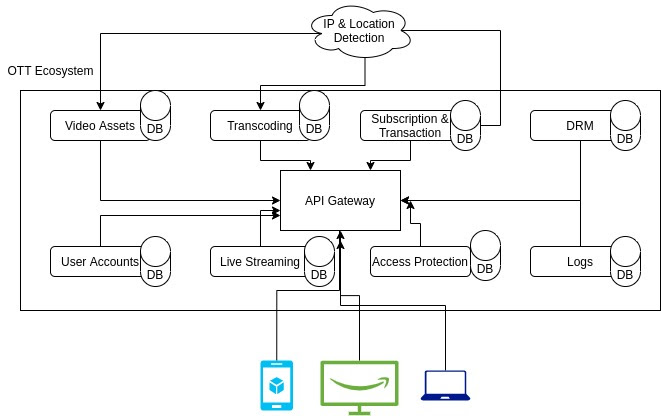 Why should OTT enterprises look for microservices-based architecture?
The reason behind rising acclamation of Microservice-based OTT streaming platform development among Enterprises/Businesses-
With the rapid spike in digital OTT platforms, the robustness and scalability of the OTT application are emerging to be the leading cause behind the upsurging demand of microservice-based Ott streaming platforms.

It offers the litheness of breaking down complex code structures into an individual unit of microservices, making it easier to manage and track.
Do you know?
45 percent of data analytics/business intelligence applications use microservices. 

37 percent are using microservices partially or are currently migrating to one.

Smaller and self-contained services are quick enough to test than a massive monolith architecture.
Also read– How to Choose the Right Video Hosting Platform?
Comparison between traditional and microservice architecture- 

Benefits of microservices-based video streaming architecture-
With easy implantation and self-instructive nature, microservices have appealed to be the best software development architecture. Convinced by it, some of the apex OTT players like Netflix, eBay, Amazon have already adapted microservices architecture and are using it for around 20 years from now. 
Compared to conventional monolithic architecture, Microservice offers-
1- Robust architecture-
With microservice OTT architecture, there is no need to get worried about the service deployment. Because of the sheer structure, whenever there is an issue or bug in the app, developers can look after the affected module; without interrupting other working modules. 
2- Faster deployment with zero downtime-
As every microservice uses a separate database, it is easier to deploy services on the OTT architecture. It encourages multiple deployments without hampering the server performance.
3- Optimize scalability causes cost savings-
Microservice architecture is the combination of different microservices, and each microservice serves a particular operation. It becomes simpler to scale the most demanding one at the right time. No need to go through the whole application structure and make deployment plans! It saves the time and efficiency of developers.
4- Microservice supports Large scale enterprises app-
When businesses have large-scale enterprise apps, they run long software development lifecycles. Implementation of N numbers of coding languages, libraries, frameworks, databases makes it complex to manage and handle. With microservices, each module can be allocated to a particular resource, making it easier to operate in the long run.
What Muvi offers for product & solution-based businesses?
The microservice streaming architecture delivers agility and robustness in operation without compromising the service quality, making it the most used by OTT platform owners. 
Understanding the true potential of microservices, to offer the fastest deployable streaming platforms to all OTT service providers, Muvi has migrated its native APIs and architecture to microservice-based ones. 
To deliver a seamless customer experience to OTT streaming service providers, Muvi's microservice-based architecture has customized each functionality based on the end user's needs. 
Take a 14-day free trial today to learn better.
With world-class agility and prime scalability, Muvi's customized, easily integrable video streaming platforms have been helping businesses to level up revenue and lead generation.
For more details on microservice architecture deployment, kindly visit:
https://www.muvi.com/resources/webinar/microservices-future-of-scalable-apps-platforms.html