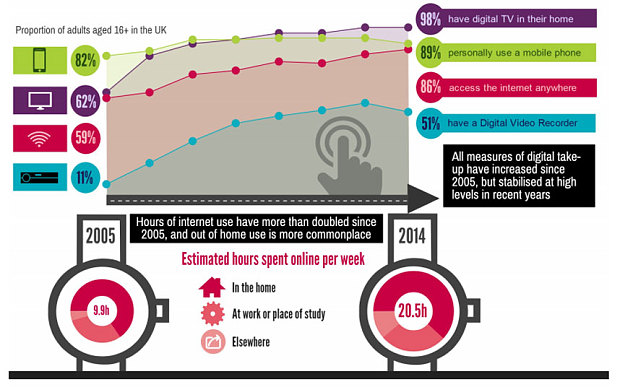 The increasing use of tablets and smartphones is fueling a hike in the amount of time people spend online, new Ofcom research has suggested. People are spending twice as much time online compared to 10 years ago, the regulator's Media Use and Attitudes 2015 report found.
The increasing take-up of tablets and smartphones is responsible for the boost in time spent online, according to the report. The number of people using a smartphone to access the internet has more than doubled in five years, rising from 30% of adults in 2010 to 66% in 2014. The percentage of adults who used a tablet to go online rose from 5% in 2010 to 39% in 2014. These increases saw the amount of time people are online while 'out and about' – away from home, work or their place of study – rise five-fold over the past 10 years, from 30 minutes in 2005 to 2 hours 18 minutes in 2014.
Ofcom's report, which gathered data from interviews with 1,890 adults aged 16 and over, found the proportion of adults using the internet has risen by half – from six in 10 in 2005 to almost nine in 10 today.
The report, now in its tenth year, covers the use of and attitudes towards the internet, multicast video on demand services, radio, games and mobile phones of UK adults aged 16 and above. The report also looked at the popularity of instant messaging by mobile users, revealing the growth of services like WhatsApp and Facebook Messenger for keeping in touch. Regular instant messaging on a mobile phone has risen from 29% of mobile phone users in 2013, to 42% in 2014, Ofcom found.
Read the entire story here.