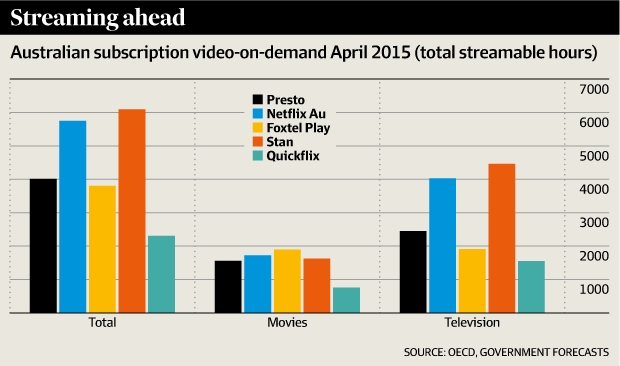 The Foxtel and Seven West Media streaming service Presto is trailing its rival vod platforms in Australia in the amount of video content it offers, according to a new study. Content-focused app company Gyde found that Presto currently offers 4009 hours of television and movie content (including TV), almost 2000 less than its nearest rival. In contrast, Netflix offers 5748 hours of content, and Stan, which is co-owned by Nine Entertainment Co and Fairfax Media, offers 6089 hours.
Fairfax Media owns The Australian Financial Review. Foxtel is owned by News Corp and Telstra. But it found that Foxtel's own catch-up service Play boasts more movie hours than any of the services. Foxtel Play also holds the most recent titles for TV release, from three months to three years, while Presto, Netflix Australia, Stan and Quickflix hold strong back catalogues of content from 10 years ago, according to the research. Some analysts have suggested that Foxtel has less motivation than its rivals to promote its SVOD service for fear of cannibalising some of its existing services.
Read the entire story here.