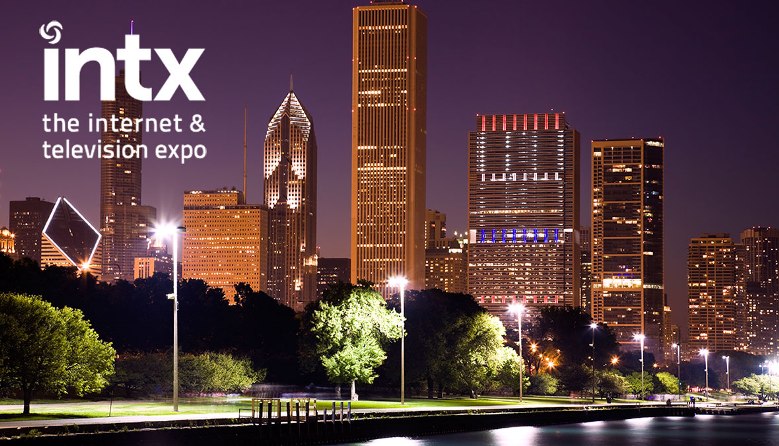 The National Cable and Telecommunications Association, which hosts the show, renamed it to INTX from The Cable Show this year, citing a shift in focus to the digital media and entertainment economy. The show continues through Thursday at McCormick Place.
The experience of TV
In the future, viewers could regularly take in TV through goggles, said CableLabs CEO Phil McKinney. CableLabs is a Colorado-based not-for-profit research and development organization funded by cable operators. McKinney said his organization tests out promising new TV experiences on customers. He said one recent success was 360-degree video shown through Oculus Rift-type goggles.
"We did a 360 film at the edge of a lake, literally toe-to-toe with elephants who are splashing around in the water; we got content for a Taylor Swift music video short in 360," McKinney said. "360 virtual content was off the charts as far as engagement and interest from users."
"Studios and directors spend a lot of time using lighting, focusing the lens, forcing you to look at something in the movie and guide the eye to a certain viewpoint," he said. "How do you have to rethink storytelling in the 360 viewpoint to make that compelling?"
Recommendations
With more options than most humans could ever consume, finding a new favorite show can be a challenge on Netflix or On Demand. But as companies work to nail down predictive engines, experts echoed a problem with what they called the "creep factor."
As television has changed, so has monetizing it. Dave Irwin, president of The Allant Group, which sells advanced TV advertising research and measurement products, said advertising through the medium has seen major changes in the past decade.
"Instead of making media buys on TV programs, advertisers have a high amount of demand and interest in being able to select an audience that they want to reach," Irwin said.
Though viewers may have more options than ever in terms of where and how they view content, experts say there's something to be said for viewing together.
"We think that TV still today is a social and collective experience that often brings people together in the same physical space," Ignazio Moresco, Ericsson head of design for internet TV platform, said in a personalized television panel. Moresco was discussing the necessity for companies to improve recommendations for households as well as individuals.
Read the entire story here.