Content creators have specific requirements on how they want their content to be presented and monetized. Video content creators today create content for a wide range of audiences spanning various categories and use cases. Video content today can be videos streaming on YouTube to being streamed on Netflix and Hulu catering to the entertainment and media industry. Video content can also mean courses both paid as well as freely available on platforms such as Udemy, Khan's Academy, etc. Be it any industry, video plays a major role in ensuring that the message or idea reaches the target audience.
So when the audiences can be different, the use cases can be different, and the platform from where the content is accessed is very different, how can we deploy a "one size fits all" strategy to present the video content? Traditionally most online website builders and providers restrict the way in which video content can be presented and monetized and most have made the mistake of taking the physical e-commerce model and adapting it to online video, restricting the video's transaction to a single file format. This works well when it's just one movie or one individual video, however, it raises a big challenge for content creators and owners who want to stream and monetize a series of videos that are interlinked with each other. 
This is where Muvi One comes into the picture. Muvi One is a no-code OTT platform provider, designed and built from the ground up exclusively for video content creators themselves! This means each and every feature of Muvi One, is aimed at a pain point and requirement that is very unique and specifically designed for video content engagement, streaming, monetizing, and consumption, including our media management module and meta-data module that houses "Nested Content".
A feature that opens up the customization doors as no other platform does. At Muvi we understand that every video content created is different and we do justice to it by giving the owner the powerful Muvi One which allows you to place your content the way you want and monetize it individually or as a whole as per your own contracts and commitments.
What is Nested Content?
Suppose you are hosting a multi-region-based soccer tournament that involves multiple states competing amongst themselves as well as each state having its own set of individual matches. Now, a subscriber from Region A might not want to watch the matches conducted in other regions but if there is a single fee for the entire tournament, they have to buy it regardless. 
With Muvi One's nested content feature, you can create a parent tournament category and sell that category entirely as subscriber-only content or pay-per-view. Then you can create individual county pages hosting matches of the specific regions only. So users who do not wish to pay for the entire tournament can simply purchase the matches of their own county and enjoy. Need more customization? Muvi One lets you sell individual matches too. For example, let's say there is a special Christmas match that people are likely to watch even if they are not subscribers. Simply sell it as pay-per-view and that's it. You've got another stream of revenue.
Advantages of Nested Content Creation Feature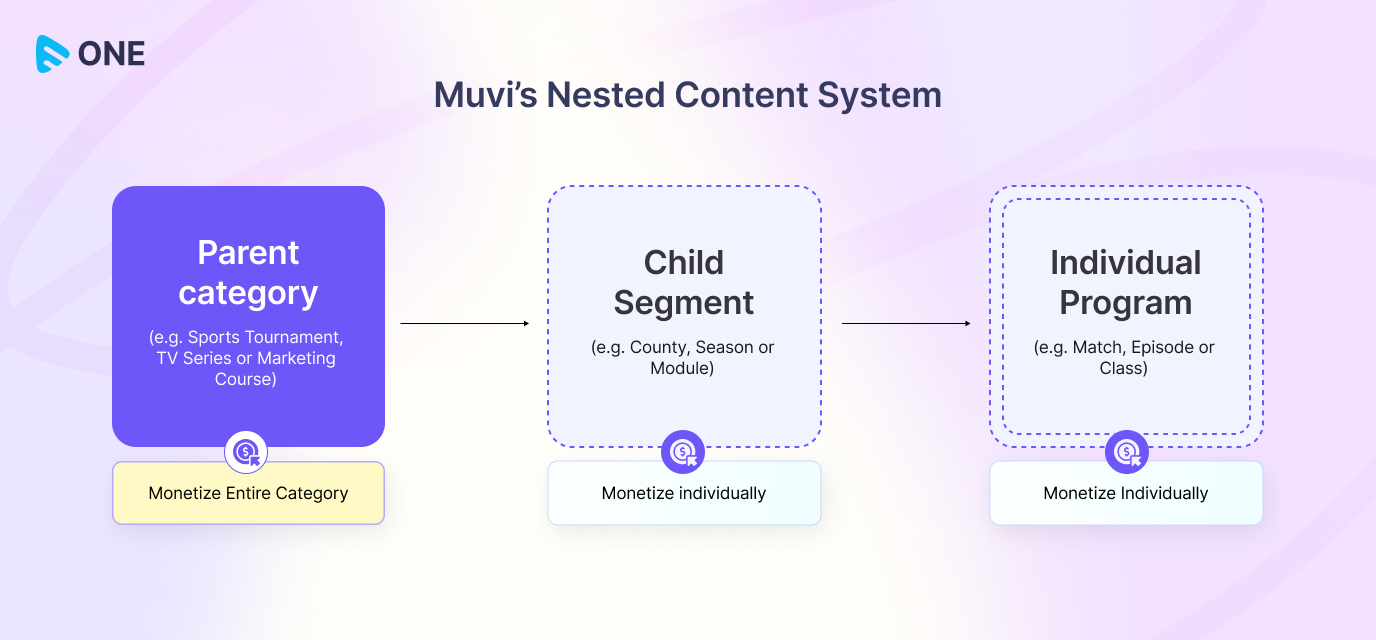 Muvi One allows through its powerful content management system to create individual pages for an individual county or host all the states on a single page. Thinking about charging a specific or popular region more than other regions, no worries. Deploy different monetization plans at match level and analyze all the traffic on its analytics dashboard.
Nested content allows for an increasing level of engagement as the audience progresses through the video, keeping them interested and invested. A well-defined structured content strategy ensures that there is a flow to the content leading to better user retention, more clarity of content, and user-friendly designs. Muvi One's nested content management has several benefits as follows:
Deploy A Combination of Monetization Models
With Muvi One's nested content feature, content owners can stream multiple levels of content just the way you see on Netflix, Amazon Prime, etc. For example, You create a special web series titled Mr. X and finished recording Season 1 which contains 8 episodes. With Muvi One, you can simply create a parent category called Mr. X, give its various meta descriptions, add images, and then create a child category called Season 1 where you can insert the individual episodes. (Bonus tip: You can bulk upload all the episodes all at once. Know How!)
In the future when you make a season 2 of the show, maybe the contract demands you to stream it at the pay-per-view. Muvi One gives you the flexibility to do the same. You can deploy all the monetization models to the different children and it can even be done on an episode-to-episode basis when you are streaming a Christmas special round table discussion. 
How you want to charge your viewers is your decision and with our globally accepted payment gateways, we take your content all around the globe. Yes, you can even put geo-restrictions on individual content depending on contracts and law of the land.
Create Individual Pages for Child Categories
Mr. X is streaming on your own OTT platform but somehow it looks very messy with all the seasons and episodes trying to fit on one webpage. Try creating different pages for individual seasons of Mr. X where each page can have its own SEO strategy and customized designs. With Muvi One, each episode can become a landing page for itself. This will come in handy while hosting a summer special episode that you can market and your users get redirected to its specific page.
Highly Flexible & Customizable
With Muvi's Highly flexible and Customizable Features' content owners have complete freedom to choose and create hierarchical content in various formats in the front end – be it creating tabs, dropdown menus, or separate pages. Every content is different and we at Muvi give content owners the power to design and host their content the way they want to.
Use Cases
If you have been thinking that Muvi One is only for people who wish to host their content for entertainment only, then you are mistaken. Here are 4 use cases on how different businesses can have their video content and earn from the internet.
Fitness Programs
Fitness programs can be organized by instructors who can give training remotely and place their recorded as well as live content strategically to cater to specific audiences. For example, in Everyday Fitness, a gym owner creates his OTT Gym Workout website. With the use of nested content, they can create a full-body workout parent category. Below that, they can work out videos for different body parts, and on the individual body part training they can include various exercises.
This division of videos based on a category means the customer can either opt for the full body plan or even select if they want to get training on specific categories only. With Muvi One, you can deploy specific types of monetizations, and have different trainers have their own pages for training where they charge individually.
The earning potential is limitless with intelligent product placement, running sponsored content, live streaming, and selling products on the same website.
Muvi One can give trainers a one-stop no code platform to start building their business online. 
Certification Courses
We all come across interesting certification courses on the internet from websites such as Udemy. If you are thinking of hosting your very own OTT online courses for your audience, Muvi One has got your back. Nested content on Muvi One will let you create different levels of course material under a single-parent category. For example, suppose you want to show a Digital Marketing course as the parent category which is a complete course on its own. You can also have individual child-level courses beneath it such as Writing, SEO, Designing, etc. The writing category can have its own individual courses such as copywriting, blog writing, script writing, SEO writing, etc.
Muvi One gives you the freedom to create individual pages for all these courses as well as gives you the power to project the entire marketing course as one. You decide the pricing and we take care of the monetization.
Do you want to include downloadables? No problem at all. All the courses can have their study material and you can even schedule the classes if you wish to live stream.
Learning is becoming more and more digital and it's your time to hit the market with quality content. We take care of everything else.
Corporate Training Packages
Corporate training if conducted online can have a lot of benefits. They are convenient as employees can access them from anywhere and at any time. They are more budget-friendly as there is no travel or accommodation needed. They can be recorded and are scalable so the number of employees is never a concern.
Muvi One can give you your very own corporate training website where you can host multiple categories of training such as
* Diversity & Inclusion Training
* Financial & HR Induction
* Individual Team Trainings
* Company Culture Seminars
You can simply nest all these under a parent New Employee category and share the link with new joiners. Our analytics portal gives you all the insights about how the content is being perceived and if your employees are actually completing the training.
Media & Entertainment
If you dream of hosting your very own OTT streaming platform just like Netflix, we can help you design your website and multiple apps. With Muvi One you can
* Live stream sports and events
* Host Movies
* Host TV shows having multiple seasons
* Podcasts
* Music Streaming
Muvi One gives you the power to host all of these, have individual pages, dropdowns, tabs, etc, and deploy multiple monetizations at a single video level.
Get Muvi One Today
Book a free 14-day trial of Muvi One today and explore the best OTT streaming service provider yourself. Plans start at US $399 a month.