Building native mobile and tablet apps is crucial for any streaming business as it lets you target an even wider audience base who prefer to stream on different mobile platforms like Android and iOS. 
One of the main challenges to build native apps is to develop high-performing customized apps without much complexity or going through a very lengthy development process. The solution lies in Muvi's efficient and simple-to-use SDKs (Software Development Kit) that offer you a comprehensive set of developer tools to develop high quality, custom Android and iOS apps easily. 
Most importantly, it doesn't require extensive coding or even in-depth software development skills and yet gives you complete control over a fully custom app development. Let's look at the top highlights of this feature of Muvi. 
The Key Highlights of Muvi's Comprehensive Mobile SDKs
The top highlights of Muvi's mobile SDKs are as shown below.
1. Easy Native App Development for Multiple Ecosystems
Muvi's mobile SDKs let you easily develop native apps for multiple ecosystems like Android and iOS which in turn helps you target the respective audience base. 
For instance, Android has over 2.8 billion active users with a 75% of global market share. The iOS ecosystem, on the other hand, has already surpassed US $643 billion billings and the number is growing fast. With Muvi's mobile SDKs, you can easily develop mobile and tablet apps for Android and iOS and can leverage this growth scope.
Muvi's mobile app SDKs are based on native player framework and offer easy integration of features such as player, monetization, analytics, and security into the app easily. These SDKs allow for the development of mobile apps without the need to write any new code, as they automatically create a basic app in the chosen technology. 
Also, you can customize them as needed. Furthermore, the mobile app SDKs take into account the crucial factors like Google's defined programming standards and Apple's standards. You can download the mobile app SDKs from Muvi CMS and build your Android/iOS app easily. 
For android app, just log in to Muvi dashboard, go to "Mobile & TV Apps", select "Android App" and choose "Android SDK."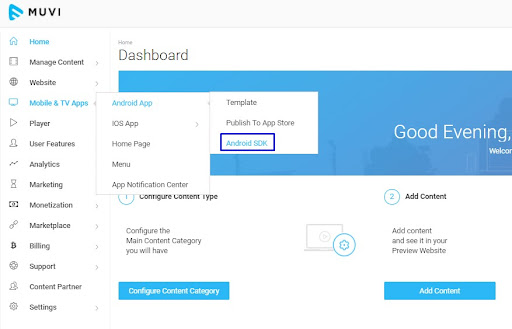 Next, you need to type the Bundle Identifier Name, click on "Generate" and then click on "Download Setup". A Bundle Identifier is used to identify Android apps on your device and Google Play Store.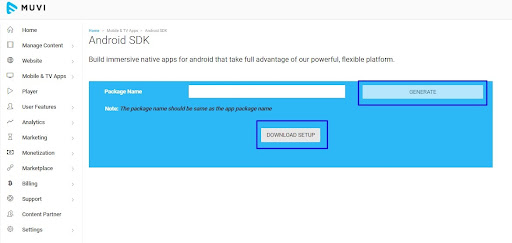 For iOS apps, log in to Muvi dashboard, go to  "Mobile & TV Apps", select "iOS App", and then click on  "iOS SDK".

The rest process is similar to the android app.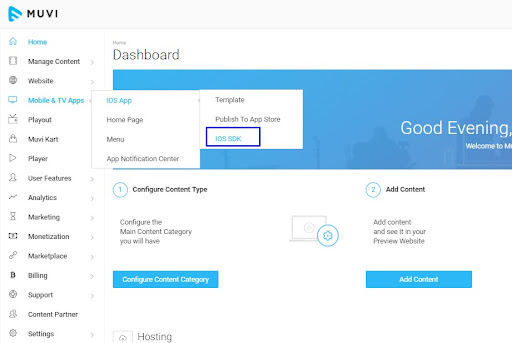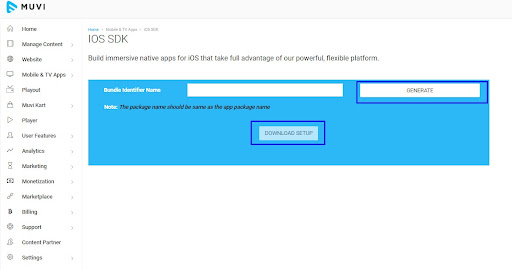 2. Simple Customized App Experience Creation
With Muvi's mobile SDKs, custom app creation is no more a tedious task. Be it developing custom features, or intuitive UIs – you can do it all with ease! You can add/modify your preferred monetization models, change the look and feel, can do third party integrations, and whatnot!
3. Compact iOS SDK Airplay Support
One of the top perks of Muvi's mobile SDKs is that it offer a compact iOS SDK Airplay support to the developers. This in turn will let your iOS app customers easily mirror streams on their iOS devices by just flipping up their screen and tapping on the Airplay button.
Not just limited to the above solutions, Muvi's mobile SDKs offer even more. Check out our Mobile SDK (Android & iOS) Feature Page for more. If you are yet to stream with Muvi, take our 14-day free trial today (no credit card required)!