Live streaming is fascinating, yet at times, it can become frustrating. Suppose you are watching a superbly charged La Liga match, and suddenly the milkman knocks on your door. What will you do? 
By convention, you will have to miss out on some power-packed action, in order to get milk for the day. In fact, if you are running low on luck, you may miss out on the only goal scored in the match!
So, what's the solution to this issue? – It's DVR Control! 
If your live streaming platform is DVR-enabled, you can pause and play your live stream, to ensure continuous content consumption. 
And if you are a content curator, having DVR enabled in your live streaming platform gives you added advantage over your competitors. 
So, if you want to know how to curate a DVR-enabled live-streaming platform, you are at the right place. In this blog, we will discuss how you can curate a DVR-enabled live-streaming platform without any hassle. So, let's get started. 
What Is DVR Live Stream?
Before we jump into the technical aspects of enabling DVR control on your live streaming platform, it is important to understand what DVR is, how it works, and what are its benefits. 
DVR actually stands for Digital Video Recorder. Hence, whenever you live stream through a DVR-enabled system, the Digital Video Recorder keeps recording your live feed simultaneously. Hence, your viewers are actually watching the recorded feed which is being displayed at the same time as the live broadcast. 
Due to this reason, whenever your viewers pause the live stream, it gets paused without any trouble. And when they come back, the live stream starts exactly from where they had hit the pause button because that section of the live stream is already recorded by the DVR system. 
Benefits of DVR Live Stream
Though there are multiple benefits of DVR Live Streaming, the most obvious ones are listed below:
Using DVR, your viewers can pause and play the live video whenever they want. This gives them the freedom to pause and go for snacks and drinks, guests at the door, or for any other reason. When they come back, they restart from the same spot where they left.

If your viewers want to re-stream the live-streamed content again from the very beginning, then they can do so easily on a DVR-enabled platform. 

It has many business benefits too. Like, for eLearning companies, live classes become more beneficial with DVR-enabled live streaming. Whenever any student leaves his seat during a live lecture, they can pause the lesson right there, and restart it whenever they come back.        

DVR-enabled live streaming has

amazing advantages for businesses

too! The customers can easily visit back the scenes which they want to view more than once, without waiting for the entire video to run again.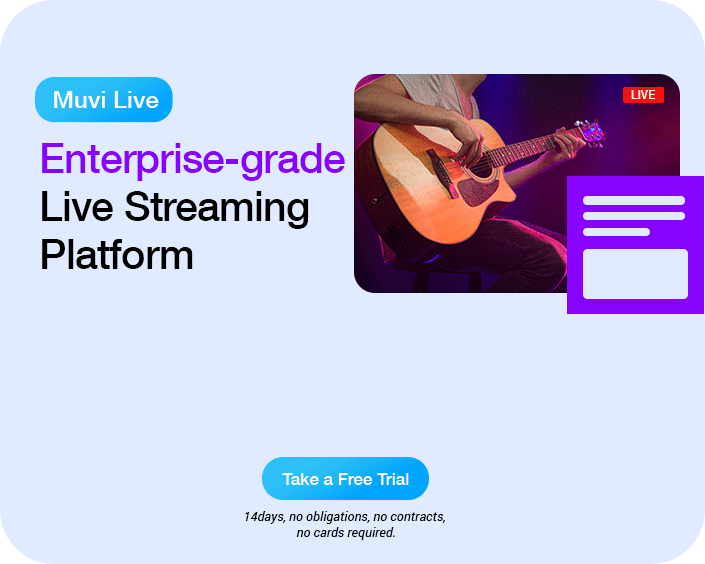 How To Switch to DVR-Enabled Live Streaming Using MUVI Live
DVR technology is in massive use these days. Most people prefer to have a pause-and-play system while they watch any live video. Hence, it's important for every live-streaming platform. 
If you have used MUVI Live to develop your own white-label live streaming platform, you can enable DVR Control very easily with a single tap from your CMS. 
To do so, you just need to enter your MUVI Live CMS and enable DVR Control (in case it is not pre-enabled for you). But in most cases, our in-built DVR will be pre-enabled for our customers, in that case, you will not find that option in your CMS. 
Some Use Cases for DVR-Enabled Live Streaming
To understand the benefits of DVR-enabled live streaming better, let's take you through some of its use cases from various industries. 
DVR in Sports Streaming
DVR is extremely important in sports live streaming. Especially in fast-paced sports like soccer, racing, hockey, and others, viewers get less time to go for water breaks and other purposes. DVR-enabled live stream helps them to pause the match whenever they need to leave their seats so that they can restart from there when they come back.            
DVR in Live Classes       
In live classes and training sessions, DVR helps the students in pausing the videos and revisit the portions which they did not understand on the first go. They can revisit the sections multiple times until they understand the topics clearly.          
DVR in News Broadcast   
In live news broadcasts, DVR enables the viewers to revisit the important news headlines and rewind back to the news of their interest in the middle of the live broadcast. They can skip the news that they are not interested in, and view the interesting stories multiple times.           
DVR in Live Streaming of Legal Procedures       
DVR plays an important role in the live streaming of court trials. Many times, the viewers need to revisit the statements given by the accused and advocates in order to understand the situation clearly. Also, they can replay the judge's judgment multiple times to understand it clearly.              
Wrapping Up
In today's times, if you are not delivering DVR-enabled live streaming, then you are bound to lag behind your competitors. That is why enabling DVR Control for all your live streams is extremely important. 
On that note, MUVI Live provides you with the best-in-industry features to deliver professional live streaming to your viewers. Our built-in DVR control, live chat feature, Multi-CDN Architecture, built-in Multi-DRM protection, and ultra-low latency live streaming help you deliver industry-grade live streaming to your viewers from any device. Wanna try it out? Start your 14-day free trial today!