Do you love watching videos online? 
Well, we all do. 
Sometimes we prefer to stream on our mobile devices while sometimes we prefer to watch our favorite shows on a bigger screen on our tablets or laptops. 
Have you noticed how seamlessly you can stream most of the video content over multiple devices/platforms/browsers/apps?
Starting from small to the leading streaming industry players like Netflix, are providing this compact solution to the viewers that enables them to seamlessly stream anywhere without facing any difficulties. 
One of the few things that has drastically changed over the last decade in the streaming or video monetization ecosystem is- the video player that evolved from the traditional flash players to the HTML5-based online video player or, better to say HTML5 video players have taken the place of flash players. 
HTML5 video players are garnering wide popularity owing to their exclusive features and solutions that not only simplifies cross device, browser and platform compatibility but also ensures easy sharing, customization, modifying settings and controls for the users and many more. So, if you are going to opt for a video hosting solution/platform then an HTML5 video player should be one of the main areas of your focus. In this blog we will discuss the benefits of using HTML5 video player so that you have a clear idea on what exactly to look for in a online video player while choosing a hosting or streaming platform.
What is an HTML5 Video Player? 
An HTML5 video player can be defined as a JavaScript library capable of building a custom set of controls over the top of an HTML5 video element. This in turn helps in providing a consistent appearance of the video player over various browsers/platforms. In this case, The HTML5 video element instructs the browser to load a video file from another source by giving its address. It is similar to the process when a browser loads an image file that is not saved in the HTML file. Various properties such as  width, height, and others are used to determine how the video will be played or displayed on the browser. 

HTML5 video players are replacing the traditional flash players especially for the platforms where videos play the most significant role such as streaming or video monetization platforms.  Here the control attributes are used to operate on the video controls such as play, autoplay, pause, and others. There are several reasons why HTML5 video players are taking the place of traditional plug-in/flash players and here we will give you a detailed overview of the benefits of an HTML5 video player.
Benefits of an HTML5 Video Player
1. Requires Less Resources
One of the best benefits of an HTML5 video player is its requirement of less resources. Unlike a flash player, an HTML5 doesn't need any plug-ins and hence is simpler in terms of its functionalities that also require lighter resources.
2. Easy Integration
HTML5 video players enable the developers or anyone needing to share videos on any website/platform to easily integrate it. Most of the streaming/video monetization platforms require sharing their content on various websites, and platforms and an HTML5 video player lets you easily integrate the videos on the website as well as manage them through the built-in video tags. Modifying thumbnails to looping or autoplaying videos – all can be done swiftly with such a video player.
3. Advanced Features
An HTML5 video player is rich in advanced features and solutions that are not only limited in background video playing or pre-loading your videos but more-
Most of the top-notch HTML5 video players are scalable and flexible to ensure it can fit the screen sizes of different devices – smartphones, smart TVs, tabs and others

Lets you easily embed your videos on any app/website/third party platform along with quality streaming experience to the viewers

Helps you deliver buffer-free videos with cross-device and cross-platform compatibility without needing any additional tools/plug-ins as already discussed above.
4. Customization 
Not only is an HTML5 video player equipped with flexible features but it makes your video content stand out from the crowd by offering a great extent of customization for all its solutions. A good HTML5 video player will give you the liberty about how you want the audience to display/watch your videos, how you can customize it to reflect your brand identity such as customizable brand logo placement, or what settings the users can access such as changing playback speed, multiple subtitles and audio options, resume watch, skip intro, downloadable or not and many more. 
5. Simple to Add Applications/tools/Links
Adding applications/links are much easier and faster if you are using an HTML5 video player. It simplifies the task of adding applications/links you want to display to your viewers or require to make your videos more interactive such as social media links, CTA buttons/links integration and others.
HTML5 Video Player Vs. Flash Player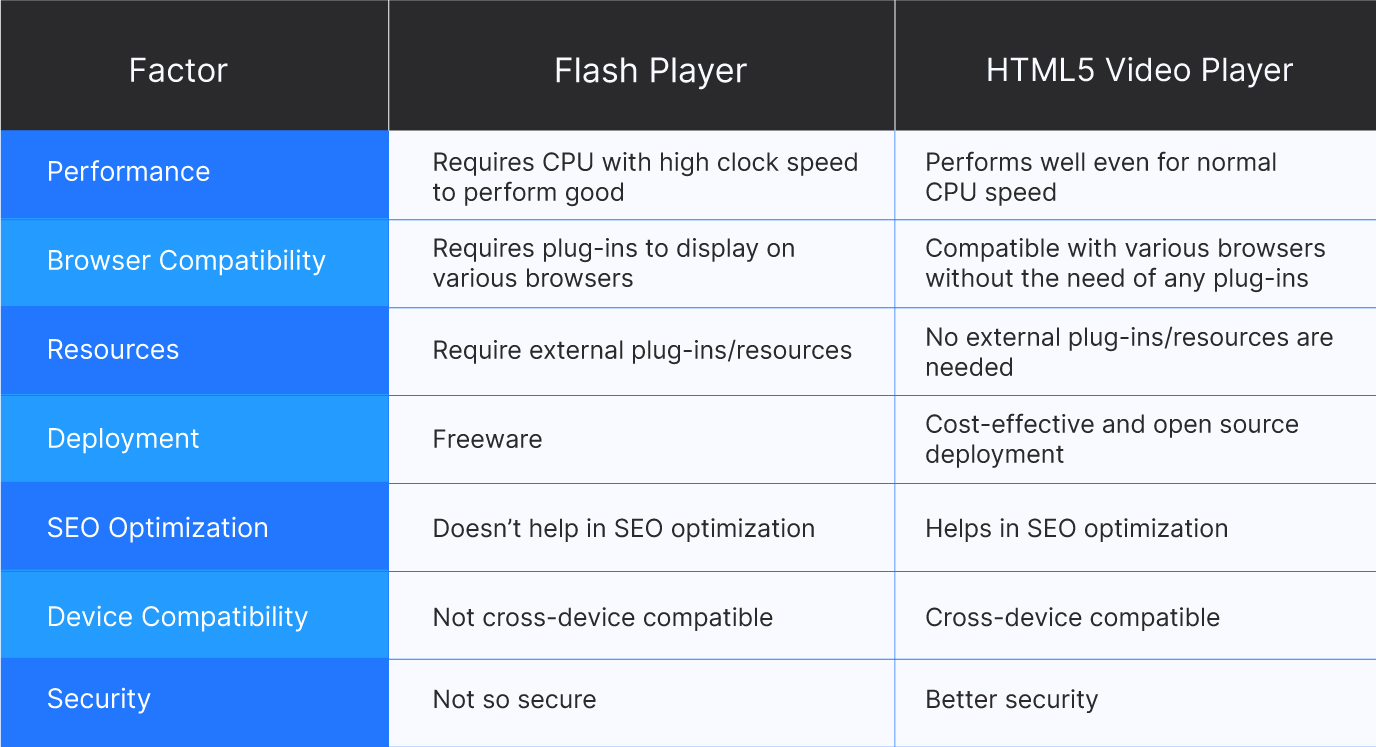 Flash players were in the limelight decades back but with the issues like frequent crashes, and poor cross-browser and cross-device compatibility and stability, people were in search for better options that can fulfil the requirements for video streaming and what the flash players lacked. Even Adobe's support for flash players on all major browsers ended on 31st December, 2020. As a result, HTML5 video players have become more like a necessity and integral for the video streaming platforms and the video hosting solutions are coming up with them equipped in the system.
Wrapping Up,
The video player is one of the few building blocks of your video streaming service that hugely determines the customers' streaming experience. All the good video streaming service and video hosting solutions come with HTML5 video players while the functionalities and features of the same may vary. If you are going to choose a video hosting service/solution, then you must not overlook how efficient the video player is. And the above pointers will help you decide whether it ticks off all the criteria well or not.
If you are yet to make a decision, Muvi Flex can be your choice. This enterprise-grade video hosting platform not only has HTML5 video player with all the above-mentioned qualities, but also helps you excel through its multi-solutions like video advertising, multiple monetization models, partner portal, social publishing and many more. Take a 14-day free trial today and see by yourself before going for it (no credit card needed)!