Jam-packed stadiums are now empty and high-profile sports tournaments stand canceled. With more people staying indoors, sports fanatics across the globe have taken to video gaming in the age of the pandemic. Just like how COVID-19 affected the video streaming scenario, the virus outbreak has had a monumental impact on the video gaming industry. In this blog, we are going to analyze the impact of the video gaming industry post the onset of COVID-19.
1. Tracking the Skyrocketing Growth of Video Gaming
Worldwide
Home entertainment seems to be the only hope for gamers in lockdown while cinemas and theaters continue their 'doors closed' policy to prevent the disease.  The March 2020 survey of Statista shows that video gamers in the United States reported that they spent 45% more time playing video games amid the quarantine than in the previous week. 
Verizon reported that streaming demand increased by 12% while video gaming boomed to a phenomenal 75%.  The reason? Of course, the pandemic. The unprecedented increase in video gaming came at a time when the pandemic had successfully disrupted every aspect of normal living in the world. People in self-isolation being desperate for entertainment have resorted to gaming and hence the immense traffic.
2.  Online Gaming makes Social Distancing Possible without Physicality
After the pandemic, people are now looking for ways to stay safely connected to one another in a virtual world. And only gaming enables social connectivity through a shared experience, giving people the opportunity and an outlet to interact in a variety of formats. Online gaming brings the possibility of social contact which has become increasingly difficult to achieve in this century. 
Video gaming has not only emerged as a savior during these tough times but is also providing a positive impact on the community. The #PlayApartTogether campaign, which encourages healthy social distancing in partnership with the WHO, is a terrific example of how online gaming can help serve the community while providing a much-needed break.
In this campaign, safety guidelines from WHO related to COVID-19 are being disseminated by 18 game industry leaders in an interactive entertainment space. The campaign is incorporating messages such as physical distancing, hand hygiene, and other powerful preventive actions into games, an initiative that encourages their vast network of users to follow the necessary precautions.
Some big names joining the program are:
Activision Blizzard

Amazon Appstore

Big Fish Games

Dirtybit Games

YouTube Gaming

Twitch
3. The Convergence of Esports and Traditional Sports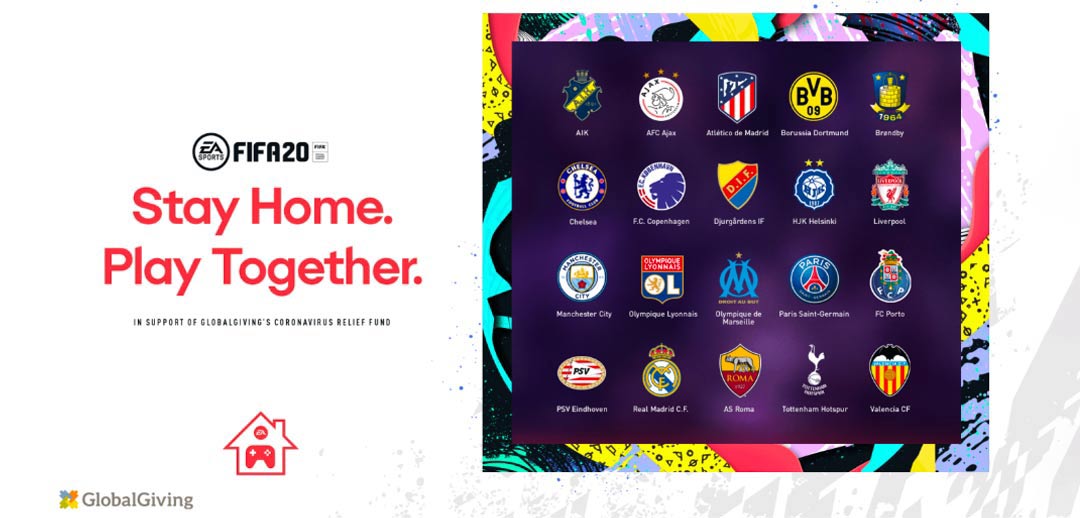 Esports is an emerging industry that manages to make more than a billion dollars a year. Now after the pandemic, it has gained further traction. The increase in the first-time download of Twitch after the pandemic in March has risen to 14% in the U.S.A and a staggering 41% in Italy.
Several high-profile sports leagues, from NASCAR, NBA to Europe's F1, have replaced their physical canceled events with digital-ones. NASCAR, for example, has replaced an entire physical race with a virtual version- eNASCAR iRacing Pro Invitational Series with 35 real-life NASCAR drivers playing a digital NASCAR video game. 
Similarly, F1 authorities announced that it would now host an esports series- the F1 Esports Virtual Grand Prix with a few of the existing F1 drivers alongside several other stars.
Similarly, FIFA recently launched the Stay and Play Cup from April 15 – 19, which is a unique concept in video gaming. Players from 20 of Europe's biggest football clubs like Atletico de Madrid, Chelsea, Manchester United, etc play together virtually on Twitch.
This convergence between Esports and more traditional activities looks set to continue even after the lockdown is over as sports fans will keep looking for more diverse content. Also, they would like to keep interacting with their favorite clubs. 
[With Muvi Live Server, you can stream live tournaments with low latency, scale on-demand and offer real-time interactivity both within the game and among virtual players.]
4. Video Gaming to Boost Broadcasting Challenges
The challenge broadcasters are facing now is the vacant slot which would otherwise be filled with live sports events. Now those vacant slots are likely to be turned into esports opportunities. UK broadcasters BBC and Sky have turned to esports to continue entertaining their sports fans. 
The BBC successfully broadcasted two digital sports events – the fourth and fifth stages of a 37km cycle race over a virtual representation of the Schallenberg mountain known as the Digital Swiss 5, and the first leg of the Formula E Race at Home Challenge.
Wrapping up,
Given the situation where chances are the virus is to stay for a while, we can expect the video gaming industry to continue its upward revenue growth trend. As more people stay indoors, the consumer's playtime and money spent on gaming also increase. In short, we are looking at a post-pandemic gaming world with a steady flow of new competitions, titles, and publishers. 
Muvi's highly customizable platform allows you to deploy your online game streaming channel instantly at zero upfront investment. From quality streaming of online games to collecting subscription fees from viewers, Muvi offers every necessary feature on its ready-made platform.
Take our 14-day Free trial, now!