Online video consumption is rapidly expanding globally and becoming one of the most preferred modes of content consumption. Viewers are shifting to mobile and digital platforms for watching videos due to its convenience, anytime anywhere availability and flexibility. Thus, it is highly essential for content creators to get started with a video streaming platform.
Video streaming platforms offer viewers a personalized method of watching their favorite content with the features and functions that would enhance their streaming experience. Viewers can choose from a variety of options such as subscribing to the platform to watch the video, watch ads in exchange of contents, and pay only for the content they wish to watch. Video streaming platforms provide your audience a flexible method of streaming both live and on-demand contents on any device and anywhere.
The global video streaming market size was valued at USD 70.59 billion in 2022 and is expected to reach USD 330.51 billion in 2030 at a Compound Annual Growth Rate (CAGR) of 21.3% from 2022 to 2030.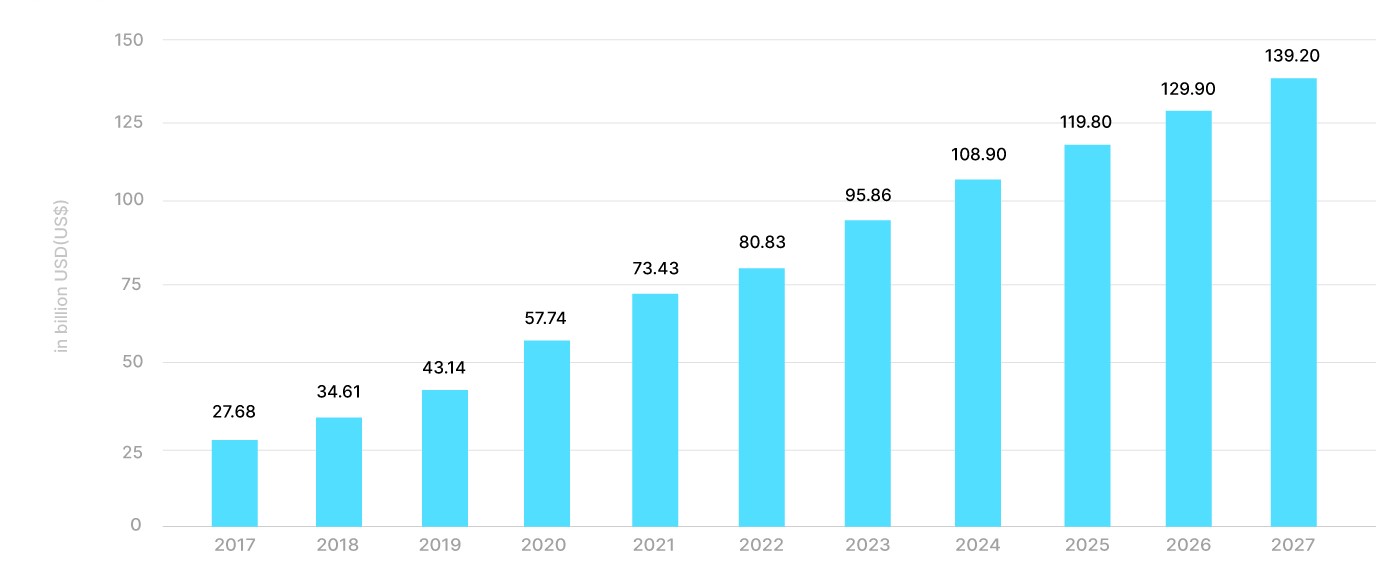 A Guide to Video Streaming Platform
A video streaming platform is a website or platform that allows users to watch video content online. It can include movies, television shows, live events, inspirational videos, educational videos, hobby related videos, sports (live and on-demand) or religious videos as well. Video streaming platforms typically allow users to stream their content directly to viewers devices, such as computers, tablets, smartphones, or smart TVs over the internet. These platforms may require users to pay a subscription fee to access the content, although some platforms also offer a selection of free content.
Example of video streaming platforms are:
Hulu

Netflix

Amazon Prime Video

Udemy

YouTube

ESPN+
How are Video streaming platforms used?
Media & Entertainment –
Streaming platform provided a new way for creators to distribute and monetize their content, and for audiences to access a wide variety of content on demand.
One of the major benefits of streaming platforms is that they have made it easier for creators to reach a global audience. This has led to the emergence of a diverse range of new voices and perspectives in the media and entertainment landscape. 
Streaming platforms have provided new revenue streams for creators, through subscriptions, advertising, and other monetization models. Streaming services such as Netflix, Hulu, Amazon Prime and Disney+ for example, have a monthly subscription fee that users pay for access to a wide variety of programming.
You can use video streaming platforms to stream both live and on-demand content and effectively reach their targeted audience via the internet. It is a valuable method of providing a streamlined streaming experience to your global audience with minimum expenditure. Media and entertainment include movies, web series, TV shows, comedy shows and many more! Streaming content on your own platforms is a cost-effective method of delivering content globally.  
eLearning 
The eLearning industry is growing at a staggering rate, and it's affecting education in more ways than one. Schools have also embraced virtual learning environments and online courses as they become more affordable and accessible. This trend is expected to continue as eLearning becomes a more prevalent part of schools' curriculum.  
The use of technology in education is increasing, and more and more educational institutions, Edtech platforms and universities are offering online courses and programs. Additionally, the flexibility and convenience of eLearning is appealing to many students and working professionals. According to a report by Global Market Insights, the global eLearning market is expected to reach over $325 billion by 2025. 
One of the most essential reasons to stream educational content via streaming platforms is that it saves time and is highly flexible. Online learning is much more accessible and affordable than traditional learning and an eLearning video platform allows you to stream multiple courses and monetize the same. You can also check the analytics metrics such as audience behavior, watch time, play rate, conversion rate to find out who is attending the classes and who is attentively listening to the courses.  
News Broadcasting
Everyone wants news in real-time and chooses from a variety of ways to consume news today, with the most common being through digital media. One popular way is through news websites and apps, which offer a wide range of articles and stories on a variety of topics. Many news organizations have a presence on the web, and many have mobile apps as well, which allow people to access news on their smartphones and tablets.
Social media platforms like Facebook, Twitter, and LinkedIn are also increasingly being used to consume news. Many people follow news organizations, journalists, and other sources of information on these platforms and consume news through the articles and videos that are shared. This way allows for a more personalized news feed which is tailored to one's interest.
Streaming services like Netflix, Amazon Prime and YouTube are also providing news content in the form of news videos and documentaries, which is also becoming a popular way of consuming news.
With a streaming platform, News Channels can allow their viewers to access a wide variety of news and media content from any device any time with an internet connection, making it easy to stay informed and entertained no matter where they are. You can stream both live and on-demand news broadcasts and earn money by monetizing the same. You can provide both ad-free or premium news broadcasts allowing your audience to choose one from both the options.
Live Streaming of Events
Live streaming has become a popular way for businesses to reach a wider audience and increase participation in product launches, B2B events, and conferences. By streaming events online, companies can reach viewers who may not be able to attend in person. Live streaming allows for real-time engagement and interaction with viewers, such as through the use of chat and Q&A features. This can help to create a sense of community and participation among viewers and can also provide valuable feedback and insights for the company.
Live streaming has made virtual participation easy by providing a convenient and accessible way for viewers to tune in to events from anywhere with an internet connection. Platforms such as YouTube, Facebook, and Twitch make it easy for companies to set up live streams and reach a large audience. 
With a live streaming platform, you can easily stream live video from anywhere to everywhere. Live streaming brings video and audio of real-time events over the internet. It is quite a popular method for businesses and organizations to connect with their audience on a deeper level despite geo barriers. It allows you to reach and interact with more people across the globe and using a streaming platform helps deliver particular use cases like live music concerts, service promotion, service promotions, live announcements, online classes, church services, as well as wildlife broadcasting.
Sports Broadcasting
Streaming technology has had a significant impact on sports broadcasting by making it more accessible and convenient for viewers. 
For the Olympics specifically, streaming technology has allowed viewers to watch events on demand, which can be especially useful for people in different time zones or those who were unable to watch the event live. Additionally, online streaming services often provide multiple camera angles, instant replay, and other interactive features that can enhance the viewing experience.
In the case of FIFA, streaming has allowed fans to watch games in countries where broadcast rights were limited or not available. This allows them to expand the reach of the games and have potential new fans in those countries.
For NBA and NFL, the technology has allowed them to offer the games to a wider range of audiences, as well as generating more revenue from streaming services. As a result, the two organizations have been able to offer new broadcasting and streaming package options for fans.
Streaming allows viewers to watch live sports events on their devices, such as smartphones, tablets, and laptops, rather than being limited to watching on a traditional television. This has greatly expanded the potential audience for sports events, as viewers can watch from anywhere with an internet connection. Streaming sports events often provide multiple camera angles, instant replay, and other interactive features that can enhance the viewing experience. These services can also enable viewers to watch events on-demand, which can be especially useful for people in different time zones or those who were unable to watch the event live.
You can also broadcast huge sports events and both live and on-demand via a streaming platform. The biggest benefit of broadcasting sports events online is accessibility. Various people from every corner of the world can join and cheer for their favorite teams.
Online sports broadcasting piques people's interest because it allows them to view live feeds of their preferred games—many people like engaging in sports. 
Employee Training
Online streaming allows employees to access training materials from anywhere, at any time. This makes it easier for employees to complete training, even if they have a busy schedule or are working remotely. Streaming video can be used to deliver live or recorded training sessions, allowing employees to access the training in real-time or at their own pace. also allows for interactive training, with the use of tools such as video conferencing, polls, quizzes, and virtual breakout rooms, which can increase engagement and retention. It allows for scaling of training to a large number of employees.
Some popular uses cases include:
Onboarding: Streaming can be used to provide new employees with an introduction to the company, its culture, and its policies.
Product training: Streaming can be used to deliver training on a company's products and services, which can be especially useful for sales teams or customer service representatives.
Compliance training: Streaming can be used to deliver training on regulations and compliance policies, which is especially important in regulated industries.
Professional development: Streaming can be used to provide employees with the opportunity to learn new skills and advance their careers.
Safety and emergency procedures: Streaming can be used to provide training on safety and emergency procedures, which can be especially important for employees in high-risk environments.
Virtual training and collaboration: Streaming can be used to deliver virtual training and allow employees to collaborate in real-time, remotely.
Micro-learning: Streaming can be used to deliver short, focused learning sessions (often under 10 minutes) that focus on specific skills or knowledge, which is useful for training that needs to be delivered in small chunks that can be accessed on demand.
Online Classes (yoga, music, Dance, health & fitness)
Platforms like YouTube, Zoom, or specialized platforms like Peloton and Glo, make it easy for people to access classes from anywhere, at any time, and on any device, which has made it more accessible to people who may not be able to attend in-person classes.
Online fitness, dance, yoga, and music classes are flexible because it offers the audience the flexibility of performing the activities from any corner of the world.
Embracing new workout regimes from the comfort of your home is a welcome savior especially during the time of a pandemic and allows instructors to earn from their home studios through effective monetization models from the video streaming platform.
Short Videos
Short videos have become increasingly popular in recent years, with the rise of platforms such as TikTok, Instagram Reels, and YouTube Shorts. Short videos are easy to watch, usually take less than 2 minutes and can be watched quickly without requiring a lot of time investment, making them ideal for today's fast-paced digital environment.Short videos are perfect for mobile devices and are easily shareable across social media platforms, which has led to a proliferation of short video content.Short videos can cover a wide range of topics and can be used to showcase a wide variety of content, from music and comedy to vlogs and educational content. 
By offering short entertainment, information, or educational content, you deliver a new method for consumers to engage with the world and with your brand. Short video platforms allow your consumers to personally engage with your brand through these videos. You can also use video advertising to capture their attention at different points along their buyer's journey.
UGC based content
User-generated content creates greater trust between customer as well as brand. It is actual and honest content that the potential consumer can trust, as it is not the brand's own content but is based on the experience that other users have had with the products. With a video streaming platform, you can allow your viewers to create and upload content just like YouTube and Instagram.

Certification Program
Certification programs are used in a wide range of industries and fields to provide individuals with the knowledge and skills they need to perform specific tasks or roles, and to demonstrate expertise and professional development. They are also often required for certain positions and industries, and are recognized as a sign of an employee's skills and qualifications.
Streaming platforms can be used to deliver certification programs to large numbers of students, and to automate the assessment process, which can make the program more efficient and cost-effective. It can provide a flexible and convenient way to deliver certification programs, enabling students to learn at their own pace and providing interactive and engaging learning experiences, while also providing capabilities to manage the examination process, scale, and track student progress.
One appealing part of digital certification is the adaptability of the study plan. Online certification offers capacity to concentrate on development opportunities.
Why do content owners and creators need a video streaming platform?
Ever increasing need of content streaming online has made it important for content owners and creators to launch a video streaming platform and publish contents online. It can help you attract millions of viewers and earn huge profit by monetizing the content.
Video streaming platforms like HULU and Netflix produce quality content to convey a second-to-none consumer experience. Whether you are a big organization or a single creator, there are three major ways a video streaming platform can help you:
Scale your audience

Distribute your content globally on multiple screens and platforms

Earn huge profits by implementing various monetization models
a video streaming platform can help you reach a wider audience, as it makes it easier to discover and watch their content online.
7 Key aspects to evaluate while choosing the best video streaming platform
IT Infrastructure (Where is it hosted)
The first thing to check out while choosing a video streaming solution is where your content is hosted. A cloud hosting solution is less expensive, secured, and efficient that helps content owners to quickly scale up their video streaming business. A cloud-based video hosting solution eliminates the need of building your own cluster of servers for scaling. 
Hosted on Amazon Web Services, Muvi One helps deliver the highest uptime guarantee and a completely lag-free experience to your users. No matter how many concurrent users hit your platform, with instant scaling capability, Muvi One can manage all with a few clicks!
Customization and cost
Easy customization is a major aspect to look for in a video streaming solution. A comprehensive video streaming solution helps you easily customize the platform with advanced viewing features and retain consumers for a longer period. Muvi supports complete customization of your platform from minor design tweaks to requesting new features, from integration with 3rd party tools to deep rooted API and SDK integrations. Muvi supports complete design customizations, not only for the website but also for the Mobile and TV Apps. Simply tell us what you need, purchase our DevHours package and leave the rest to our team of experts. 
Storage
Cloud storage eliminates the need for investing in in-house storage infrastructures. It provides the flexibility of scaling the storage capacity when the data volume changes. Since the data is stored on servers, it can be easily accessed via a web interface. The chain of servers makes sure 24/7 data accessibility. When one server is under maintenance or fails to connect, the data is replicated on other servers to facilitate accessibility.
Multiple Monetization model 
By having multiple monetization models, a streaming platform can diversify its revenue streams and reduce its dependence on any one source of income. This can help to make the platform more financially stable and resilient in the long term.
Some monetization models, like pay-per-view or in-app purchase allows for more interactive and engaging experiences for the audience. This can also help to increase revenue for the platform and its content providers.
With Muvi One, you can monetize your content from day 1 based on multiple monetization models. Muvi One also supports multiple payment gateways based on your preference and also allows your audience to pay using their local currency. You only have to focus on creating quality content while Muvi One takes care of monetization with its billing engine.
Customer Support/Technical Support
Customer or technical support is important because it solves your problems and helps provide an awesome customer experience. Top notch customer support can help content owners boost customer acquisition and save a huge amount involved in the acquisition process. Choosing one of the best video streaming solutions like Muvi One can help you figure out your technical issues and solve it in just a few minutes.
Ease of migration
You must choose a video streaming solution that is easy to migrate from one platform to the other. Muvi's abled migration team has a collective experience of 8000+ migrating hours and have onboarded streaming services of any size over the years. Muvi One will automatically convert and then migrate all your video and audio files with state-of-the-art automapping technology. All your content metadata, captions, transcripts will be converted into universally accepted formats with absolute zero loss of data.
To know more about migration, consider reading our blog – OTT Migration- Why You Should Migrate to Muvi and Other Top Questions Answered.
Statistics tools / Analytics
Statistics tools are the vital element of any video streaming platform because it not only takes your video business to the next level but also it can help you gain a deep understanding of user's experience and how to improve on it to win the race for viewer's attention. Muvi One helps you analyze and track the performance of all your video and audio content at the minute level.
Security 
You must choose a video streaming solution that adheres to ISO compliance, GDPR compliance, PCI compliance, and other security features. Muvi has multi-layered security architecture that is geared to not only protect the content, but the user data and payment information as well. Muvi One ensures high-level security of your data with server level security and multi-level firewall. We help you launch PCI compliant platforms with secured connection for online payments as well as transactions. Muvi One adheres to the ISO 27001 standard in operation security to prevent information breaches. Muvi One is also FISMA compliant and offers the highest level of data security to both you and your viewers information.    
Conclusion
You should do some research and compare various platforms to see which one meets your streaming needs. You must consider the above-mentioned aspects before going forward with a video streaming solution.
Muvi One is an all-inclusive video streaming platform that allows you to launch White Label Multi-Device OTT streaming & Video Streaming Platforms, offering Video on Demand (VOD), Live Streaming and monetize the same using various monetization models. Muvi One is your go-to partner for providing online video streaming services. Take a free trial to know more!