Live streaming is an integral part of our lives nowadays. Imagine your life without live sports, live news, live events…doesn't it seem boring? Moreover, in this connected world, why would anyone miss any special event just because he or she is not physically present there? That is why, we believe, Live Streaming is for everyone! In our effort to make enterprise-grade no-code live streaming platforms affordable to all, we have taken a BIG decision! 
We are extremely happy to announce that MUVI Live is now 50% more affordable!! Yes, we have restructured the pricing of MUVI Live, reducing the prices of all our plans to their exact halves! Hence, at MUVI Live, you will now get more flexibility at half the cost. So, with lesser cost and more features, you can get started with your own live-streaming platform right away. 
Pricing Structure: New vs Old
Though we have halved the prices, our commitment to our customers has only doubled. That is why we are committed to offering double advantages and much more flexibility to our customers. In short, you can now deliver much more value to your viewers without putting much pressure on your budget. 
Even after the pricing restructures, the features covered in each plan remain the same. The old and new prices of all our plans are summarized in the table below:
| | | |
| --- | --- | --- |
| Plan Name | Previously | Now |
| Muvi Live Standard | $149/month | $79/month |
| Muvi Live Professional | $599/month | $299/month |
| Muvi Live Enterprise | $1499/month | $799/month |
Thus, with this restructure coming into effect, our MUVI Live Standard subscription is now available at just $79/month, while at $299/month, you get a MUVI Live Professional plan.
Enjoy More Flexibility At Half The Cost! 
Backed by multiple new and improved features, MUVI Live delivers a brand-defining live streaming experience to your viewers. Our Adaptive Streaming, HTML5 Player, Multi-bitrate HD Encoding, and Multi CDN lets you deliver stunning buffer-free content from multiple cameras, multiple screens & platforms without any external support with a Do-It-Yourself webcast flow. 
Experience much more flexible live streaming than ever before, with single-tap social media integration, restricted access, geo-blocking, peer-to-peer streaming, live audience analytics, and single sign-on! 
And, live streaming is not restricted to your platform anymore! Multiply the outreach of your live streaming with our MUVI Live Mobile App! Develop your own live streaming app in just a few clicks, and reach out to your consumers anytime, anywhere! We cover all the major mobile operating systems, including Android, iOS, and more!  
New and Top Features That Make You Crave For More
MUVI Live is going to see an overwhelming upsurge of brand-new and much-awaited features in the coming months. Features like Bandwidth Wallet, and Live Chat and Moderation, which have been much awaited for a long, are going to go live soon! 
Apart from these brand-new features, there are some already-existing features that make us unique and the best in the market in our respective segment. Let's take a look at some of them:
Multi-DRM Protection:

With

multi-DRM protection

, you can rest assured that your live stream is completely protected with the least chance of piracy. DRM does not allow your viewers to take screenshots or record their screens while they are watching your live feed. Even if they use an external camera to record it, dynamic watermarking ensures that their recorded content always bears the mark of its original owner. 
Record Live Stream:

MUVI Live allows you to record your live streams, and convert them into VOD content later. Hence, even if your users miss the live event, they can always stream the recorded content at their convenient time. 
User-Generated Content:

UGC

lets your users upload their content to your platform, which all your viewers can watch and enjoy! Isn't it great! 
And this is not the end of the list! We are backed by multiple state-of-the-art features that make us who we are! You can go through the full list of our features here.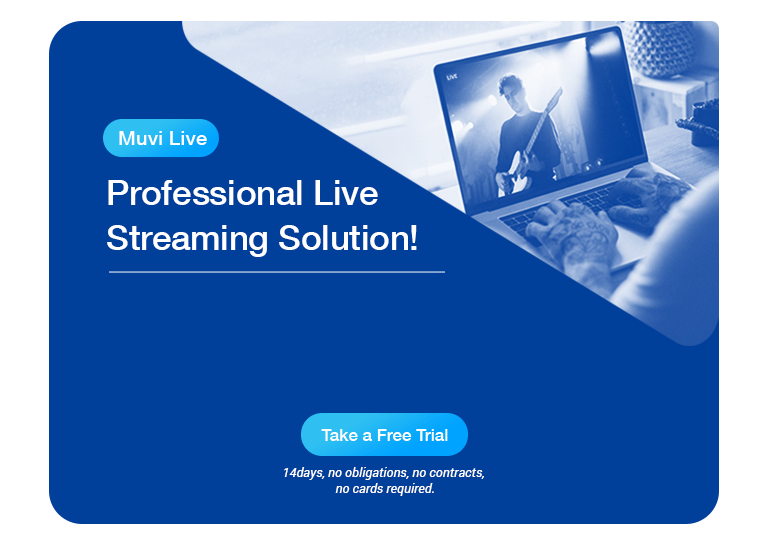 We Invite You To The New World Of Live Streaming
With brand-new features, reduced cost, improved performance, and enhanced flexibility and security, we welcome you to the whole new world of live streaming! 
If you are already a MUVI Live customer, get in touch with us to restructure your packages and automated payments. Drop us a mail at sales@muvi.com right away.
And if you are still not a part of our family, don't waste your time anymore! Sign-up today to start your 14-day free trial, and deliver the best-in-class live-streaming experience to your viewers! At MUVI Live, you can do multi-camera live streaming, single-camera live streaming, supercharge third-party live feeds, live streaming from the nearest server, and even HLS live streaming. Connect with us today to know more!