This year, as NAB celebrates its 100 years anniversary since the first ever NAB Show was held in 1923, a lot of unique offerings are in the lineup for the NAB 2023 Las Vegas Show. This year, the NAB Show will offer many exciting activities for the participants and delegates, including live performances, interesting workshops, and more! 
But, amidst all of these, there are 5 major attractions which you simply can't miss! Let's take you through the top 5 things to look out for at NAB 2023 Las Vegas!
5 Reasons Why You Should Visit NAB Show 2023 Las Vegas
NAB Show has been a major reason behind the widespread adoption of technological innovations in the media and entertainment industry. As it provides the perfect platform for innovators, companies, and startups to showcase their A-Grade products to the who's who of the industry, we usually eagerly await its kick-off every year!
And this year, as the world is ready to embrace complete normalcy after a rollercoaster ride of the Covid-19 pandemic, the 100th year of the NAB Show is going to be even more special. While the known players and market leaders will be eager to engage with new audiences and customers, many new and exciting products will see the limelight for the first time ever. 
However, this year, new trends and consumer interest are expected to take center stage. As the behavior and needs of consumers change, the entertainment industry will have to change too! And this forms the basis of the top 5 major attractions of NAB Show 2023.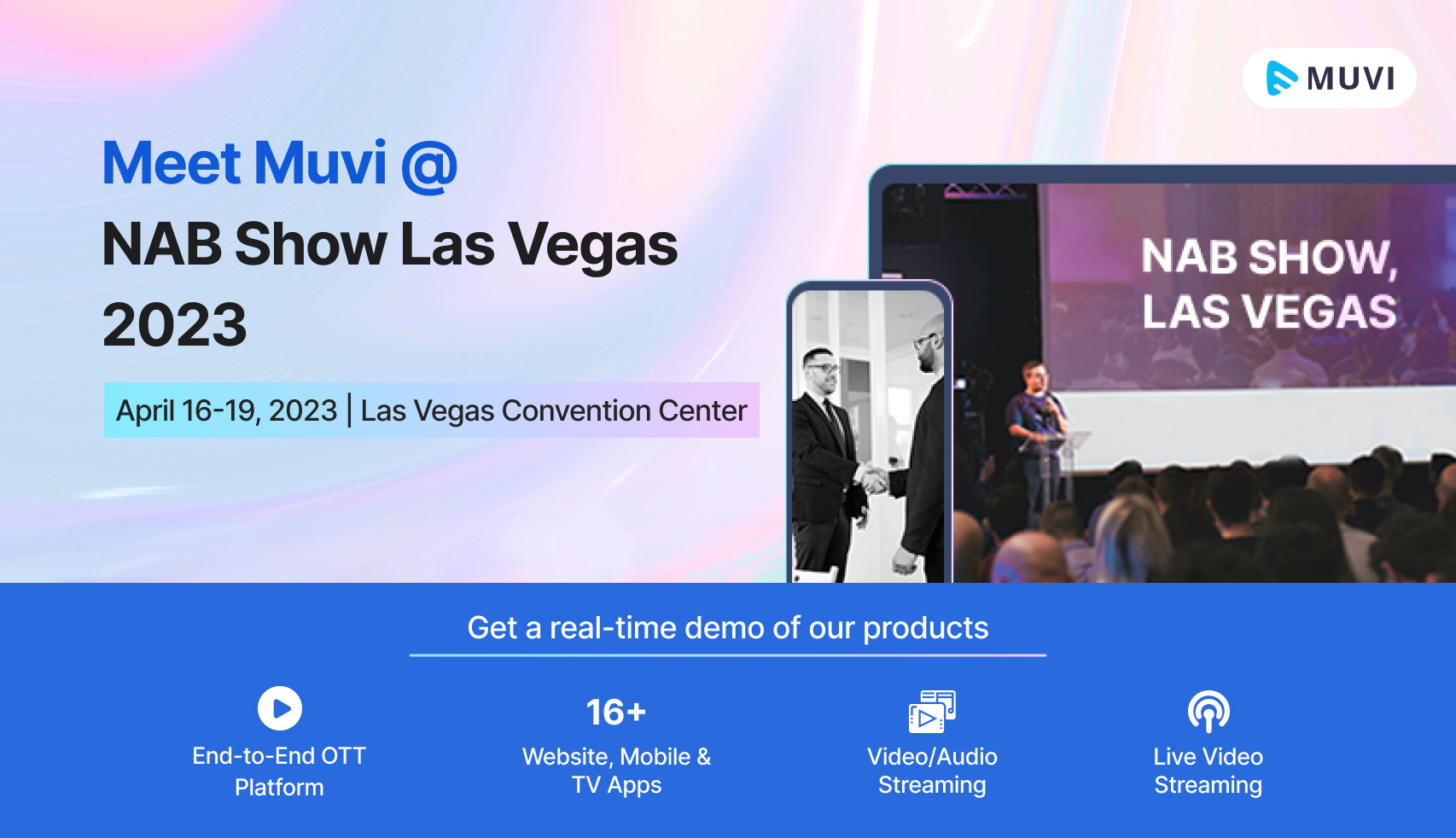 1. Muvi One Visual Designer
Muvi is bringing the world's first no-code drag-and-drop streaming platform designing studio – Muvi One Visual Designer – to NAB Show 2023 in Las Vegas. This visual designer is the first of its kind, as you can design an entire streaming platform with all the relevant brand identities very easily, without writing a single line of code! 
Earlier, multiple no-code platforms were available for developing streaming platforms, but none of them provided sufficient design customization options. And you would definitely not want to design your platform simply on the basis of a template that doesn't allow you to change anything, as it would look similar to other platforms. That is why the visual designer can be a game changer. 
It would let you add your own logo, banner, brand fonts, and colors to design a platform that's truly yours! And this is not all. You can design and customize each and every element, customize the header, footer, menu, add and remove static pages and do a lot more, without writing a single line of code!                
2. Try Your Apps in Minutes 
There was a time when developing a streaming app was considered a dreaded task. It required (and still requires in many cases) the most skillful developers out there and a lot of technical infrastructure. But, when we look at the no-code platforms of today, we must say that streaming app development has come a long way! And recently, Muvi One has launched its Try Your Apps feature, which is set to take us one step further in this process.     
So, here's what you can do with this feature. You will need to fill up a form to submit your app development request and then wait for five minutes. Within this short time, your apk file will be delivered to your mailbox! You can download it and test your application. As you can see, this process will not take any effort and will save a lot of time.             
In addition, the all-new Muvi ONYX makes previewing and testing your streaming app extremely easy. You can try your app just like an end user, customize the design to suit your brand needs, and finalize an app that's just perfect! 
3. Simplifying eLearning
For the past few years, eLearning has started to use multiple aspects of streaming. Starting from live classes to recorded video lectures (which work as video-on-demand content) eLearning platforms have started using the same features as a streaming platform nowadays. But, many outdated LMSs are not yet ready to embrace the change. Many of them still do not support live streaming, multiple content formats, and secured streaming. These limitations of conventional LMS are limiting the growth of the eLearning business as a whole. 
But here comes Muvi One eLearning, with the intention to revolutionize modern-day eLearning.  With Muvi One's eLearning module, you can build a customized eLearning platform loaded with all the required features like
Multi-DRM Security and Geo-Blocking

Multi-Format content support for both on-demand and live-streamed lesson videos. 

Built-in cloud CDN for latency-free streaming even at remote locations. 

Multiple monetization models including TVoD, SVoD, and AVoD. 

Multi-currency support for reaching out to a global learner base.                    
4. An improved version of Muvi Live
Live streaming has now become super easy with Muvi Live. As Muvi Live allows you to stream from any device and any camera, you literally don't need to worry about live-streaming infrastructures anymore. You just need to take your smartphone with good camera quality, download the Muvi Live app in it, and start streaming right there!
And now, the improved version of Muvi Live comes with much more flexibility and security. The bandwidth wallet lets you buy extra bandwidth on the go, based on your streaming requirements.                
5. Huddle Up To Connect With Your Employees and Audience
Who wants multiple distractions in the middle of vital conferences? But hybrid and remote work setups, these distractions are often common, though unintentional. And most importantly, if you are intending to live stream your video conference to a large number of people, you will most probably have the option to use some webinar tools, which mostly support one-way live streaming only. Using such tools, you cannot interact directly with your audience. 
Here comes Muvi Live Huddle with a change. Muvi Live Huddle is probably the only software available that supports two-way live streaming with over 600 participants. It means you can not only live stream to around 600 people, but they can even join you in the conversation, and live stream their content to your audience. 
And, with Muvi Live Huddle, you can efficiently tackle most of the other video conferencing issues too. Packed with multiple powerful features, Muvi Live is unique in the following ways:
Huddle will suppress all of your background sounds so that your colleagues and audience can hear only your voice on the mic. 

You can set up a live conference with around 600 people at a time! 

Use huddle in any browser, no need to download any separate software to join the meet. 

You can log in to a meeting simply by entering your name. We won't ask for anything else. And once you enter your name, we will save it. So, you can directly hop into the conference next time you come to Huddle. 
And along with these unique features, Huddle has multi-DRM security of Muvi Live, which keeps your live meetings safe and secured. 
Meet The World's First and Top No-Code Streaming Platform Builder At NAB 2023 Las Vegas
Muvi is bringing the world's first no-code streaming platform builder, Muvi One to NAB Show 2023 Las Vegas. Along with our core product Muvi One, you will also get a glimpse of Muvi Live with Huddle, along with some of our other products. 
Willing to know why you should visit Muvi at NAB Show 2023? Here are some of the core features that will compel you to come to us:
Multi-DRM Security:

Muvi One and all other products of Muvi comes with built-in multi-DRM Security. It ensures that only authorized viewers can access your content. It is a great tool for preventing piracy of your content. 

Built-in CDN:

Yes you heard it right! We provide you CDN network built-in. All of our customers use the AWS CDN network by default and deliver a latency-free streaming experience to their viewers. 

Native Apps in 16+ OS Environments:

With Muvi One, you can develop your own streaming application in 16+ OS environments, including iOS, android, apple TV, fire TV, Roku TV, Samsung Tizen, LG WebOS, and more!

Geo-Block for Restricted Access:

You can set up a geo-block for those regions where you don't want to stream your content. Then, people living in that particular country or area will not be able to access your content.
Along with these, you will enjoy 100+ industry-leading features with Muvi One. And, you can experience all of them at the NAB Show Las Vegas 2023. 
So, come meet us at West Hall — Booth W2314 of the NAB Show in Las Vegas from 16 to 19 April 2023. Click here to book your meeting slot now!