OTT marketing makes for the backbone of any OTT business, something that keeps your market position strong no matter how tough the competition is. Owing to its growing demand and unlimited growth scope, the global OTT sector has become a potential market to invest in. According to a recent report, the revenue in the OTT video segment is over US $200 billion as of 2022 and is projected to rise even further. 
While Netflix, Disney+, Hulu, ESPN+, and Amazon Prime Video are some of the leading OTT platforms, there are a lot of new OTT players rising slowly to dominate the market. In this scenario, a good OTT marketing strategy is the only game-changer that can secure your market position and transform your OTT platform into one of the leading names around the globe. But for that, you will need to know the A to Z of OTT marketing. So here we go. 
In this blog, we have listed all the tried and tested OTT marketing essentials including basic strategies only for you! 
Let's get started.
A Guide to OTT Marketing Essentials: Content, Strategies, and More
OTT marketing is a dynamic area to explore as the trends are prone to change rapidly with time. Not only that,  other factors such as audience demographics, your content type, your OTT business goals, the current position of your OTT platform in the global market all are highly dynamic. However, there are certain marketing and content strategies, tips, and tricks that may work wonders for your OTT platform. But before that let's understand the OTT marketing funnel.
OTT Marketing Funnel
Before chalking out your OTT marketing strategy, it is important to understand the OTT marketing funnel. The modern day OTT marketing funnel consists of –
1. TOFU (Top of the Funnel) – Awareness 
In this stage you need to make your target audience aware about your OTT platform. 
2. MOFU (Middle of the Funnel) – Consideration
This stage implies that your target audience/ some of your target audience consider to try your OTT platform like, consider downloading your OTT app or, visit the OTT website etc.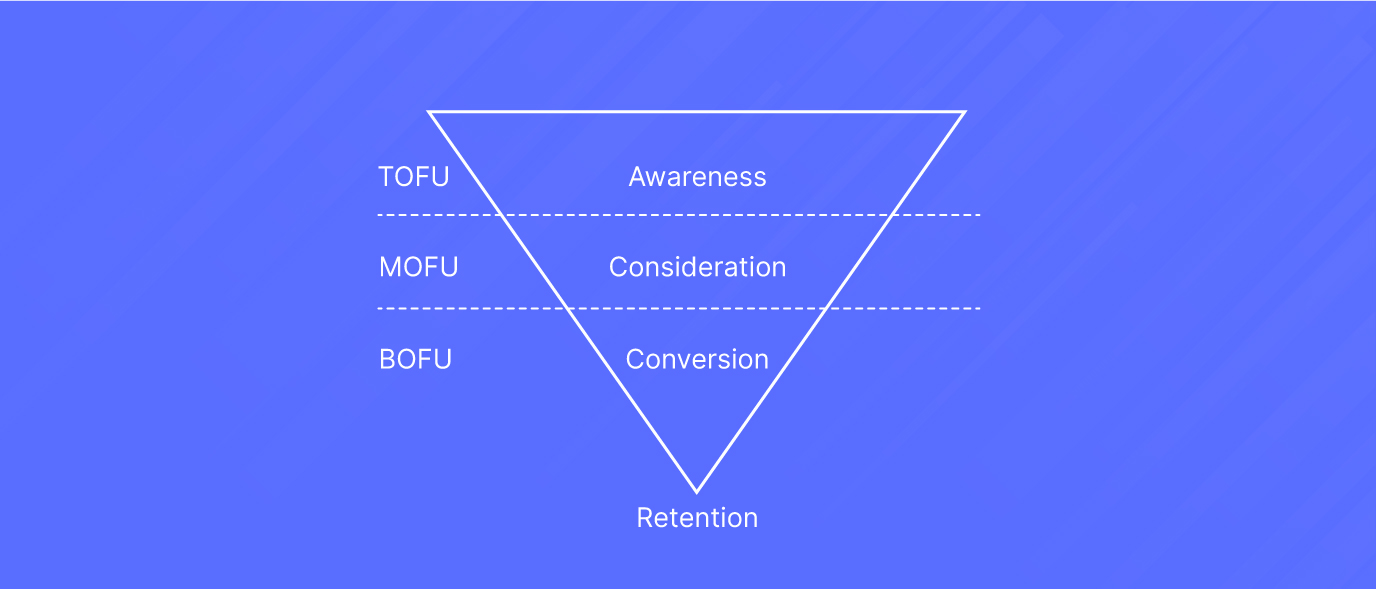 3. BOFU (Bottle of the Funnel) – Conversion 
This is the most awaited stage of the OTT marketing funnel, when a target user/audience decides to become your customer by taking a subscription/signing up for the first time.
4. Retention 
Retention stage is what follows the BOFU and hence justifies all the other stages of an OTT marketing funnel. The cost of customer retention is much lower than that of acquisition. So, you must not lose focus after the BOFU stage in order to keep the customer retention rate high.
Now that we have some basic ideas on the OTT marketing funnel, let's delve deeper into the  OTT marketing essentials catering to all these stages and more.
Also Read: Recommendations to Improve Your OTT Platform's ROI
OTT Marketing Essentials
We have listed out the best of the OTT marketing essentials here. Let's have a look – 
Diverse & Promotional Content
Creating apt content for your OTT platform itself is a strategy. To make your OTT app/website unbeatable in terms of content, the two main factors you need to focus on are –
How diverse is your OTT content? The best practice is to keep multilingual content for the audience from a broad range of demographics. At the same time focus on the crucial things like audio & subtitle options in multiple languages, bring in more variety in genre, keep more regional content for diverse demographics, and include different types & forms of content like movies, series, documentaries etc.
Making quality and diverse content will be worth your effort and hardwork, if that can reach a large pool of audience. In order to do that you need to create promotional content to reach your target audience. For instance, trailers and teasers are some of the most common and popular forms of promotional content that can be put on your OTT platform as well as other media.  All the leading OTT platforms promote their content through promotional content, not only trailers or teasers but creating interactive videos/interviews/rapid fire rounds with the cast, especially for the original OTT content. Creating audience quizzes, polls, contests etc. also work well to create the buzz among the viewers and drive even more new customers to your OTT channel. 

4 Ps of OTT Marketing
The 4 Ps of marketing are widely adopted across the OTT sector. Here 4 Ps imply – Product, Price, Place, and Promotion. You can easily implement this for your OTT business as shown below –
1. Product 
For your OTT business, the main product is your content. So, it's important how unique your content is; for instance, original content like Netflix original, Hulu original, Amazon Prime original etc. are high on demand among the viewers. Also, the presentation and versatility of the content, UI, ease of navigation etc. play an important role. 
For example, multi-language audio/subtitles, multi-device compatibility, buffer-free high streaming quality – these all together make good products on your OTT platform. 

2. Price
The pricing of your products or, precisely, subscription pricing for your OTT platform has a lot to do with the overall marketing of your business. While having multiple subscription plans (i.e. Netflix plans – Mobile, Basic, Standard, Premium)  is mandatory to let the users choose as per their preferences, you need to keep in mind the following pointers in order to excel –
What is the product's value to the buyers?

What is the standard market price for the same, if any?

Is there a set price point for this type of goods or service?

Is the customer a price shopper? 

Will a little bit of price reduction help you win market share? 

Will a little increase allow you to enhance your profit margin?

How will your price compare to that of your competitors?

Are there competitive advantages from the pricing point?
etc.
3. Place
For your OTT platform, the place refers to where your OTT content can be accessed by the customers  such as apps/websites, how seamlessly the audience can stream on their Android/iOS apps, smart devices etc.  It is important to analyze the competitors' approach, and how well are you utilizing the various channels through which the audience can access your content.
4. Promotion
How, when, and where you will promote your OTT business/platform matters a lot. A few pointers to look after –
Which channels are you targeting to market your products?

What is the market position of your products/platform?

What strategies your competitors are adopting to promote their products?

When and where can you reach out to your target market with your marketing messages?

How will you advertise online or on other media to reach your target audience? 

When is the greatest moment to market a product or service?

Is the market subject to seasonality? 

Are there any broader environmental issues that influence or dictate when your market opens or when you promote it?

How do your competitors promote themselves? 

What impact does this have on the promotional activity you choose?
Outreach & Marketing Strategy
Starting from arranging your professional promotion kit to doing influencer marketing on trending platforms – an effective outreach & marketing strategy is imperative for any OTT platform.  Always do thorough research on the viewer's persona such as their viewing preferences, devices/platforms used, channels/social media they are active on, and others. Some of the effective outreach & marketing strategies include –
Search Engine Optimization
It is important to optimize your OTT platform and content for better visibility and search results to the audience. A few important factors to focus on –
Video Optimization
By optimizing your video content you can ensure greater discoverability and Google ranking.  Description, title, description tags etc. should be short, catchy, and keywords-specific for better result. 
Well-defined Video Sitemap
A well-defined video sitemap comprises well-organized, optimized information on the videos such as title, description, genre, cast information, release year, ratings, and others.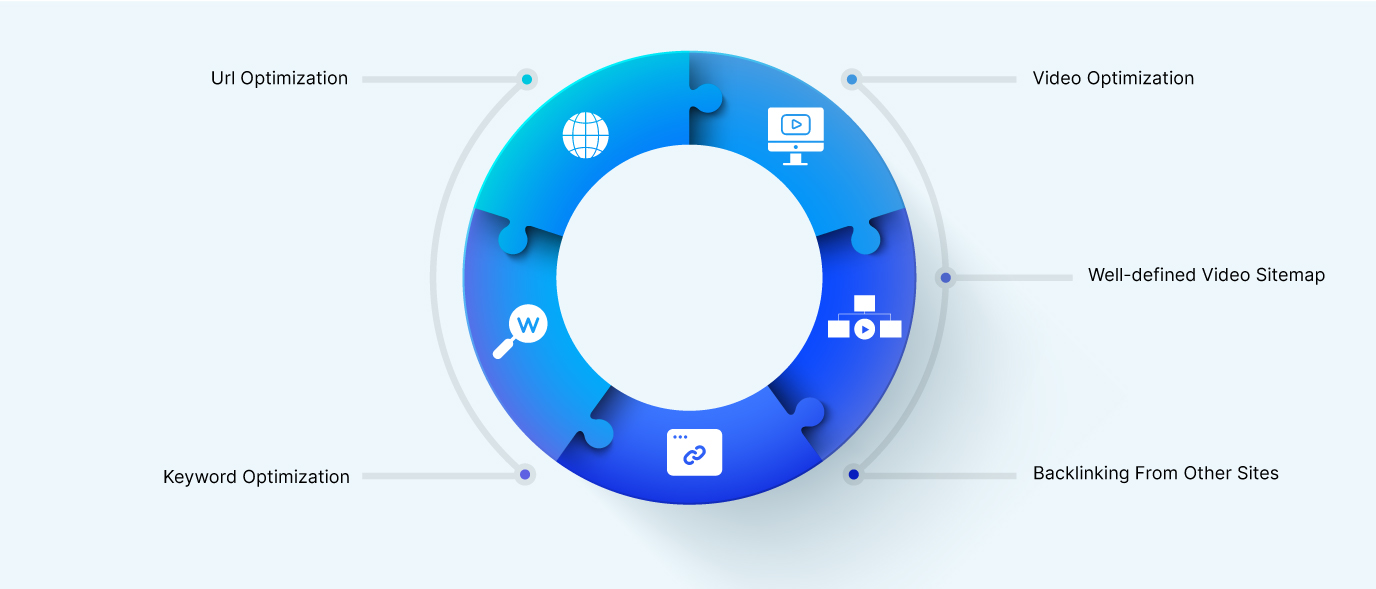 Backlinking from Other Sites
Backlinking from other websites like OTT hosting/service provider sites, third party/guest blogs/content etc. to your OTT platform are necessary to boost the reach of your OTT business.
Also, other factors like content-specific campaign, keyword research and optimization, right and optimizable URL structure etc. help in SEO optimization of your OTT platform.
Notifications and Reminders
Notifications & reminders are two of the all-time-effective marketing tools for any business, and your OTT platform is not an exception. Here are a few go-to tips to follow –
Give the users options to opt in for in-app push notifications from the day of customer onboarding

Keep them updated with the timely notifications on the events like sign up, new/upcoming shows/movies, trending shows/content, discounts/offers etc.

Don't forget to notify about the better plans to upsell your subscription plans. For instance, if a customer is subscribed to basic plan, update him/her about what he/she is missing out in premium plan and so on

Timely remind them about the last date of renewing their subscription

Keep the option of 'Notify me' button for any upcoming series/shows/movies so that whenever those are available to watch, the customers get instant notifications

Always notify the new customers about all other plans on the very first day of customer onboarding/sign up, so that they have a clear understanding on what more they can avail by paying a bit more
These in turn help in increasing revenue, customer lifecycle values, as well as converting potential prospects by keeping them updated about the exclusive content and other related information.
Influencer Marketing
Statistics say that 17% of the companies spend over half their marketing budget on influencer marketing, while 89% of the marketers claim that ROI from influencer marketing is comparable to or better than other marketing channels. Some effective tips for influencer marketing for your OTT business –
Target the influencer from the specific sectors such as entertainment, media, and others along with the influencers from the general categories

Do theme-based, genre-based, and occasion-based influencer marketing to make the influencer marketing campaigns relevant

Focus on particular content such as the most-viewed shows, recently added or upcoming VOD content like movies, series, and others to create the buzz 

Target the most effective social media platforms for influencer marketing based on the current trends, audience presence, and trending topics. For instance, Instagram is considered to be the number one platform for influencer marketing followed by other social media platforms such as Facebook, Twitter, LinkedIn etc.

Create short, catchy VOD content aligned with your brand, content and focused to the specific audiences you are targeting

Emphasize on your OTT brand image while adopting such influencer marketing strategies so that your audience can connect well with it

Highlight the exclusive perks of subscribing to your OTT platform such as original content, trending shows, discounts/lower subscription plans, bundle services if any etc.
Undoubtedly influencer marketing is one of the most efficient ways to utilize the growing social media users and you must unleash it for your OTT business.
Social Media Marketing
There were over 3.6 billion social media users as of 2020 and the number is expected to grow to nearly 4.41 billion by 2025. Social media marketing is what lets you reach out to your potential customers, new prospects and new target audience easily through targeted campaigns, boosted posts, and others. A recent survey revealed that more than 70% of the marketers believe that social media is an effective/very effective marketing strategy for them. Sharing catchy clips from your shows, running social media quizzes & contests on the mostly-watched, trending/new content, creating audience polls, arranging interactive shows etc. are some of the effective social media marketing strategies for any OTT platform.
Star Cast Marketing
Marketing your OTT content by the cast and stars of the highly hyped/trending/new shows can work wonders helping you reach out to a wider audience along with the fan followers of the cast easily. Netflix to Amazon Prime – all the leading OTT players have adopted this marketing strategy for a while and the result is well-known!
Reactions & Reviews on YouTube
Reactions and reviews on YouTube are a latest trend that helps reach to the viewers and acquire new customers without heavy investment. For instance, a significant number of the viewers watch movies, series, shows etc. based on the YouTube reviews, while many of them get to know about such content through such reviews & reaction videos. There are 122 million active users on YouTube on a daily basis and no doubt that such videos create the much-needed hype among the large pool of audience on this platform. The easiest way to implement this is – collaborating with the YouTube reviewers/relevant content creators.
Email Marketing
Regular updates on the trending shows, discounted pricing plans, upcoming content, content recommendations etc. not only helps in reaching out to new prospects but also keeps the present customers updated about your platform and improves the user experience. According to a recent research report, for every US $1 spent on email marketing, there is an average return of US $42. So, you must leverage it fully as an outreach & marketing strategy.
Native Advertising
Advertising through different channels and platforms like YouTube ads, Facebook Ads, sponsored Tweets, connected TV ads etc. help in reaching out to the right, potential audience as well as the audience who are available on a specific platform/social media only like – only on YouTube, Facebook or Instagram.
KPI Analysis and Optimization
Regular tracking and analysis of KPIs (Key Performance Indicators) is a good practice to monitor how your OTT content and overall OTT business is doing. Some of such key KPIs are –
The average time viewers spend on your platform (app/website) to watch your content.
This gives an estimation of which devices your OTT content is viewed on the most.
Which countries/regions most of your viewers belong to so that you can create more apt marketing strategies.
The rate of customers that stop taking your OTT subscription. You can calculate it on a monthly, quarterly, or weekly basis.
The rate of new customers who take your OTT subscriptions.
Total number of present subscribers.
Customer Acquisition Cost (CAC)
This refers to the cost to acquire a single customer. CAC can be calculated by dividing the total marketing and sales cost by the total number of customers acquired over a specific period of time.
Average Revenue Per User (ARPU)
The average revenue per user is the average amount that can be generated per user. ARPU can be calculated by dividing the total revenue generated from your OTT business by the total number of customers.
The conversion rate can be obtained by dividing the total number of conversions with the total number of visitors to your OTT platform. 
And others.
You must track and optimize these key KPIs regularly to get the best result from OTT marketing.
Wrapping Up,
OTT marketing is an art that requires equal attention to content, customer experience, UI, and strategies. As the OTT market is getting tougher to compete, you need well-defined and competitive marketing strategies to reach your OTT business goals. Not only do you need to create, and maintain the marketing strategies, but you also need to revise it, analyze the KPIs, and update it on a regular basis, to keep it up-to-date and relevant.
It is important to have a sound OTT platform in order to execute all such marketing strategies and get additional benefits. An all-in-one OTT platform like Muvi can be your choice as it gives multiple solutions to create a competitive brand image and top-notch customer experience. Be it your own branded OTT app/website or delivering buffer-free quality content on diverse devices/platforms – Muvi helps you achieve all easily. Take a 14-day free trial now to know better (no credit card needed)!