In this post-covid era, Virtual Classrooms are one of the biggest lifelines of the education industry. In the past few years, it has busted multiple myths surrounding it, and has proved that virtual classrooms can be as effective as on-site classes, or sometimes even more convenient. 
But the debate still remains about the software used for conducting virtual classrooms. Many institutions use conferencing software which is not capable of DVR or adaptive bitrate play. That is why the students cannot pause and play the class if they have accidentally missed anything. 
That is why we are presenting you with the perfect alternative to meeting-based virtual classrooms – MUVI Live! MUVI Live lets you revolutionize virtual classrooms with adaptive bitrate playing, DVR control, live chat feature, and much more! And the best thing is, you can develop your own white-label virtual classroom platform without writing a single line of code! 
Want to explore more? Read this blog till the end for everything you need to know!
Benefits of MUVI Live for Virtual Classrooms
MUVI Live provides you with much more than normal meeting applications for virtual classrooms. Let's take you through some of its unique benefits. 
Live Interactions of Students With Teachers Through Chat
MUVI Live offers you a unique live chat feature through which your students can interact with you or with each other. You can enable or disable this feature for an individual student if you want. 
DVR Control Allows Pause and Play
One of the biggest disadvantages of meeting-based virtual classes is that they cannot pause and play the content. Like, if the students go out of the system for any reason, they will lose the content of that section. Also, they can't revisit the tough topics during the class. 
But MUVI Live offers DVR control that enables your students to pause and replay the portions that they missed or did not understand. Hence, they can now complete the lessons during the class itself, even if they have to leave for some time. 
Adaptive Bitrate Streaming
There is a basic MYTH that says you need a good and stable internet connection to get the maximum out of your virtual classrooms. Well, we call it a myth, because MUVI Live allows your students to have adaptive bitrate streaming! 
It means the bitrate of your live feed gets automatically adjusted according to the bandwidth of your students. So, if the bandwidth becomes unstable during the live class, they will still remain connected and complete the lesson.    
The Recorded Content Remains on Your Platform Forever
Muvi Live is not just a live streaming software. It is much more than that. While live streaming on Muvi Live, you can record your live feed, and once your class is over, that recorded version of your live stream will remain on the platform forever. Your students can enter the platform and replay the lessons anytime they want. 
Blog Section Helps You Post a Quick Recap of Your Classes Regularly
Muvi Live has a blog section too! You can post the latest announcements, regular class recaps, important topics, and anything you want to post in this blog section. All your students can check out the regular updates and class routines, study materials, and more from your blogs.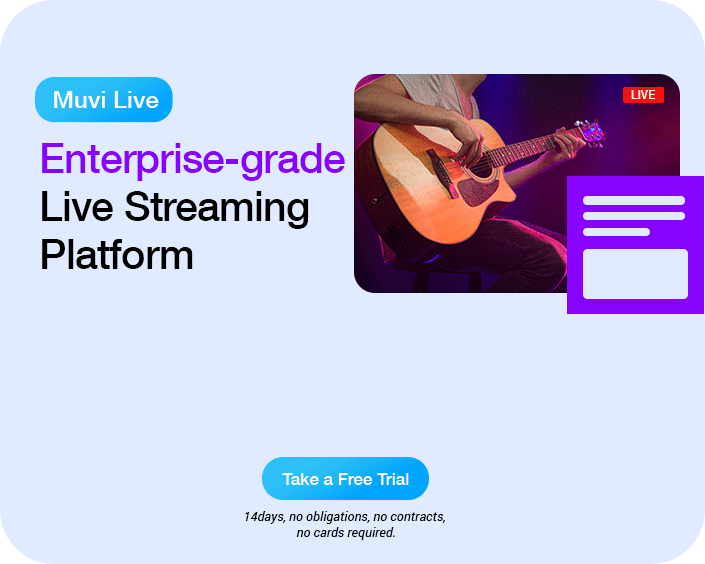 How To Use MUVI Live for Virtual Classrooms
You must be eager to know how you can use MUVI Live as a virtual classroom, right? Let's take you through four easy steps through which you can start using MUVI Live as your full-time virtual classroom. 
Make Parent and Child Account
First, your students must subscribe to your platform for accessing the virtual classrooms. If you want, you can enable the sub-user feature to allow your faculties to add their students as child accounts or sub-users.  
You can read our help article to know how to add sub-users. 
Enable DVR Control
Next, you need to enable DVR control for your live streaming. You can do it very easily through a single tap from your CMS. 
Enable Live Chat
To allow your students to interact with the teachers directly during live chat, enable the live chat feature. Follow the steps given below to enable it:
Login to your CMS, go to "Marketplace", then click on "Manage Apps".

There you will get the "Chat" feature. Please click on "Activate" under "Chat".

When asked for confirmation, click on "Yes" to activate "Chat".
Start Live Streaming
Now you are all set to start live streaming your virtual classroom! And do you know the best part? In MUVI Live, you can live stream from any device, including your mobile phone camera!
How to Use MUVI Live for Assignments and Homeworks
You can use MUVI Live and MUVI CMS for distributing assignments and homework to your students effortlessly. And your students will be able to submit their answers on the platform itself. Just follow the steps given below to do so. 
First, post your question paper and instruction video through the parent account. 

Then, instruct your students to visit the post and check out the question paper.  

Your students will complete the assignment and upload their question papers to the child accounts. They can do so using our User Generated Content Feature. For this to happen, you will have to enable the UGC feature from your CMS first. You can read the process of enabling UGC from our

help article

. 
Wrapping Up
Though traditional virtual classrooms have been used heavily over many years, they have multiple drawbacks. MUVI Live can help you tackle those drawbacks. Also, MUVI Live helps you develop an interactive white-label live streaming platform that can be used for multiple purposes beyond just conducting virtual classes. You can use the setup to organize webinars, live events, and live meets too! 
On top of that, multiple monetization models like SVOD, AVOD, PPV, Vouchers, and Coupons make fee collection super flexible. Don't miss this opportunity to revolutionize the virtual classroom experience of your students. Sign up to start your 14-day free trial today!