The e-learning sector has evolved and grown over the past years and is no longer confined within a few topics or subjects. Furthermore, adult learning has been in the focus of the online educators for a while now due to several reasons. Some of them are high demand for online courses, rising requirements for various professional courses, and others. 
As per a recent market report, the global e-learning industry is set to reach US $370 billion by 2026 from its US $250 billion benchmark in 2020 with the adult e-learning sector making a significant contribution to it. While there are many online institutions offering adult e-learning solutions, only a few can adhere to the related learning principles to bring the best out of their businesses. In this blog we will walk you through the top adult learning principles every online educator should know. So, let's get started!
What are Adult Learning Principles?
Adult learning principles refer to a set of theories/rules/strategies that are applicable to the learning courses/materials/solutions targeted to the adults. Adult e-learning principles imply the same for e-learning.
While the adult learners have a higher sense of self-motivation and self-direction to acquire knowledge, the conventional e-learning for the children and school and college going students doesn't work for them so well. If you are offering e-learning courses to adults, then you must be aware of the basic adult learning principles to make your courses and e-learning services more effective.
A Guide to the Top Adult Learning Principles
The adult learning principles are often the combinations of psychological facts and technical strategies. Let's have a look at the top learning principles for adults that an online educator must know.
Adults are Self-directed
Adult learners are self-directed and hence all they want is – learning that can help them keep aligned with their vision. To comply with this as an online educator, you need to understand their requirements and goals very well. For instance, if a digital marketing professional is taking an advanced course on his topic, then his goal is – upgrading his skills and reaching a certain level. Here the learner is already aware of which direction to follow. So, your e-learning course should be efficient to help him achieve that, rather than start from the basics, which will be a waste of time to them. 
The same applies to most of the adult learners. Unlike kids or school students, they already know the direction to follow and your online learning solutions should let them achieve it in the best possible way.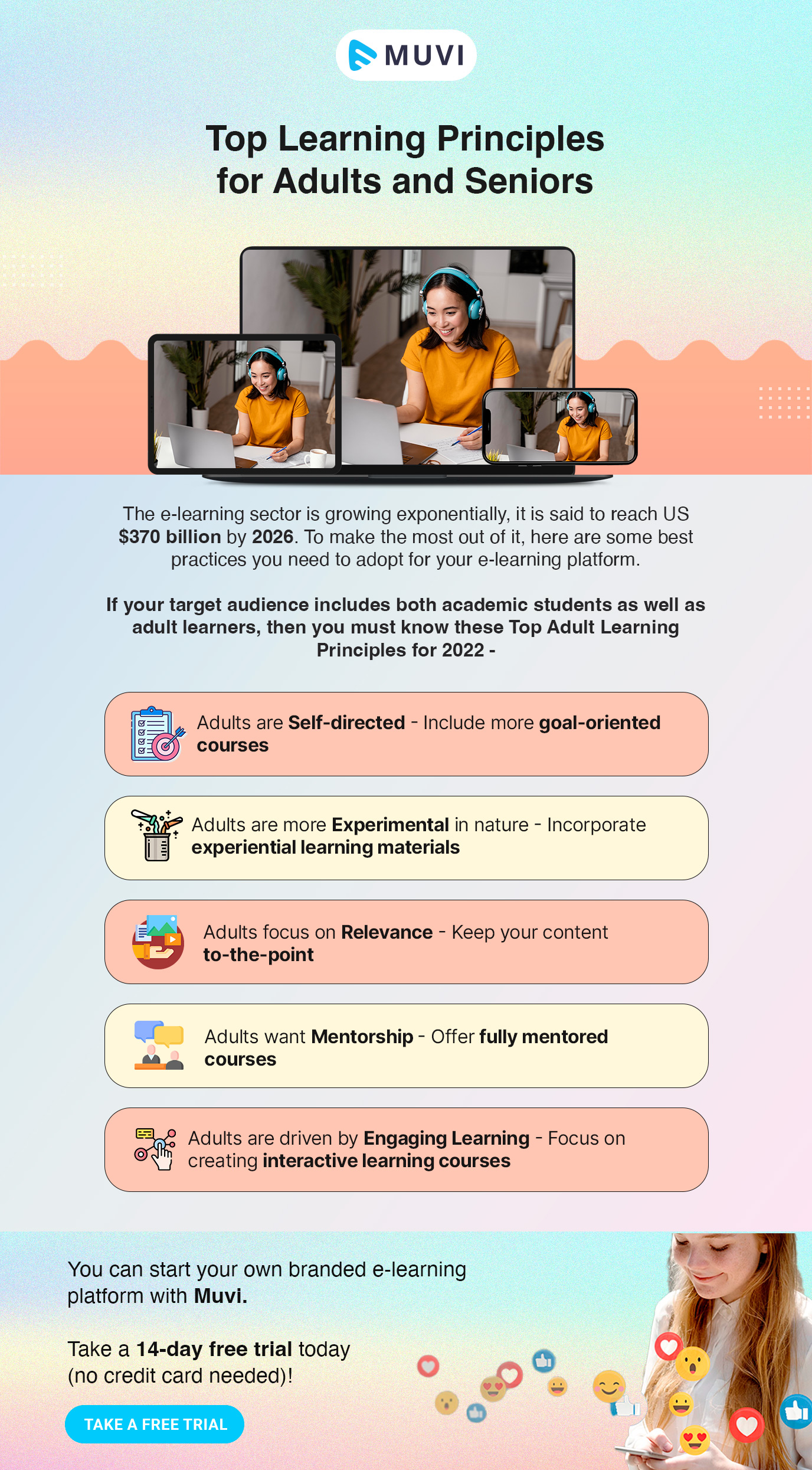 Adults are More Experimental
Adults love to experiment while learning. So textbook knowledge will not suffice for them. Be it a course on Information Technology or fashion designing, there should be room for experimenting. 
The American educational theorist David Kolb developed a form of learning theory in the 1970s which emphasizes hands-on learning and uses real-life examples to illustrate topics. Along with active participation in the learning process, the learners should also reflect on their experience after the participation stage, expanding and solidifying the knowledge they have received. 
As an online educator, you must consider the learning process's accomplishments and mistakes in order to build improvements for the future learning activity. Also, try to employ more abstract conceptualization to apply the new skills they have acquired during the process and offer experiential ideas to inspire them further.
Also Read: Guide to Become an Online Tutor in 2022
Adults Emphasize on Relevance
Relevance is of high importance for adults when it comes to online learning. It is recommended to let them be more specific during the sign up process, so that you can have a clear understanding on – which course the learner wants and why, what's his present expertise/knowledge on that course, what's the purpose of taking the course, his educational background, relevant professional experience, and others.
The importance of the content in the training programme must be focused to adequately engage a student. As a result, both the immediate & short-term relevance of engaging with the subject and the long-term rewards of doing so should be emphasized in such a way that the learner will quickly commit to learning.
If a training programme is designed to upskill managers, for example, the short-term relevance may be that they will have a better understanding of basic leadership principles. Long-term, they will improve their leadership skills and be better able to achieve departmental objectives. The short-term relevance will show what they will learn in the course and how it applies to their job. The long-term benefit is that they will be better in their job as a result of their education.
Adults Want Mentorship
Most of the adults want mentorship as much as they require online learning, especially for professional courses. For instance, an MBA pass out running his own startup will need mentorship, and not just a so-called online course to get certified.  Adult learners often prefer to opt for an experienced role model for guidance that will aid them in their learning. Creating chances for mentorship as an organization builds its training programme, may offer a lot of value for both the mentor and the mentee, with the added benefit of fostering relationships inside and across teams. 
This idea is based on the Social Learning Theory where learners will obtain information by combining their own experiences with observations of the rewards, and takeaways that others receive for their learning, and related behavioral patterns, and they will emulate the behavior of people they respect, as stated in this hypothesis.
A company can set up a mentorship programme, either in person or online, that pairs younger employees with more experienced mentors. Also, colleagues from other offices can share their knowledge and connect through online seminars and workshops.
Also Read: Importance of Live Streaming in E-learning
Adults Want Task Oriented Courses
Always ensure that the online learning solutions you are offering are task-oriented. Adult learners don't just want to keep learning, but also want to apply their skills in the relevant tasks to assess their growth. Also, they learn more quickly when they participate in task-oriented training, which comprises hands-on activities that are related to their real-life tasks. Rather than simply learning information, putting theories into practice can aid in remembering procedures and embedding them in long-term memory. It also boosts their confidence in these new responsibilities, ensuring that they are well-prepared for real-life situations.
Equip your online courses with real-life materials and activities. Role-playing games can be used to allow your students to use their newly gained knowledge and skills in a circumstance. You can also use virtual reality technology to create virtual simulations based on real-life experiences. Adult learners will go through realistic simulations in a virtual world and experience the direct consequences of their activities, whether good or negative, using this method.
Adult Learners Require Engagement 
While planning your online learning content for adults, keep in mind that just pdf and slideshare materials won't be enough. Adults prefer interactive learning, and to cater to that you need to come up with the relevant formats and content. Video lessons, problem solving classes, one to one tutorials, live Q/A & doubt clearing classes – these are some effective ways to adhere to this principle. Also, you may need to keep them connected through occasional email marketing campaigns, informative newsletters, personalized & relevant notifications and others.
To Conclude
Adult learning is a vast topic to explore. But what makes it different from the conventional learning courses is – the related principles. You must adhere to the adult learning principles while creating online courses for adults as discussed above. By ensuring the above pointers, you can provide your learners with the suitable and competitive courses instead of letting them bounce back from your e-learning website or app shortly.
The first thing you need to start your online learning business for adults is your own branded e-learning platform. Muvi offers an industry-grade e-learning platform with a lot of competitive solutions such as online learning, live streaming courses, LMS integrations, online learning store and many more. Take a 14-day free trial today to start your journey in the e-learning industry (no credit card needed)!