Consuming visual content through  mobile and desktops have increased manifold after the introduction of smartphones. It was further pushed with the development of intranet infrastructure throughout the world making the internet available in the remotest of geographies. It is today essential for platform owners to not only host all formats of videos, but also provide a playlist of similar videos stacked together to watch one after the other.  It makes times spent on a platform more fruitful than having watched less and wasted time on shuffling through a lot of unrelated content. Hence, organizing your video assets into easy-to-find video playlists can aid in more content being consumed.  and take advantage of this growth in time devoted to streaming content. This blog will give you all the information you need on video playlists, its use cases, and how to create one.
What is a Video Playlist?
Initially, 'playlist' as a word started out in radio stations – the 'playlist' was all the tracks that were to be played that day on the show. With time of course, the concept of playlists have changed.
A video playlist is simply a collection or series of videos which are grouped together for playback. These video files are pre-sorted and can be played back to back on a media player either sequentially or in a shuffled order. This means typically, a viewer can skip videos that interest them less or jump ahead to video content that interests them more. A platform that deals with visual and audio content, it is generally seen that users are free to make their own playlists and share them with friends who, if given the authority, can even add videos to your playlist.
Importance of Video Playlists
Playlists can be used in a number of ways, including:
To play a pre-roll video, such as an advertisement, before the main video in a playlist

To play a sequence of training videos

To present chapters of a long video sequentially

To display a series of informative or product videos so viewers can pick the ones they want to watch

Filters relevant videos and presents them to watch one after the other without going through the hassle of choosing what's next.
Use Cases of Video Playlists
Playlists are simple to update and offer a variety of use cases for both external and internal facing video assets. Here are some use cases where playlists can be implemented. 
Product Segmentation
If you are an enterprise video streaming platform with a variety of products to your name, playlists will come handy. Playlists make it easy to segment this content, allowing viewers to find the video asset that is most relevant to their use case.
Event Series 
Playlists form an excellent use case when creating standalone event like Annual Day or Trade Show, etc. The content filmed on a single day or days can be grouped together, making it easy to find and easy to see just how much video content was generated by the event. This can be done by event or by event series. For example, you might have a "Company Nexus Event 2022" playlist.
Department Training 
Running human resources for your company? A training video might be hyper relevant to one department, and not applicable to another. Through using a playlist and naming them accordingly, you can help guide employees so they know what videos they should be watching. 
Restaurant Chains
If you have a chain of restaurants and malls across the country, video playlists act as a great way to promote your brand name. TV screens placed across food joints continuously play a series of videos promoting your brand, that may include how to collect fresh produce, behind-the-kitchen scenes or even video testimonials of your customers!
From organizational training videos and audio to product content of business conglomerates, Using Muvi Flex's Playlist feature you could organize your video and audio assets through multiple playlists, and build a scalable media repository that informs, educates, and nurtures both your customers and organization stakeholders
Also Read: 5 Good Reasons to Start your Online Video Business
How to Create Video Playlists with Muvi 
Using the playlist feature admin and users can create their own video playlist from the CMS which users can view on the website. Users can also create their own playlist on the website. As an admin, all you need to do is enable this feature from "User Features" in the CMS.
How Admin Can Create Video Playlist
To create a new Playlist, go to "Manage Content" –>"Manage Playlist" in your CMS

Under "Manage Playlist", click on "Create a Playlist"

Type a "Title" for your playlist 

Select a "Category" from the list 

In the "Content Type" field, select "Video" from the drop-down.

Upload a "Poster" for your playlist and click on "Save Playlist"
Your new playlist will be created and listed under Manage Playlist.
Adding Videos to Playlist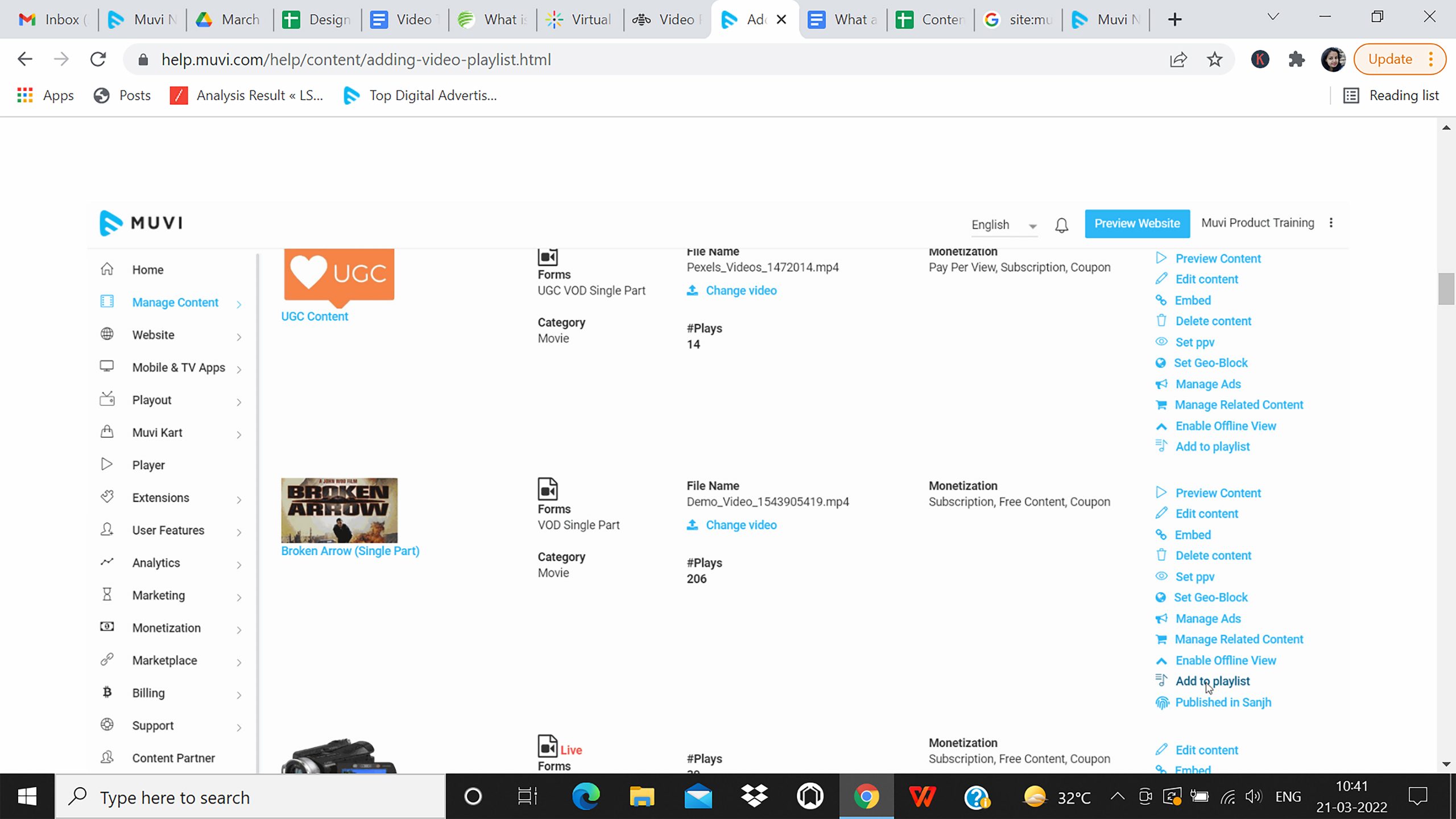 After creating the playlist, you need to add different videos of your choice to the playlist.
To add videos to the Playlist, go to "Manage Content" –> "Content Library" in your CMS and click on "Add to Playlist"

A window will open with the list of Playlists. Select the Playlist to which you want to add the video

Click on "Ok" to complete the process
That specific video will be added to your playlist. Likewise, you can add as many videos as you want to your playlist.
How End Users Access Playlist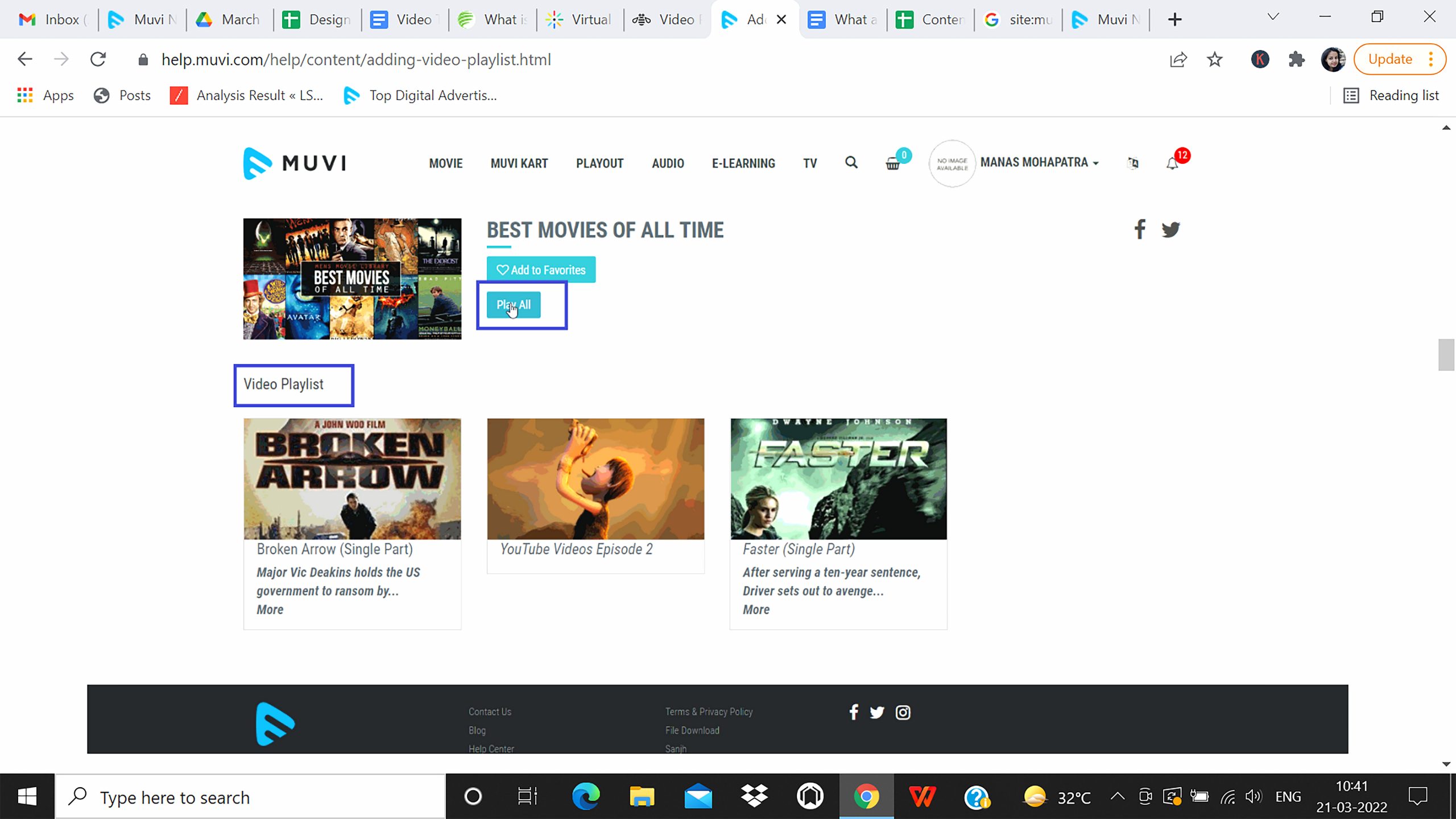 After login to your website, the end users can view the Playlist under a specific content category (e.g. Movie, Action Movie, Documentary). You can also add the Playlist to the Feature Content section of your Homepage.
When the users click on the Playlist, they can view all the videos listed under it. Users can click on any video to play it or they can play all the videos by clicking on "Play All".
For more details check out our help article on Adding Video Playlist
Wrapping Up,
The video playlist feature is a great way for viewers to access suggested content, improving their experience and speed of accessing those video assets.
Interested in using this feature to build out your video playlist? Try out Muvi Flex's  video playlist offerings and leverage your video library to create viewer selectable content collections.
Take a Muvi Flex 14-Day Free Trial, Now!