Thanks to the internet, we are no longer constrained by geographical barriers. Giving us access to a hyperconnected world we can practice our faith from our screen. The church prayers and sermons are no longer limited to a particular location. 
Nowadays, several churches have expanded their reach to their followers using live streaming of services and events. This became even more prevalent with the imposed global lockdowns of COVID-19.  Many churches started to live-stream their prayers and congregations of worship. Even today, though there is a chance to make an in-person congregation, churches are still live streaming their prayers for the followers who are based across the globe, thus creating the congregations as a hybrid event.
This blog will explain how live-streaming church services can help your place of worship and the essential equipment needed to get started with church live streaming.
Why should you live stream your church services?
Live streaming the church services can help churches to reach out to more people across the globe irrespective of their geographic location. If you are making congregations local,  you only limit it to the people in and around your location. But, with live streaming, you can deliver the prayers and make everyone a part of the congregation. It can also provide numerous benefits to your church.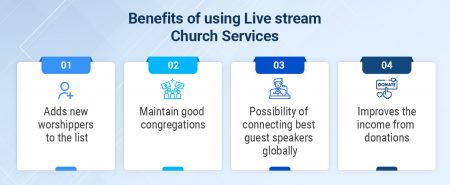 Live Stream Equipment for Church Services
The live stream equipment enhances the stream quality and helps you deliver a professional output to the audience. The tools make live streaming easier to deliver. You might think of using a smartphone and creating a Facebook Live without any equipment, but the idea may not work, as Facebook to has many regulations on the quality and length of the stream. To give your church followers the experience of worshiping as if they are sitting in the church congregation, you would need to invest in some basic high-quality live-streaming equipment, which would be a one-time investment.
Live streaming church services equipment includes the following:
Live Streaming Platform

Camera

Tripod

Video Switcher
The above equipment varies in cost based on the quality, but even the essential equipment can help you deliver the best quality. You can change them anytime after you have more experience and knowledge handling them and then upgrade to the latest live-streaming equipment for the church. Let's discuss the equipment and its need for live streaming your church.
Camera
There is a wide range of cameras that are available for live streaming church services. They are light in weight and easy to use with rich features. But, the choice of the cameras usually depends on your budget and investment. Even the basic camera in your budget can produce decent video quality, but it may not control the shot like an expensive camera does.
If you are ready to invest, you can go for a professional camera of above a thousand dollars in the market. Professional cameras provide the best video quality with complete manual controls and allow greater contrive over your shots.
Video Mixer
If you plan to live stream between multiple cameras or connect people who are on video chat or looking to play some pre-recorded video footage, you would need a video mixer. A Video mixer helps you select video and audio sources from multiple cameras and allows playing other video footage while in the live stream.
If you are on a budget, you could go for a few HDMI input options to mix from different sources. As you become more comfortable with this setup, you can upgrade to a more expensive option that offers multiple mixing inputs. A multi-camera streaming setup is the best option if you have ample space and are ready to invest to deliver your church services' on the live stream.
Tripod
In most live-streaming church services, the camera is usually fixed at one point for a long time. A tripod is for holding the camera, and it is an essential investment for steady and hassle-free shots. There are many different tripods with varied price ranges, and depending on your budget and investment scope, you can get the one that is perfect for your needs. Make sure you buy a durable, flexible tilting and panning-enabled tripod to avoid any jerks during video capturing.
Live Streaming Platform
The above all equipment which we have discussed so far comes under hardware. Now, you also need software that would allow you to stream your services online and lets you reach a global audience. The broadcasting software ranges from limited free trial to premium subscription plans based on different options and features supporting the stream.
If you are on a budget, you can stream on YouTube or Facebook live platforms to broadcast your services, but these platforms offer minimal time, capability, and you may also lose control over your stream. So, if you like to keep a reasonable budget, invest it in the live streaming platform that brings you a wealth of benefits.
Why Live Streaming Platform for broadcasting your church services?
It allows to record and live stream in parallel

It helps in hosting video for the pre-recorded streams and other content

You can check many monetization options to generate revenue from the streaming platform

You can embed video streams into your website, which will maintain the branding

It gives you a complete hold on the live streaming and helps you analyze who is watching and engage more with your content
Live streaming your church services is a significant step to reach global worshippers and expanding your services. By using the right equipment, you can provide the worshippers with high-quality live streaming of your prayers and seamlessly deliver the divine message to the followers.
As an industry-leading live-streaming platform, Muvi has everything you need to live streaming your church services. Try our 14-day-free trial offer today, to help you understand it better and deliver forward the messages from god.