What is the answer to cut back errors, reduce processing costs and avoid repetitive tasks? Workflow management system. Now, we will explain in detail what a workflow management system is, but before that, let us talk about some statistics. Did you know that, according to a report by McKinsey, 45 percent of the daily work rituals can be automated using the current technologies available in the market? What's more interesting is that, as per the report of Deloitte on the Global Intelligence Survey, 36 percent of organizations are already using workflow management systems, and 29 percent of organizations are planning to implement them in the next three years. This is more than 50 percent of the total organizations that exist, and this survey came out only in November 2020. So the question arises, why hasn't your organization implemented the workflow management system yet? Whatever the reason may be, it is time that you start thinking about it; start by learning the basics of workflow management with us.
What is Workflow Management?
Workflow management means streamlining all the work an organization does by simplifying the different work processes and adding a beginning, an end, and milestones in between. The work can be anything from sending an email to hiring someone or to even logging in to your desktop at the start of the day. All of these tasks involve some repetitions, such as dropping off an email, the next person acknowledging it, and then waiting for them to respond. But, if the workflow is defined, that is, workflow management is there at your organization, then a lot of time will be saved by avoiding repetitive tasks and rework and excluding the redundant ones.
Below is an example of how designing a workflow for a task look like – 
The interview process of a software engineer.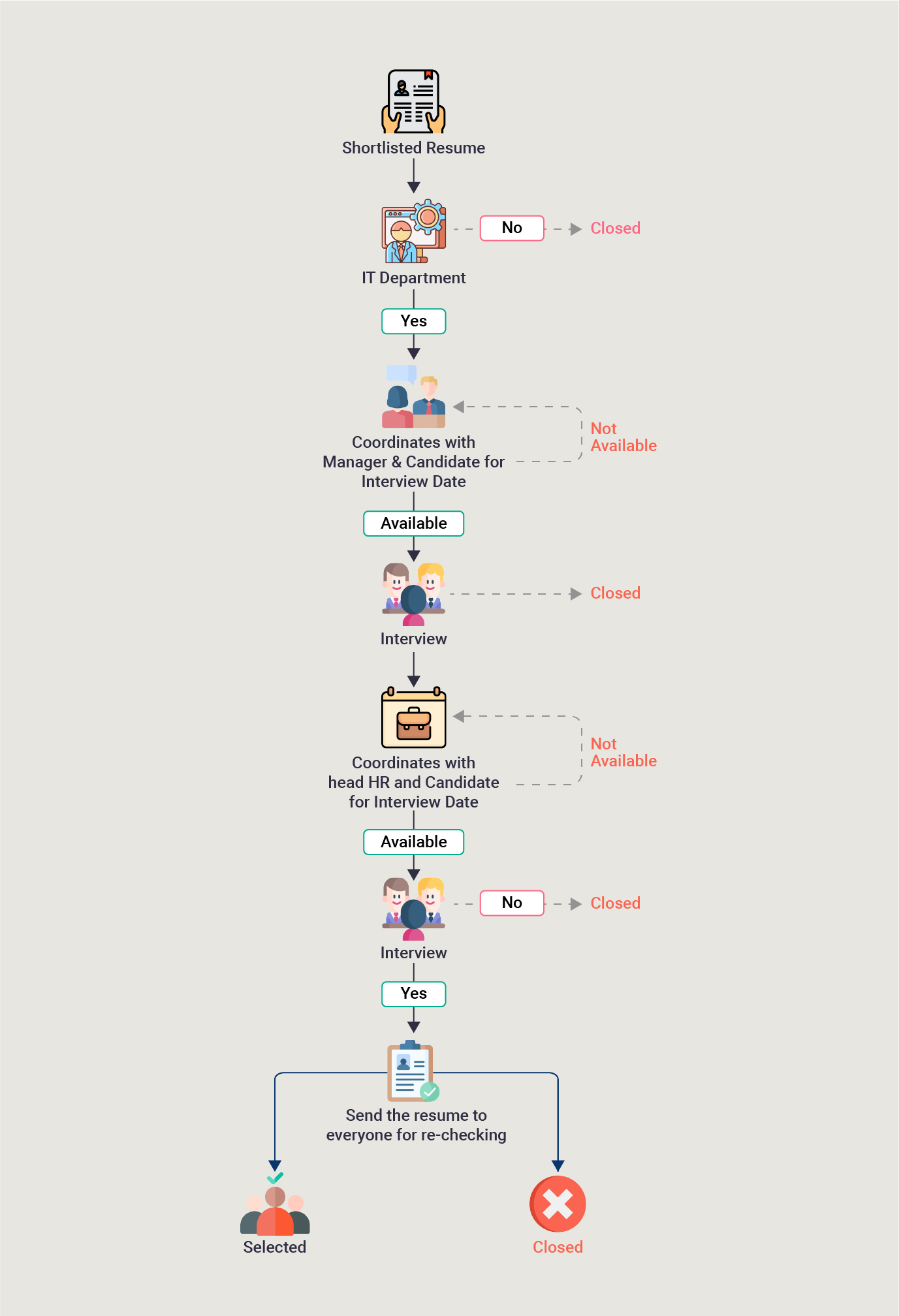 Three basic fundamentals of Workflow Management – 
1. Transparent Workflow
Transparency in an organization is one of the most important factors to build trust among the employees, to increase accountability, and, more importantly, to achieve a positive work environment. For this, it is important to acknowledge all the work that is being done. Sometimes, there are hidden tasks among the predefined workflows that get unnoticed, and it may even delay the process. So, it is important to have a transparent workflow in any organization.
2. Priority-based Workflow
Every organization needs to acknowledge which task is more important than others and which tasks can have a major impact on the organization's function. For example, hiring an employee is always a high-priority task because it will help in increasing the organization's performance. 

3.  Regular Health Check-Up
It is one thing to have confidence in one's work, but one must never put a blind eye to anything. So, even if you are highly confident of the workflows that you have created, it is important to keep checking it in some pre-decided interval like one month or three months. This will help in improving your organization's current performance, workflow and if there is any lagging or delay due to XYZ reasons, you will get to know and rectify it then and there. 
What is a Workflow Management System?
A workflow management system is a tool that automates the functioning of a workflow. It identifies all the common tasks and the key components and players in a workflow and makes it all digital and visible to everybody in the organization. But, having a workflow management system in your organization doesn't mean that all the tasks will be automated. It simply means that there will be a streamlined procedure for all the work that is being done; it can be done manually as well as through a system.
Conclusion
The most important aspect of a workflow management system is that it lets an organization work in an efficient manner, even remotely. After the pandemic, the idea of going fully remote is on the minds of many organizations, so at a time like this, an exceptional workflow management system should be your go-to tool. Explore Tattle – customer support and internal request tracking system, all in one tool that offers rich features like notification management, lets you custom attributes and boards without any coding and has API for everything. Try the 14-day free trial of Tattle.