Having a powerful encoder and a stable, congestion-free network is imperative for creating an exceptional video streaming experience. But the question most often arising in the minds of content creators while making a video is 'what is the best video bitrate for streaming?' Well, in this blog, we have tried to answer the question.
What is Bitrate?
The number of bits per second that can be transmitted via a digital network is known as a bitrate. The speed of this data is measured in megabits per second (Mbps). Megabits are composed of bits. Eight bits make up one byte.  One megabit is equal to 1,024 kilobits which means that 1.0 Mbps is more than 1,000 times faster than 1.0 kilobits per second. 
Sounds confusing? Well, in simple terms, bitrate is the quality level of the media file, be it video or audio, that you stream and upload, and how quickly it transmits. For transmitting audio, bitrates can be as low as 160 kbps, however video streaming requires a higher bitrate.
Also read: Adaptive Bitrate Vs Multi-bitrate Streaming – What's the Difference?
Difference between Bandwidth and Bitrate
Bandwidth is your network's capacity for uploading and downloading data. It is measured in bits per second (Kbps, Mbps). So, bitrate is a unit of measurement that comes under bandwidth.
Bandwidth is often mistaken for internet speed when it's actually the volume of information that can be sent over a connection in a measured amount of time. Larger information requests require greater bandwidth and vice versa. For example, watching an HD and 4K resolution video will require greater bandwidth than downloading a PDF file.
What's the Recommended Bitrate for Streaming Video
This is a tricky question to answer as there is no 'perfect' bitrate when it comes to video streaming. However, there is a clear logic for streaming- you should never push for a high-resolution stream at the expense of playback quality or even settle for a bad resolution with a high bitrate. 
One of the most crucial aspects while delivering quality video depends on bandwidth or a good upload speed from your internet provider, apart from the bitrate. The upload rate, if you're not familiar with it, is how many bits of data you can send out per second. 
When it comes to streaming video, get ready for a lot of bandwidth consumption. How much bandwidth, of course, depends on a lot of parameters like content type, file size, video resolution and frame rate, and encoding. When you watch a one hour video, it takes around 500 MB of bandwidth in SD and 2 GB in HD mode. 
Does Higher Bitrate Guarantee Good Streaming Quality?
Well, the answer is no. Streaming with a high bit rate does not necessarily guarantee better quality. In some cases, high bitrates can also lead to unstable streams. If you are a broadcaster running an online video platform, always remember that a smooth, stable video stream for, say, a somewhat lower resolution like 720p is far more watchable than streaming a high resolution 4K video that would end up in a pixelated or frozen video. 
Best Video Bitrate for Streaming
For streaming, the video file size depends on the quality of the content.  The below table shows the bitrate for different video resolutions after encoding.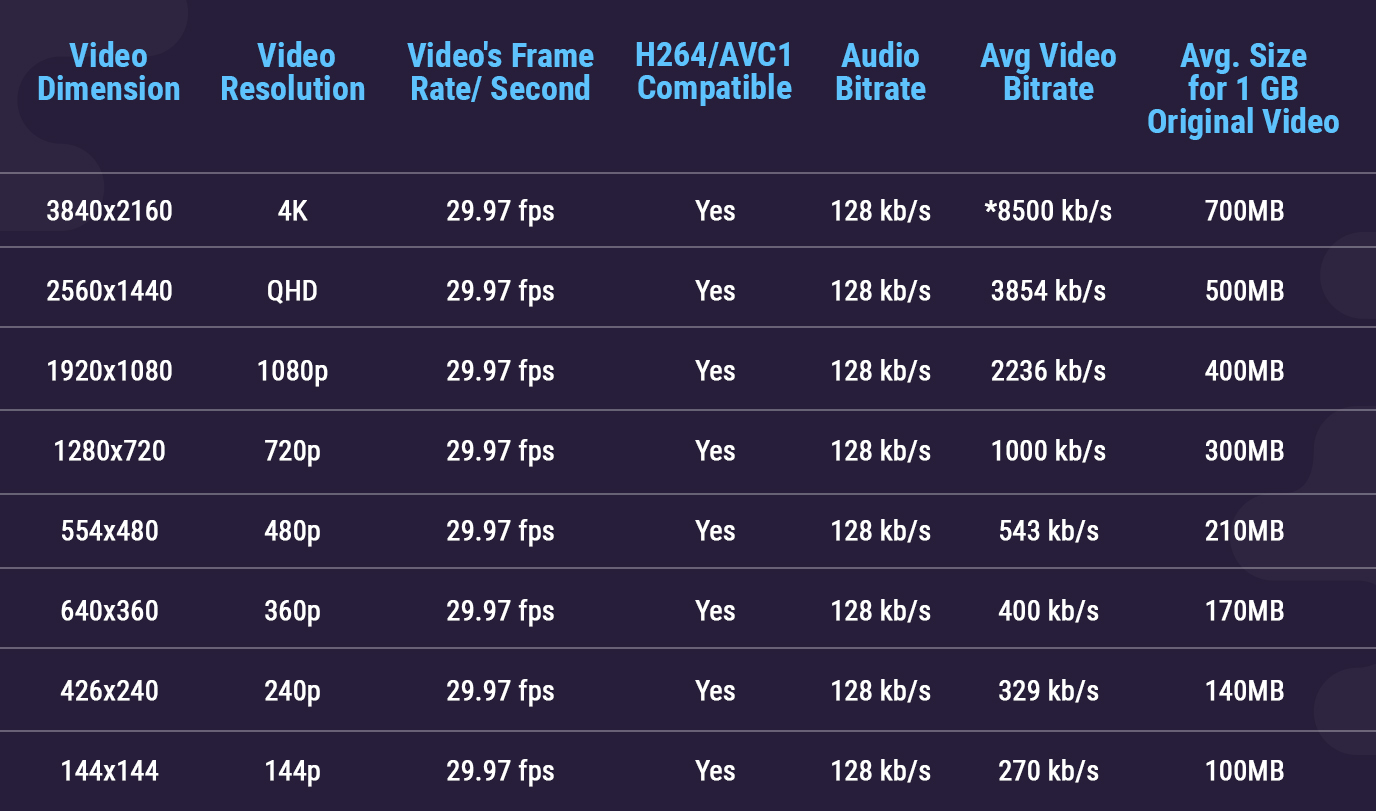 One thing you need to remember while video streaming is that you will need to upload up to 3 or 6 or 12 megabits of data per second constantly because the speeds tend to fluctuate. That is why it's generally a good idea to have a 20 to 30 percent buffer. However, if you are sure your internet connection is stable, such a buffer might not be needed. Remember, a stable connection is as important as an upload speed!
For more details on video encoding, check out our help guide: Video Encoding Process
How do I Optimize Video Bitrate for Better Streaming
A lot of factors go into delivering a stable, good quality video stream other than just the bitrate. Here's a list of factors enabling a better quality video stream.
Check Internet Speed 
It is always a good idea to test your upload speed before you start to actually stream. There are many tools available on the internet for this purpose. The easiest and the most popular way is to check it out online at speedtest.net. The results provided will give you a rough estimate of your upload and download speeds provided by your internet service provider.
 For more details on upload speed, check our blog Good Upload Speed for Live Streaming.
A Stable Cloud Streaming Server
When streaming video and other content online, you would need a cloud streaming server that is stable, reliable and scalable. Viewers today expect instant and uninterrupted access to streaming services and they want broadcast-quality video across all devices. To meet these increasingly high standards, providers require a live streaming server with remarkable reliability, capacity and scale. 
Clear off the Network
When you are broadcasting, only your system should be on the network to extract maximum efficiency. If it's not absolutely urgent, clear off other devices from your internet connection so that nothing is siphoning your upload speed. Similarly, malware and ads running in the background can ruin your performance. So, remove them from the network.
Wrapping Up,
One thing that comes up in nearly every stream setup guide is there isnt a Holy Grail when it comes to finding that perfect bitrate for streaming. Being a good streamer is about finding balance. Factors like internet speed, bandwidth and video resolution also play a great role in delivering a good quality video. 
Driven by adaptive media and chunked delivery concept, Muvi streamlines encoding multi-format & multi-device video content and delivery curbing bandwidth consumption while ensuring a superior user experience.
Interested in checking out Muvi? Try our 14-Day Free Trial!