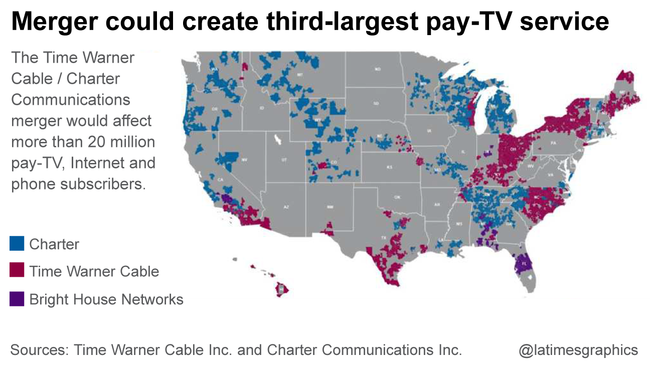 Charter Communications Inc. executives are exploring whether to launch an online video streaming service as part of its combination with larger rival Time Warner Cable Inc., in what would be an unprecedented move in the cable industry.
The $56 billion takeover announced on Tuesday would make Charter the No. 2 U.S. Internet and cable company after Comcast Corp. Charter's top shareholder John Malone, a cable industry pioneer, is on record as being a fan of streaming TV over the Internet.
And Tom Rutledge, who would run the combined Charter-Time Warner Cable, has now opened the door to establishing the cable industry's first competitor to services like Netflix Inc. and Hulu.
The development of Charter's video on demand technology in recent years, which includes a shift to cloud-based systems, also make it a likely move, analysts say.
New Street Research analyst Spencer Kurn said that Charter executives want to avoid the opposition faced by Comcast, which dropped its own Time Warner Cable bid after regulators expressed concern that the combined entity would stifle competition by gaining the largest market share in broadband and video streaming.
"Charter is going to be very proactive in helping that market emerge," he said. "Even since the Comcast deal broke, they've been more vocal about over-the-top,"
Read the entire story here.