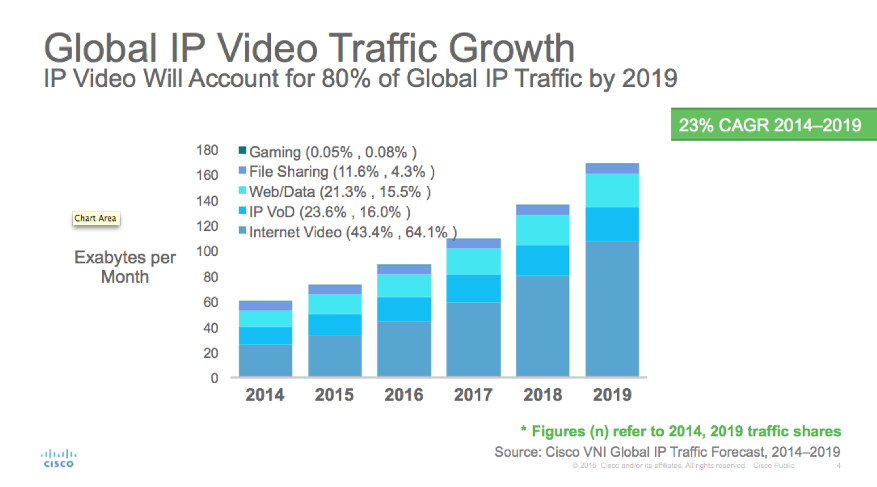 Global Internet traffic in 2019 is projected to be 82 times more than it was in 2005. Based on a forecast world population of 7.64 billion people, Internet traffic per capita will total 18 gigabytes, up from 6 gigabytes in 2014.
The data come from the Visual Networking Index (VNI) report released last week by Cisco Systems Inc. The report is stuffed with data points related to traffic over IP networks, two-thirds of which is internet traffic. Business use accounts for just 18% of IP traffic while consumers account for 82% and while total IP traffic will grow at a compound annual growth rate of 23%, mobile data growth is pegged at a compound annual growth rate of 57%.
The largest share of Internet traffic growth will come from video, which will account for more than 89 exabytes of traffic per month by 2019. Online gaming is forecast to post a higher growth rate — 36% to 33% — but gaming is expected to account for just 138 petabytes of traffic in 2019. An exabyte is equal to 1,000 petabytes.
The primary driver for internet video traffic will be high-definition and ultra-high-definition devices, with online video on demand traffic nearly doubling by 2019 to the equivalent of 7 billion DVDs a month. An Internet-enabled high-definition television that draws 45 minutes of content per day from the Internet generates as much Internet traffic as an entire household today.
Read the entire story here.