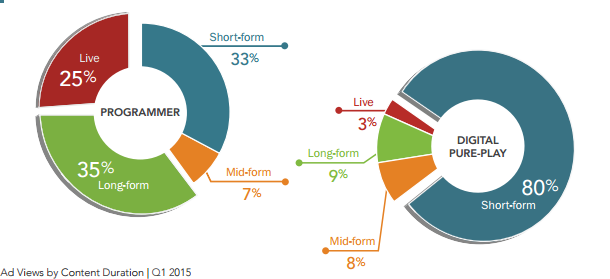 FreeWheel Q1 2015 Monetization Report says live viewing, mainly of sports, but also authenticated entertainment and news content, was up 140%, year to year and that authenticated viewing grew 328% year-over-year and now accounts for 57% of all long-form and and live viewing.
Brian Dutt, FreeWheel's director of advisory service and the other of the report, also points out another stat:
Viewing on OTT Video streaming devices is up an astounding 380% (and 105% on smartphones) year-over-year. FreeWheel calls all those content-spewing devices "the new living room."
"You wonder why people would choose to watch authenticated content on an OTT platform," Dutt says, "but then you see some of them offer different angles for sports, or easy access to social media. It's just more attractive."
Most of that live viewing–82% of it–was sports, but 7% was entertainment content and 11% was news content, including things like CNNgo but also local newscasts.
Those increasing numbers for other-than-sports, FreeWheel's report says, "supports our hypothesis that live sports viewing is leading viewers to TV Everywhere offerings, drawing increasing numbers of viewers to ultra-premium, high-CPM ad inventory. The live sports 'gateway drug' is noticeably moving the needle for programmers, as viewer cravings for immediate access to content grows more with every simulcast."
Read the entire story here.