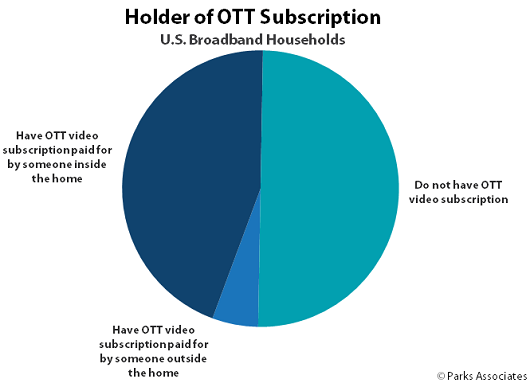 Digital media consumer research from Parks Associates reports 57% of U.S. broadband households access an OTT video services, but account sharing is a lingering challenge. According to a 3Q 2014 survey of U.S. broadband households, 8% are using a subscription OTT video account held by someone outside of their home, and 6% are exclusively using shared accounts to access subscription OTT video content. This finding equates to 11% of all households that are relying exclusively on shared accounts when using subscription OTT services.
"OTT video accounts for a disproportionate amount of content consumed when compared to expenditure; over one-third of video consumed per week is OTT, but it is only 9% of the household video budget," said Brett Sappington, Director of Research, Parks Associates. "Account sharing is part of the larger problem in monetizing the strong consumer demand for OTT content. At CONNECTIONS, we will discuss security of content services as well as the unique shifts in OTT consumption and revenues."
Read the entire story here.