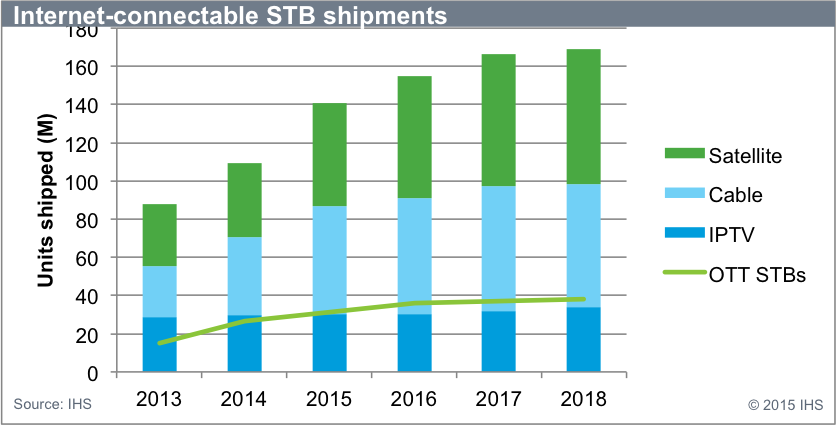 The shipment of over-the-top (OTT) set-top boxes (STBs) sold at retail will this year pass shipments of IPTV STBs used for pay TV services, IHS said. The global number of retail OTT STBs shipped, including Apple TV, Chromecast and Roku boxes, will this year reach 31 million, compared to 30 million IPTV STBs shipped by telecom companies.
IHS noted that OTT STBs were initially written off as a temporary measure for consumers to bring OTT video services to TV screens; it was assumed that smart TVs, Blu-Ray disc players and gaming consoles would eventually take the place of STB devices. And yet, while consumer adoption of smart devices has grown considerably, OTT STBs have still managed to flourish, the report showed.

The success of OTT STBs can be attributed to the content strategies of their respective vendors. Apple, Google and Roku have been much more aggressive in adding new content sources and apps to their STBs than TV and gaming console vendors have to their devices. This means that a dedicated box enables viewers to choose the OTT services they watch on their TV, rather than simply living with the pre-installed options.
Read the entire story here.