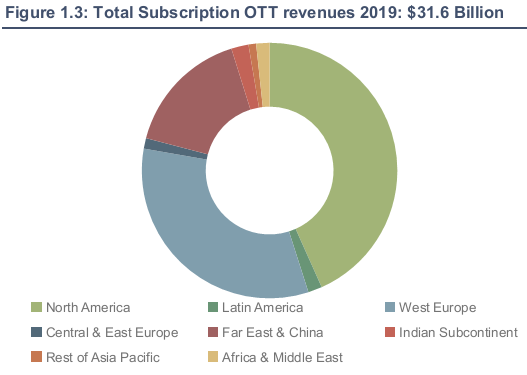 Smart TVs may be limited by clunky UIs, but "dumb" TVs are getting smarter all the time. And thanks to connected game consoles and media streamers like Chromecast and Roku, those not-so-dumb TVs are set to drive a major surge in adoption of over-the-top video services.
A new report by Juniper Research predicts that subscriber numbers for OTT television services will jump more than 250% from 92.1 million globally in 2014, to 332.2 million by 2019. The report specifically mentions video on demand systems like Netflix Inc. and Amazon.com Inc. , but alludes to other offerings as well. A handful of programmers, including Home Box Office Inc. (HBO) and CBS Corp. , already market their own OTT services. Dish Network LLC has also made headlines with its Internet-based Sling TV service, and Verizon Communications Inc. and Sony Corp. are among the other big players said to be preparing new online TV packages.
According to Juniper Research, North America is the leading market for continued OTT growth, but Asia follows closely behind. Traditional TV operators recognize both the threat and the opportunity in online video. Operators are using TV Everywhere apps to bring their services to multiple screens and introducing new features like cloud-based DVR to add value to the subscription experience. Most of the content that service providers offer online is available on-demand, but linear TV streams are on the rise.
Read the entire story here.