Internet advertising revenues in the U.S. totaled $49.5 billion in 2014, according to the Interactive Advertising Bureau,  a 16% increase over 2013 revenues.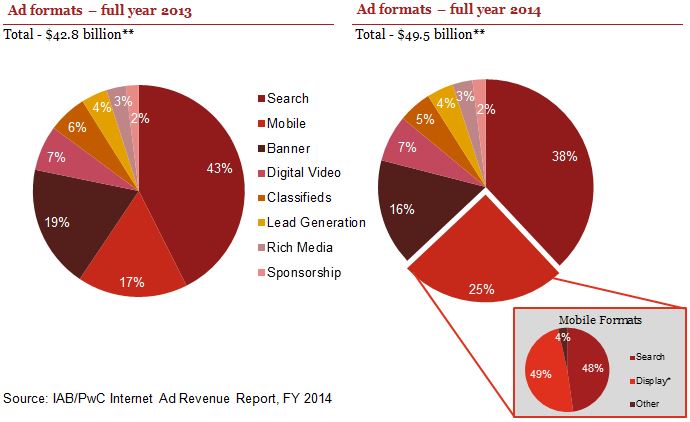 The trade body on Wednesday released its annual Internet Advertising Revenue report, which was conducted by PricewaterhouseCoopers. The report said the industry enjoyed its fifth year of consecutive double-digit growth. Meanwhile, ad spending on broadcast and cable television combined totaled $65.7 billion over the course of the year, the report said.
"Interactive marketing has generated remarkable revenue growth, a testament to its power to reach today's consumers with innovative formats at critical junctures in the path to purchase," said Sherrill Mane, IAB's senior vice president for research, analytics and measurement.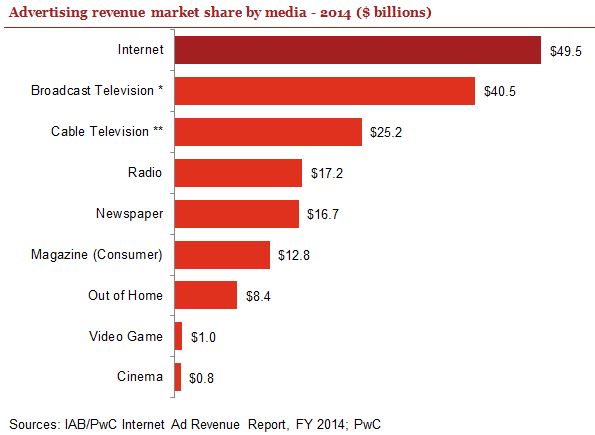 Perhaps unsurprisingly, mobile advertising was one of the main growth areas during 2014, bringing in $12.5 billion over the course of the year, or a 76% increase from $7.1 billion in 2013. Social media advertising was another bright spot, totaling $7 billion in 2014 spending, up 57% from $4.5 billion in 2013. Elsewhere, video advertising totaled $3.3 billion over the course of the year, up 17% from $2.8 billion in 2013; search revenues totaled $19 billion in 2014, up 3%, and display-related advertising revenues totaled $13.5 billion, an increase of 5%. The statistics compliment the industry trend that saw the rise of multicast video on demand services over linear TV.
Read the entire story here.