In the realm of video streaming, there are many trends that come and go. But at the same time, there are trends and demand that stays forever. After OTT boxes, IPTV boxes are one of such integral parts of the streaming industry that is highly sought-after among the audiences. 
In this era of advanced TVs and growing online video consumption, IPTV boxes are certainly another crucial area worth exploring. As stated in a recent market report, the global IPTV market is set to reach US $115.2 billion by 2026 while growing at a CAGR of 17.8% during the forecast period of 2022 to 2026 and IPTV boxes play a crucial role in driving the growth. 
But what exactly are these IPTV boxes? Or, how do IPTV boxes work? Well, we will know these all in this blog.
What Is an IPTV Box?
An IPTV box or Internet Protocol Television Box is used to broadcast video and audio content on television through online internet connection. An IPTV box basically converts the signal which is received through an internet connection to make it compatible for broadcasting on the television screen. 
Unlike the traditional television systems, here no satellite or cable connectivity is required. An IPTV can be simply connected through Wi Fi as well as HDMI (High-Definition Multimedia Interface) or AV (Audio Visual) cables. 
It is necessary to opt for an IPTV service provider network to stream content on your television. No wonder that IPTV boxes are getting more popular with the rising internet consumption and the replacement of the traditional TVs with the modern ones.

How Does an IPTV Box Work?
Now that you have a better understanding of IPTV boxes, the question may arise – how does an IPTV box work? So, let's delve deeper to find out. 
To deliver the streaming video content on your television screen, an IPTV box utilizes a controlled network, such as a wide area network (WAN), a private local area network (LAN), or a privately managed service provider network. 
IPTV boxes work quite differently than the traditional cables or satellite-based television broadcasting system.  IPTV streaming providers retain a significant portion of their content on servers in the dedicated data centers that transmit the content in real-time which gets converted by the IPTV boxes to turn them into watchable videos that you can view on your television screen. 
The steps involved here are as follows –
Step 1: The request is sent to the content source or sources when you click the link to begin one of the TV shows.
Step 2: The server compresses the video material into data packets and sends them via IP using internet protocol.
Step 3: The information is then sent to a nearby local node.
Step 4: The signal then makes its way to your home, generally via fiber optic cable and is decoded by the IPTV box.
And you can watch IPTV channels on your television screen.
However, to ensure a high quality IPTV streaming and eliminate the issues such as packet loss, or high latency, you must opt for a quality server and hosting solutions provider. 
IPTV Vs OTT Boxes: Things to Know 
OTT or IPTV boxes? The debate on OTT vs IPTV is not new and if you are operating in the streaming industry, then it can be of your interest to know which one the audience prefers more. Well, that depends on several factors. Let's have a look.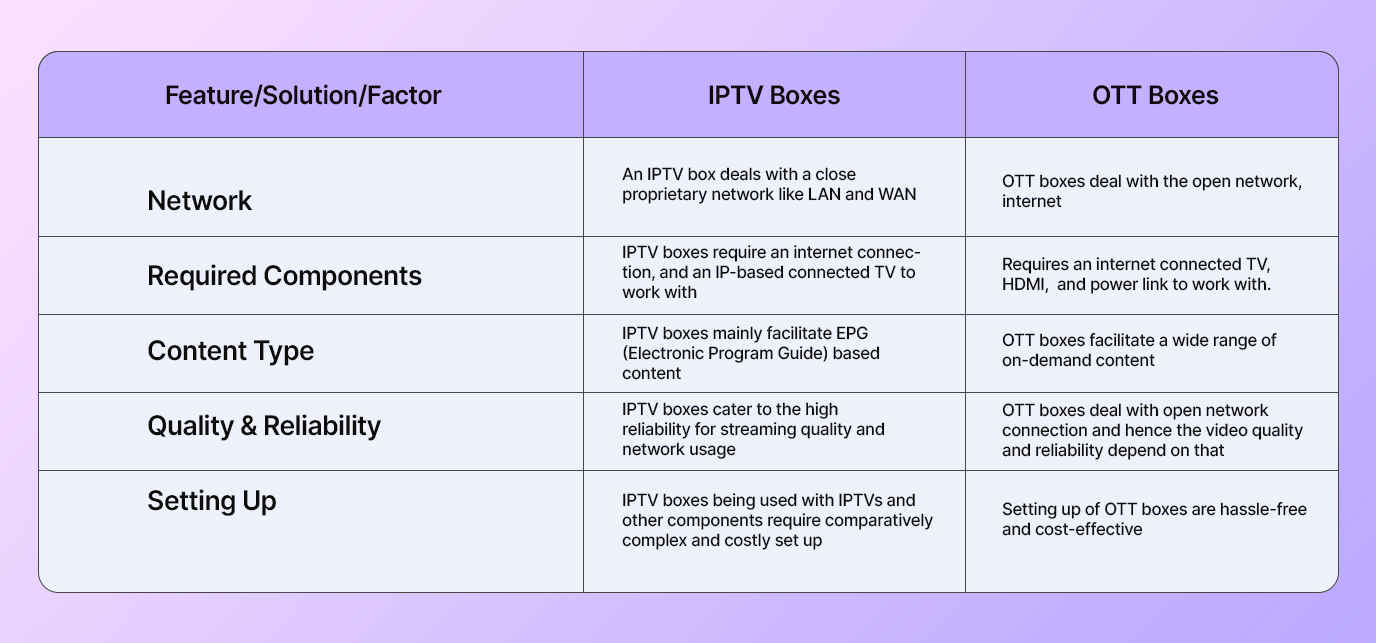 IPTV vs OTT boxes, or IPTV vs OTT is a highly discussed topic in the streaming sector and with respect to many factors OTT boxes are preferable to the audience as well as the streaming players. However, IPTV and OTT boxes both are gaining traction with time, and if you are running a video streaming business, then you must take both of them into account as per your offerings.
Muvi Blue: Your Own Branded Media Box and More
The discussion on the IPTV box vs OTT box leads to one common fact – the requirement of an advanced media box or video hardware to aid in your video streaming experience. As such a requirement has become even more common among the audience, the streaming businesses are providing their own branded hardware set for better user experience.
Muvi Blue, powered by the OTT platform provider Muvi, is one of its kind of solutions that lets you offer your own branded media box and streaming stick. What are the perks?
Your own branded TV, Media Box / Streaming Stick

Your custom App preloaded on the stick/box

Robust security to prevent other app installation

Boot into your App upon start

Custom Boot Screen with your Logo
Thinking of trying it or launching your own OTT app/website? Sign up for a 14-day free trial today (no credit card needed).