As the digitization is taking centre stage gradually, online schools have seen an exponential growth in revenue. With a significant number of schools getting diversified into online traditional schooling and the emergence of the second category of online schools including various courses, tutorials, lessons on various subjects and domains, online schooling has turned out to be one of the most profitable businesses. Furthermore, the growing adoption of learning from home in this post-pandemic hybrid world is likely to pave new paths for the online schooling businesses/providers. No doubt that the demand for various online degrees, diploma, certificate and other courses, tutorials etc. is subject to surge even higher in the coming years and courses where the end-users can graduate/ get their degrees or certificate or learn through various video content such as VOD, live streaming etc. is going to keep rising. While this trend has given the growth scope for many of the online schooling businesses, at the same time it has made the competition even tougher as the number of such online schools is growing fast. Wondering how to grab this opportunity and start your own online school or transform your existing offline education hub to a hybrid learning model with online school as an option? Then read on as we guide you through the a to z of how to start a profitable online school. But first, you must know why online school is high on demand and the advantages of opening one.
Why Should You Start an Online School?
With online schooling becoming more diversified, there are a lot of options if you want to open one. Educational courses to tutorials/lessons on various other learning domains, there are a lot of varieties to choose from. And some of the advantages of starting such an online school are-
You can start it easily from the comfort of your existing infrastructure

Don't need any heavy investment compared to other businesses

Can target the global audience irrespective of your location

Can scale up easily

Better scope to grow your business with the rising demand
And others.
Guide to Start a Profitable Online School
Starting an online school is easy and tricky at the same time. In order to stand out from the crowd of the vast pool of online schooling businesses, you must get your planning right from the beginning. Here we have outlined the steps you can follow while opening your online school-
The first thing you need to decide is your niche. The good news is you can choose any subjects/courses you are willing to offer like certificate/diploma courses in computer application, IT etc., graduate degree, and others. Always keep in mind the following factors before you finalize it-
How good are you in that particular area/niche?

How many admins/coaches/program setters do you need?

What budget can fit your plan?

What is in your mind that you want to convey through your online schooling?

Is it something uncommon or chosen by many of the online schooling providers?
Choose Your Business Model
Before you start creating content for your online schooling, you must choose the business model. There are basically three types of business models for online schools-
This classical business model for online schooling has been originated from the concept of skill-based online schooling/classes. This business model is a bit different from the traditional online schooling model and is suitable for the ones looking for online schooling focused on specific subject areas or skill sets. Generally, the end-users need to pay one time fees to avail such courses.
Academy model is the best fit if you want to open a virtual school offering courses like the conventional schools. Being subscription-based, this business model ensures recurrent cash flow in your business and also ensures a long-term relationship with the students.
Combined model is a combination of both night school and academy models. You can opt for this business model if you plan to offer both subscription-based and standalone courses. As a result, you will be able to target a wider audience.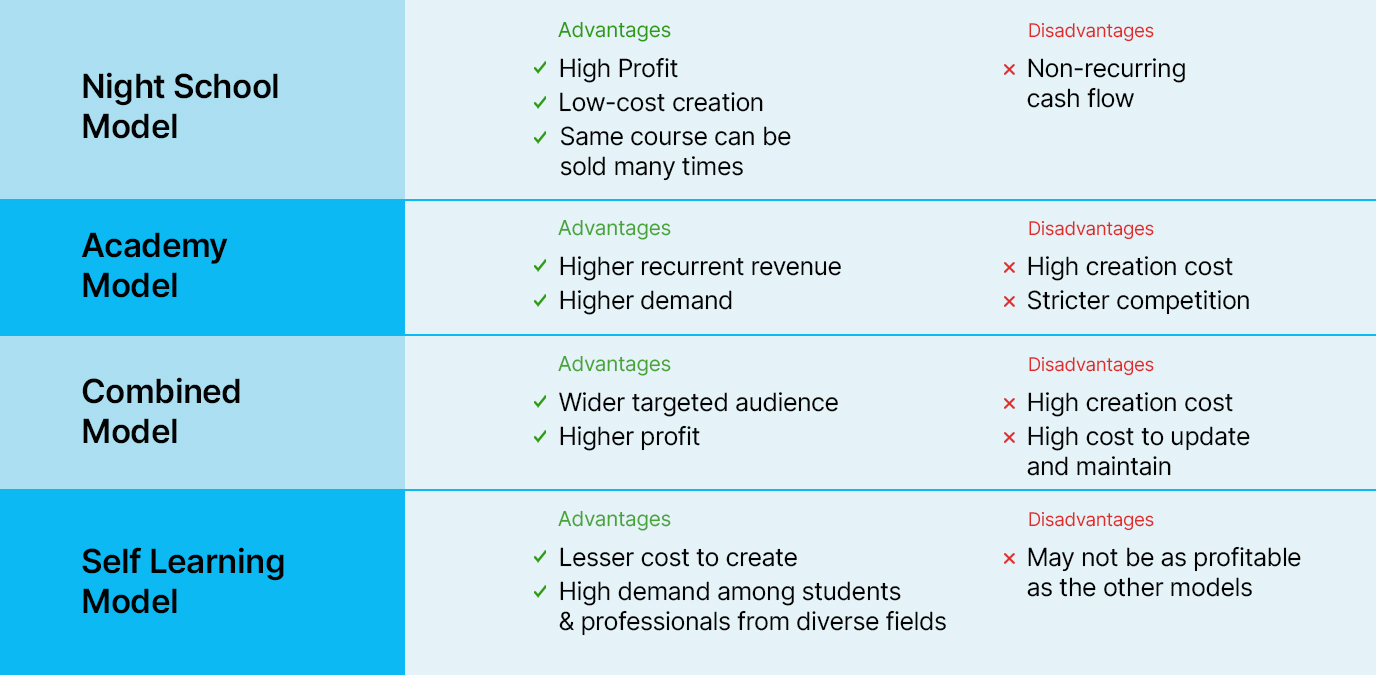 In this business model videos are offered on an on-demand basis, students can complete at their own pace in a given timeframe, give exams and get a certificate. This is less costly as the same course material is reused and no new video production required till course structure or content changes. 
Now that you are done with the above steps, it's time to define your audience so that your content can be more apt and effective. Things to consider while defining your audience-
Age group of your audience

Demographics of your audience

Time zones of your audience (to consider in case you are live streaming your content)

Why are they likely to opt for your online school?

What can be the driving factors for your audience?
Etc.
If the audience you are targeting are well-defined from the beginning, then it will help you to make more appropriate content from day one.

Tracking and analyzing the competition is mandatory not only before starting your online schooling, but it's a process to be followed regularly to keep your content up-to-date and ensure that you can secure your position even amidst the tough competition.
Some tips you can follow-
Be well aware of your competitors, what content they are providing and how the viewers are responding to that

Have a clear understanding about the platforms and strategies used by the top-rated online schooling providers in your niche

Keep

track

of the metrics related to your video content and user behavior such as watch hours, mostly viewed videos, user engagement rate etc. in order to have a clear understanding of how your content is doing (Once you get started)
These will help you in starting on the right track and ensure that you are not lacking anything to have competitive advantages.
Choose a Good Live Streaming Platform
While you can easily launch your online schooling through a video monetization platform, you must know the qualities you should look for in the same. Make sure there are following solutions provided by the online platform provider-
They let you launch fully white label platform

Built-in CDN to deliver buffer-free audio/video content around the globe

Built-in SEO tools to optimize your video content for search engines like Google and Bing

Equipped with

Artificial Intelligence

(AI) to position your online schooling better in the ecosystem

Encoding & transcoding to automatically convert the videos to various file formats & resolutions to ensure compatibilities across different devices

Built-in social media integration for social login, registration, share on social media etc.

Interactive learning and course recommender for e-learning
And others.
As you can see, the platform for your online schooling has a lot to do and by making the right decision, you can keep yourself ahead in the competition.
 Do Market to Create the Hype
Let's not forget the power of marketing. Your entire set up starting from platform selection to content can be on point, but without proper marketing, you may not be able to reach as much as the audience you targeted to. And the good news is if you choose a top-notch platform like Muvi, your task will be much simpler as it gives you the perks of easy sharing on social media, ratings and comments to boost the promotion of your content, email marketing options and many more! Start marketing your content even before you launch your online school and be consistent with the promotions to make your online schooling as successful as you planned it to be!
The Bottom Line
Starting your own online school may seem the easiest, but in order to turn it into a profitable business, you must opt for a robust platform. Because, that is what determines the majority of the parameters such as streaming quality, subtitle options for various languages, how the audience will be recommended with their preferred content and engage with your content and many more! And by choosing a sound streaming platform, you can win half the game. 
Muvi, the all-in-one OTT and video monetization platform, not only ticks off all the above-mentioned checklist required to launch your online schooling, but also provides with the exclusive perks such as metadata management, multiple monetization models, multi-currency and multi-language support, user management, playlist with HLS output and many more! And most importantly, you can launch your online schooling platform just in a day without going through any technical procedure!
Take a 14-day free trial today to learn better (no credit card required)!